We received a complimentary Hoopersize in exchange for an honest review. All opinions are our own.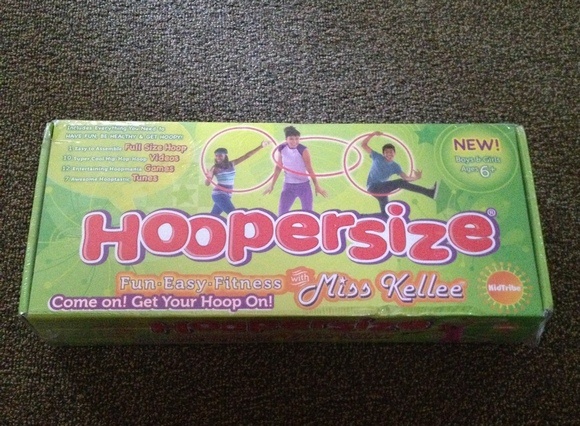 Hula hooping is making a comeback! If you can remember spending hours of hula hooping a child, you can now pass that memory on to your children in a way that is fun and designed to keep them fit and healthy. Hoopersize is the new product by KidTribe, and it is the first hula hoop designed just for children. When your child uses a Hoopersize hoop, they are enjoying getting fit and having fun at the same time. No more wrestling with traditional hoops trying to get them to stay on. With a Hoopersize hoop kids can enjoy an experience personalized to them!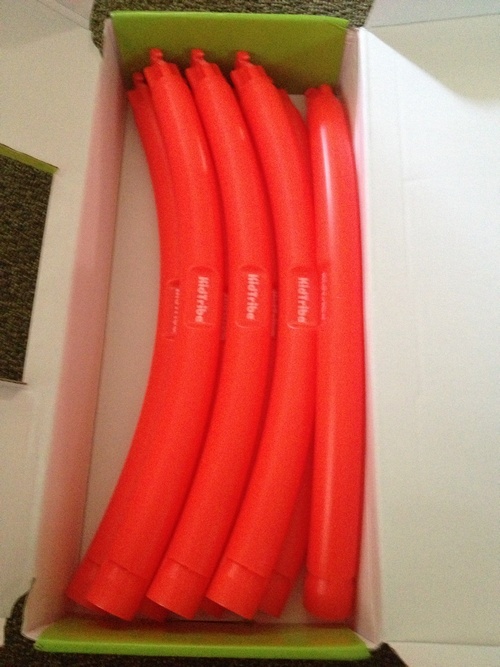 I recently received a Hoopersize hoop and fitness kit to try in our own home. When the kit arrived, it included an easy-to-assemble hoop, two award winning instructional DVDs, and the Hoopersize CD.  In just seconds, the multi-piece hoops snaps together and it is ready for use. The DVD's feature instructor Miss Kellee as she gets the kids motivated and ready to hoop! She uses fun words, fast music, and really gets the party started!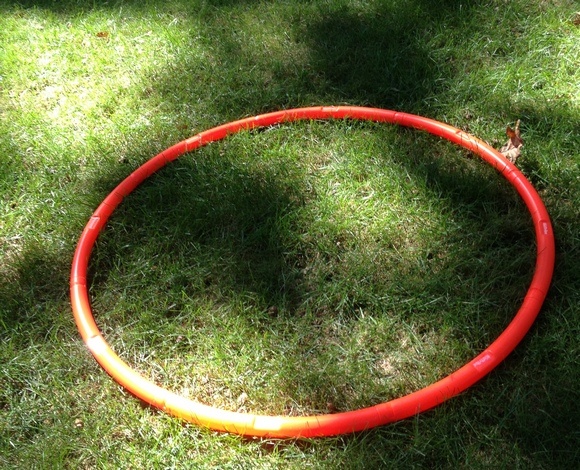 Now, let's take a look at a few things you should know about this unique hula hoop:
Hoop is designed to be thicker and heavier
Hoop is design to be sturdier
The hoop's diameter makes tricks easier
The hoop's diameter allows kids to hoop for longer periods of time.
If you recognize this product, it may be because it has been used at the yearly White House Easter Egg hunt for several years now. Schools around the country have been enjoying "Hoopapoluza" gatherings where children use their hoops and get fit together to the sounds of fun music! The Hoopersize program is quickly gaining speed as kids find new ways to get active.
Our thoughts on the Hoopersize
Our own experience with this Hoopersize was a positive one. It took literally 20 seconds to snap the pieces together and it was ready for use. My 7 year old child was able to easily keep the hoop moving, thanks to the thick and heavy construction. We enjoyed watching the fun and child friendly DVD together so she could learn all sorts of tricks and stunts she was excited to try. The construction of the hoop is amazing. This hoop will not bend and break like traditional hula hoops. My child has enjoyed it inside and out and it has really taken a beating but still looks brand new. It is made to withstand use and lots of it, which is great since it can suit a variety of ages, it can easily be passed from child to child.
This product would not only be ideal for home use, but for gym classes and children's recreational clubs. It is a new spin on traditional hula hooping and a great way to get kids active in a world where it is getting tougher and tougher to do so.
If you wish to purchase this product, you can find it via Kid Tribe on their website, or learn more at their Facebook page. You can even see this product in action on their YouTube channel. It is priced at $39.95 if you want the DVD's to accompany it, or $29.95 without. While this is more than your traditional hula hoop, you will find that it is well worth it considering the durability and additional materials.
Get your kids in shape the fun way with this exciting product from Kid Tribe! Hula hooping has never been so exciting before! Buy It Today!
Giveaway
GIVEAWAY ENDED! WINNER WAS NOTIFIED