With  Father's Day just a couple of weeks away, its time you planned out some great fun Father's Day activities for kids on the day. After all, it is time to show your special love and respect for the man in your life whom you are so proud of. There are so many great ways to enjoy the day with your dad. Let us take a look at some Father's Day activities for kids that you two can enjoy together on this special day.
Fun Father's Day Activities for Kids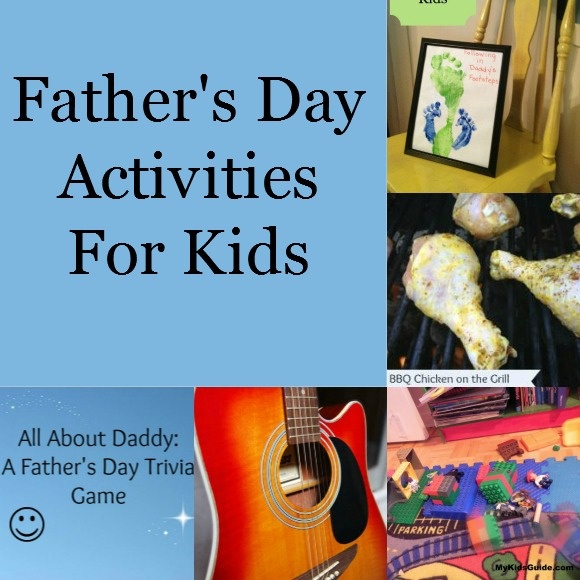 Father's Day Crafts-  Making crafts together is one of the best Father's Day activities for kids and dad. Before the big day, make a nice card that celebrates dad's favorite hobbies. Present the card to him as a start to his "handmade Father's Day" fun.  Use some art and craft items that you already have on hand to have fun and enjoy each other's company. You can do loads of cutting and pasting together to create cards, different crafts or use some of your own ideas to have fun. Make sure you have loads of colored paper, crayons, glue etc. Check out our Following in Daddy's Footsteps craft project too! It's a wonderful keepsake for dad.
Father's Day Recipes –Every dad is fond of eating. Dig out some nice recipes for your father. You can plan to make them on your own and do it all with your father. The idea is to spend some quality time together. You can make chocolate covered strawberries or follow some simple salad recipes. Some other options are Finger Painted Cookies, blueberry muffins, banana bread etc. If the weather is nice, break out the grill and prepare some delicious BBQ chicken!
 Father's Day Games-  Get some games and puzzles and enjoy them together with your father. You can find plenty of on-line games as well as some other great options that you will simply love playing with your father. Some good choices are Slider Puzzles, Tic Tac Toe and Memory Games. Or, break out the Mega Bloks and create your own fun Angry-Bird type game! Both dad and the kids will love building challenging levels and knocking them down!
Father's Day songs-  If you dad is fond of music, why not prepare some nice songs for him and sing out for him alone or with your brother or sis. This is a sincere way to express your gratitude and touch his heart in a special way. Some good Fathers Day Songs are – Happy Father's Day to You, Dear Old Dad, Thank You, Dad and Daddy Daddy. Let kids put on a show!
Father's Day quiz- Another fun way to spend some good time together with your father on the special day is to organize a Father's Day quiz and rack your brains together. You can let your mom hold the quiz and see who wins. The winner gets the prize and your dad too just because it is his day. Try coming up with questions in advance about dad's life as a kid, his favorite hobbies, the foods he loves, and more. Even if your kids don't know all the answers, it's a great way to learn more about dad's life!
These are just a few of our favorite Father's Day activities for kids. We'd love to hear about your Father's Day traditions and what you love to do as a family!