Today's featured craft comes from Jennifer Hunt of  Mommy Moment! It's a beautiful DIY Salt Dough Handprint that would make such an amazing gift for parents or grandparents. Mother's Day IS coming in just a couple of months, after all! We like to plan ahead here. WAAAAY ahead!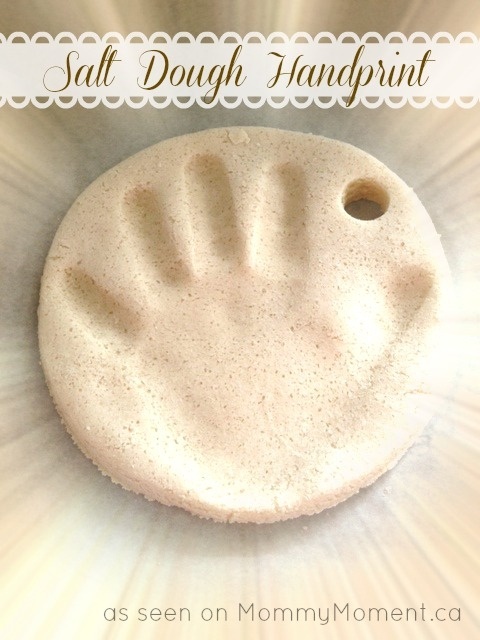 DIY Salt Dough Handprint: Featured Craft
One thing I love about this DIY Salt Dough Handprint craft for kids is how beautifully simple is looks when finished. The salt dough perfectly showcases the star of the craft- your little one's hand. It is such a great way to remember how small they were as your kids grow up. While I love it as is, with a very natural feel to it, Jennifer  also gives directions on how to add a bit of color to the dough. Of course, you can also let your child paint the handprint when finished.
As many of you may know, I'm the least crafty among both the OurFamilyWorld and My Kids Guide family. When I look for crafts, I need plain and simple directions. If I say this is easy enough for me to make, you KNOW it has to be pretty easy! The recipe for the salt dough requires ingredients found in the average kitchen. Yes, even my kitchen- as I'm also the most culinary challenged of the team! Your kids will have so much fun making these, you can whip up gifts for every member of the family in one afternoon.
Be our weekly Featured Craft star! Submit Your Craft
Want to see your craft here as the Featured Craft of the week? It's super easy, just head to Submit Your Craft and fill out our handy form. Crafts may be featured here as well as in our popular roundups. As you can see, we always link back to your site and make sure you get full credit for your spectacular creation.  We have tons of great themes coming up, so be sure to submit your craft right away!