This FreeBirds craft for kids contains affiliate links.
The holidays are a great time to enjoy a movie as a family. If you are looking for a family friendly flick to enjoy with your kids this holiday season, look no further than FreeBirds. In this comedy for kids, birds Reggie and Jake find themselves in all sorts of funny adventures. Kids will love all of the wackiness that follows, and the whimsy and colorfulness these characters add to the film. If you see this movie with your family, or plan to see it, why not follow it up with this fun craft? If you have a leftover toilet paper roll, then you have just about all you need to make your own free birds! Take a look below at how to make your own FreeBirds craft for kids.
FreeBirds Craft for Kids

Supplies needed: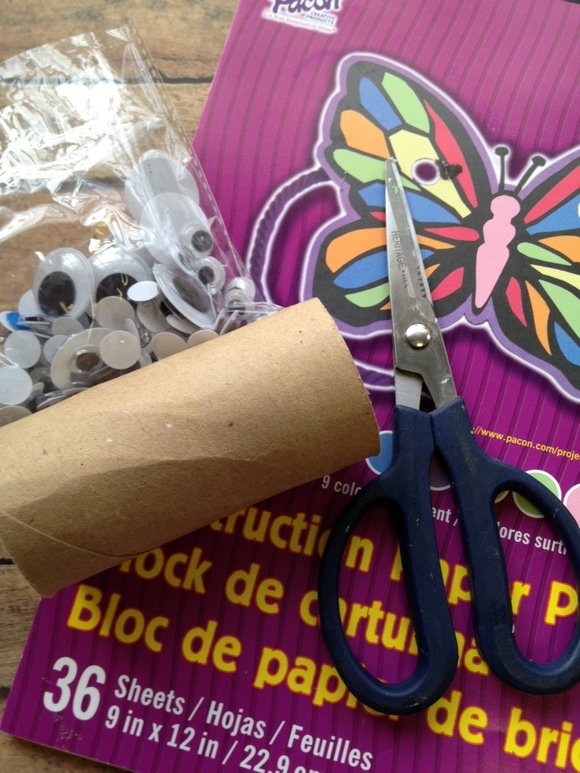 Toilet paper roll
Scissors
Construction paper
Googly eyes
Craft feathers
We were able to find all of these supplies at our local dollar store. Many of them we already had around the house in with our crafting scraps, but if you don't have one of these items a dollar store is a great place to look. If you don't have a toilet paper roll, any cardboard roll will do. For example a leftover wrapping paper roll or paper towel roll cut down to a few inches in length will work just fine.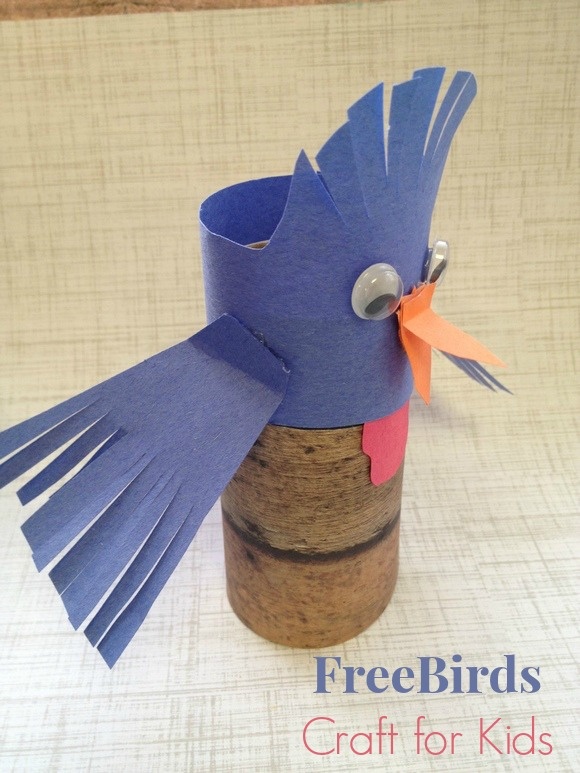 Directions for this fun FreeBirds craft for kids:
1. Begin by wrapping your paper roll in blue construction paper. In the movie, Reggie is blue and so this bird will resemble him. Wrap the blue paper around the roll, secure it with glue to the roll, and use your scissors to cut the paper to size.
2. Next, glue on a pair of googly eyes to the roll. Reggie has sort of wide and wacky eyes, so don't glue these on perfectly. They can be slightly skewed if you wish.
3. Reggie is going to need a beak. Cut a triangle out of orange paper and secure it with glue to the face.
4. Don't forget the waddler! Cut an oval from red construction paper or use a red pom pom, glued under the beak, to act as the waddler.
5. The remainder of Reggie's body is brown. Cut strips of brown paper and glue them onto the belly of him. Ruffle them up so they look nice and fluffy. You can even curl the paper with a pencil (just wrap and release) for a super curly look.
6. Last but not least, cut out some blue feet. You can do this by cutting out a line and three smaller lines to attach as toes. Attach the blue feet to the front of the paper roll.
You should now see your FreeBird craft for kids taking shape! In no time you will have a Reggie to use as a puppet or just display as a decoration. These are so simple to make, you can create the whole cast if you wish using this same concept and materials. Just switch out the colors as needed.
So head to the theaters and check out this great family movie, and when you are done, give this fun and frugal FreeBirds craft for kids a try! Looking for more movie fun? Check out our Frozen craft for kids!