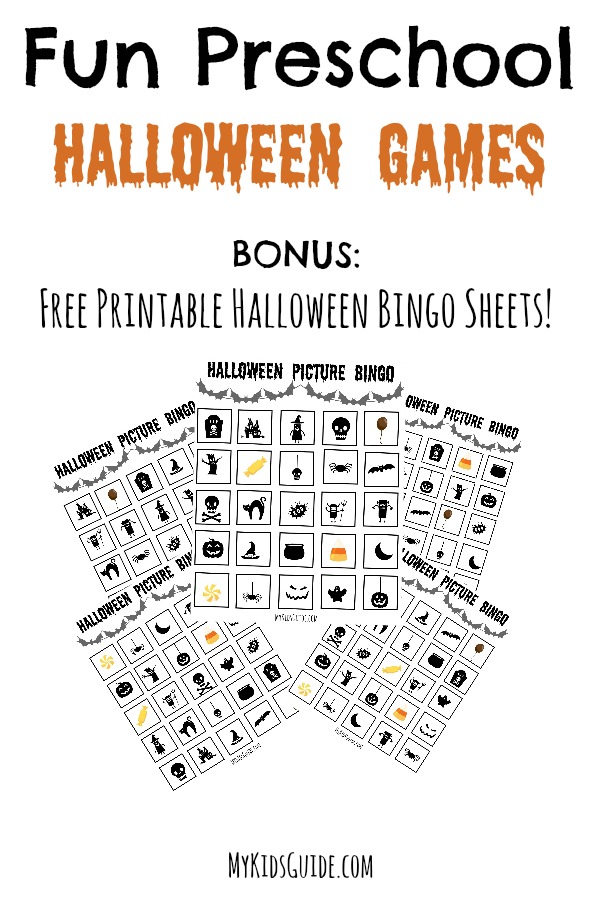 We have put together a few Fun Preschool Halloween Games that are sure to be a hit this year! As Halloween approaches it is time to start thinking about all the great parties and events you will attend.  If you are going to be throwing a party yourself or planning one with other parents, it can be tough to come up with safe and fun games for the younger crowd.   Not only have we given you some great game ideas, we are also giving you a fun Free Halloween Bingo Printable Set!  This set of 5 Preschool Halloween Bingo Sheets is perfect for using with the little ones at your party!
FUN PRESCHOOL HALLOWEEN GAMES
Pinata:  Every kid (and most adults) love swinging a bat at a paper mache pinata.  Create your own or buy one from your local party store.  Stuff full of great Halloween candy and treats and let the kids take turns hitting it until it is broken and candy spills out.
Donut Eating Race:  Hang donuts on string from a doorway just a bit taller than the kids so they have to stretch up and reach.  Kids must keep their hands behind their back while they try to eat the donut.  The first person to finish their donut wins.
Halloween Bingo:  Made with pictures that are easy for kids to recognize this is a super fun game to play with a small group.  Print our Free Halloween Bingo Sets for your own at home version of the game.
Musical Chairs:  All kids love the fight for that last chair!  Grab your spooky Halloween music and set up the chairs for kids to play musical chairs until only one person is left sitting.
Toilet Paper Mummy:  Grab extra toilet paper rolls and let the kids wrap each other into a mummy.  Choose a few kids or adults to "judge" for the best mummy creation.
Corn Maze:  Setup a few bales of hay in your yard for a simple and fun maze for the younger kids.  Simply create a simple yet fun for them maze out of hay bales in a square in your yard.  Kids will have fun winding in and out, and since you will be able to see them easily there will be no fears of them getting lost.
Print out our fun Free Preschool Halloween Bingo Set and get started planning your upcoming Halloween party today!  These Fun Preschool Halloween Games are sure to please the kids and their parents.  Make sure to have plenty of fun finger foods and punch around for the kids to snack on while they play.  Always remember that safety comes first so watch for sharp objects, choking hazards and any allergens with younger kids when planning a party like this.
Don't forget to check out our other great Party Games For Kids Ages 3-5 post with other fun options you can make spooky for Halloween!
Do you have any favorite fun preschool Halloween games? Share them in the comments!