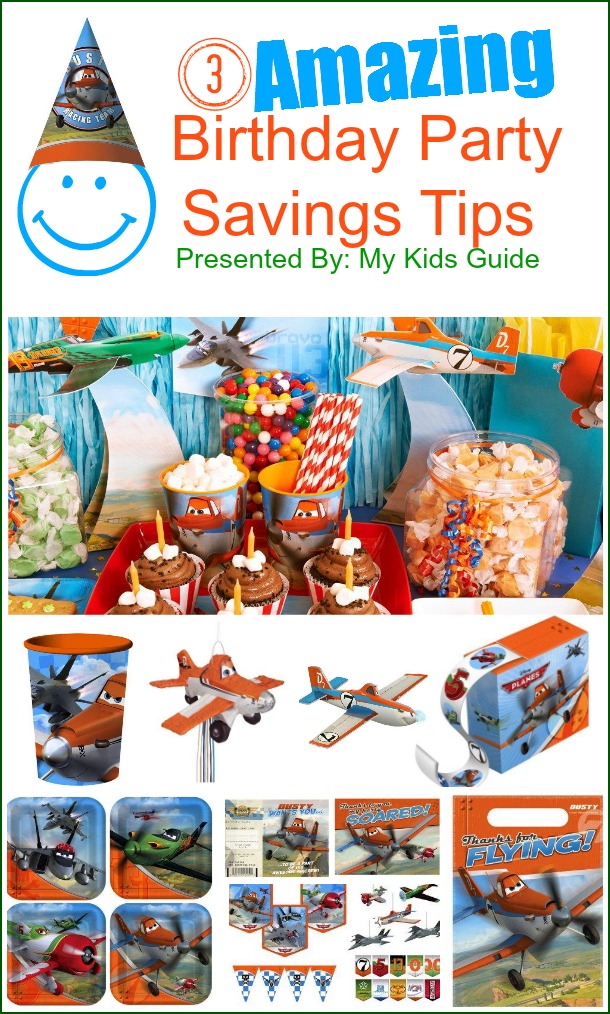 With our party saving tips, you won't have to worry about busting your budget on cute Disney Planes party supplies…or any other theme for that matter! These three tips are all you need to save a bundle. Plus, check out our favorite Disney Planes party goods!
Three Easy Party Savings Tips
I. About those Characters
Don't buy everything that comes with your character theme. Select a few decorative accent pieces to serve as the main focus for your party and coordinate with matching solids instead.
II. Purchase Decorations after the Holidays
Start looking at holiday decorations differently! White, red, green, orange, and blue solid streamers, plates, and napkins are often placed on sale after the holiday is over for fifty to seventy-five percent off of their regular retail price. These colors can be used for other festivities later in the year and can even be paired with several character themed birthday parties. Look for these great party supplies deals after Christmas, Halloween, Valentine's Day, St. Patrick's Day, and patriotic holidays.
III. Buy in the Box
Purchasing your party supplies in bulk kits can save you and move your party planning along even faster. For instance, by getting a Disney Planes Party in a Box you can select from (up to) eight or sixteen guest AND customize your selections by Basic, Deluxe, or Deluxe with Favors. This easy purchase will allow you to enjoy savings from $5 to $65 based upon the package you select!
Birthday party savings tips: cute Disney Planes supplies that help stretch your budget
Have your own high-flying race! Package includes (4) Disney Planes Foam Flyers to match your party theme. Adult Assembly Required. This is perfect for those Disney Planes party games!
This Disney Planes combo package includes (8) invitations (with envelopes) and (8) thank-you postcards to match your party theme.
This Disney Planes Room Transformation Kit will turn any room into a flying aces' dream! Package includes; 3 banners ( 23″ W x 20″ H), 4 pennants (5″ W x 7″ H), 10 small pennants (3.5″ W x 5″ H), and 5 airplanes (4″ H x 12″ L).
The Disney Planes Balloon Bouquet includes (2) Disney Planes Foil Balloons, (2) Red Star Foil Balloons, (6) Mid Blue with Clouds Matte Latex Balloons, (2) Red Curling Ribbons, and (1) Red Balloon
Kids absolutely love stickers, especially when they coordinate with your child's party theme. They make terrific prizes for games, and fun fillers for favor boxes, too. Each Disney Planes Sticker Box contains 100 stickers.
Be ready for take-off with this Disney Planes 16 oz. Plastic Cup! Cup is made of heavy duty plastic to match your party theme.
Perfect for holding your treats. Simply fill with goodies you mix and match from our huge selection of favors and prizes. Plastic. Includes (8) Disney Planes Treat Bags.
Package includes (8) Disney Planes Cone Hats (with elastic chin straps) to match your party theme. Ages 3+.
One magical string will release all the treasures you've tucked inside. Kids can take turns, or hold onto separate strings and pull together. Includes (1) Disney Planes Pull-String Pinata.
Package includes (8) Disney Planes Square Dessert Plates to match your party theme. Each square plate measures approximately 7″ x 7″.
Following our birthday party savings tips and getting Disney Planes supplies that stretch your budget will help you have a fun party without going broke! Of course, these tips work for any theme party!
Do you have any great birthday party savings tips?