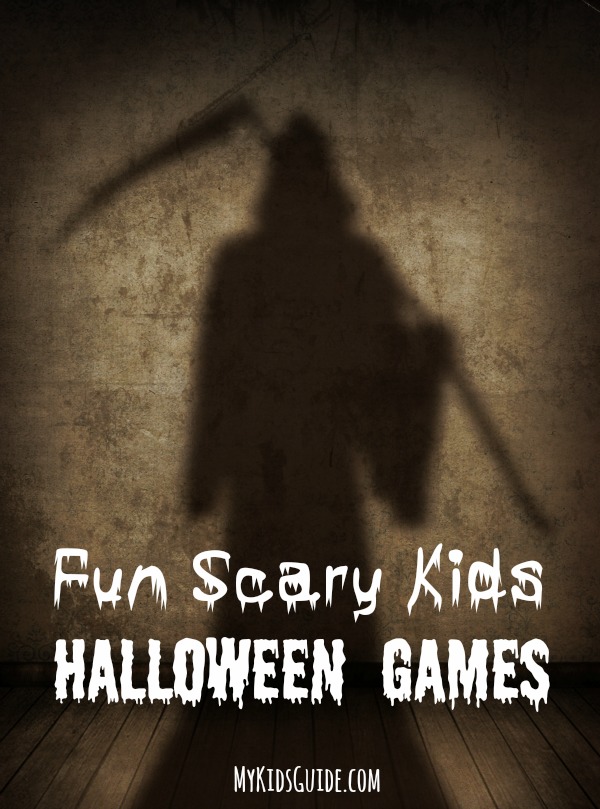 Looking for scary kids Halloween games that are fun but not too terrifying? Take a look at a few of our favorites! Are you throwing a big Halloween bash with your kids this year?  If so, then you know it's time to not only start thinking about all the candy and food, but great games to play.  With a group of kids you don't want to scare them too much, but it is a lot of fun to have a few spookier games on the list.  We have chosen our favorite Fun Scary Kids Halloween Games for you to use this year!  Not only will there be tons of shrieks and screams, but tons of laughter and fun too!
FUN SCARY KIDS HALLOWEEN GAMES
Fortune Telling Candles:  This fun game requires a blindfold and 3 different candles.  Label each candle with one of the following: Love, Money or Travel.  Line the candles up on a table and light them leaving them several inches apart.  Blindfold the player and shuffle the candles around so they are in a different order.  Spin the blindfolded player around a few times so they are a bit uncertain of directions.  Then tell them to blow out one candle.  (You have placed them back at the center of the 3 candles so they know one will be in front and one to each side of them.  If they blow out the candle with love on it that means romance is headed their way.  If they blow out the candle with money on it that means they will receive money.  If they blow out the candle with travel on it that means they will be going on an exotic trip soon.
Oujia Board:  This classic board game is perfect for the tween and teen groups.  Asking the board a question is tons of fun when you watch it spell out an answer on it's own.  A great option for the older kids parties and tons of fun for adults too!  Just remember this is pretend! Also, double-check with your guests' parents, as some are strongly opposed to this game.
Name That Body Part:  This one is hands on and a bit messy, but tons of fun for the kids.   This requires a lot of Jello and some other random food items.  Fill a large tub full of Jello (preferably red for blood) and add in the following items:  Peeled Grapes (eyeballs), Vienna Sausages (fingers or toes), Banana Peel (tongue), Dried Apricots (ear), Spaghetti Noodles (veins or tendons) and any other odd food items you can come up with that would feel like body parts.  Provide each child with a small bowl to put their body parts into, a blindfold so they can't see and set them in front of the tub of body parts.  They must dig through the parts until they get one of everything on the list in their bowl.
Create A Ghost Story Circle:  Nothing screams Halloween quite like sitting in the dark and going around the room telling ghost stories.  Setup an area where kids can sit in a circle and have each kid say one sentence of their story.  Continue around the room allowing everyone a chance to continue the story how they want it to be.  Make the circle 3-4 times depending on number of children.  The result will be a fun filled goofy and spooky ghost story that everyone contributed to.
Set the mood with decorations and spooky supplies:
Affiliate links included in collage. Click on pictures to visit product page.
This year your Halloween party will be the hit of the neighborhood when you include these Fun Scary Kids Halloween Games.  They aren't too spooky that the kids will be up with nightmares, but they are sure to bring a few screams and squeals form the kids.  Tons of laughter will be had at your house this year on Halloween with these scary kids Halloween games in place! Check out our Halloween party supplies post for some great ideas for decorating and other activities! Looking for some less scary ideas? See our Not-So-Spooky Halloween Games for Kids!
What are your favorite scary kids Halloween games to play?