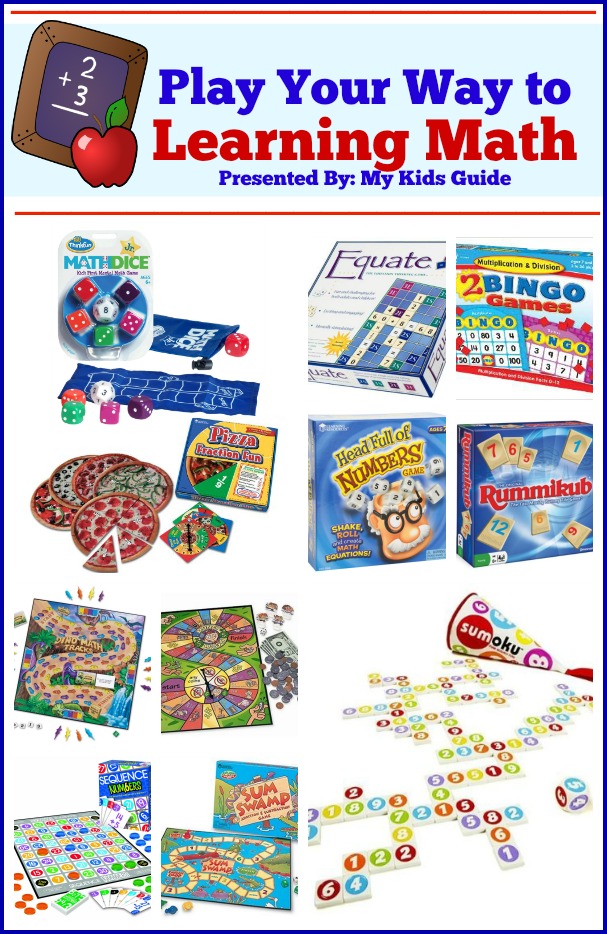 One of the best tools teachers, homeschoolers, and unschooling families use to teach Math are math board games for kids. The games allow children to learn without the stress caused by performing mathematics on paper. Using board games for teaching mathematics is especially important when you have a child who is easily frustrated, scared, or anxious when learning math. Are you already using games as a teaching tool?
Fun Math Board Games for Kids
Affiliate links included in this post.
Equate looks a bit like Scrabble–for aspiring mathematicians, that is. Designed by a real mathematician, it works like this: You put down tiles on a board and make points by correctly completing simple equations. Your nine tiles include both numbers and mathematical symbols; you can add on to previous plays both vertically and horizontally. Learn simple stuff (like what division is) and more sophisticated ideas (like the order of precedence among arithmetic operations). It all adds up. –Richard Farr, for Amazon.
Related articles:

Your kids will have math on their minds with this new game for any number of players! From one child to the whole family, everyone at home will love the fast-paced fun. Place the three standard dice and three custom dice (with numbers 0, 1, 2, 7, 8 and 9) into the fun dice shaker then roll them out and place them into the dice tray. Set the sand timer and have the score pad ready to record the number of unique, correct equations each player makes using the numbers rolled. Equations can use simple addition or subtraction, or can use multiplication and division for greater challenge–game variations allow you to make the game more challenging as your child's skills improve. Guide included.
Introducing Math Dice Jr., the perfect complement to ThinkFun's ever-popular Math Dice. Simple rules and chunky, brightly colored dice make this game fun for early math learners. Ages 5 and up, 2 or more players.
What a fun way to learn about combining coins! The object of this colorful and compact board game is to earn money while winding along a cartoon path. Money is earned by landing on a square labeled with a practical chore, such as setting the table (31 cents), or an entrepreneurial endeavor, such as a lemonade stand (15 cents). In order to collect money, the spinner is used to determine which coins can or cannot be taken from the bank. If the spinner lands on "no nickels" then you collect your change with any coins except for nickels. There's an additional incentive to use critical thinking and coin combining skills. Extra money can be earned if you land on a "Bank Exchange" space and exchange your coins (for example, two nickels for a dime). As you may have suspected, the player with the most money at the end wins. –Lauren Bernard, for Amazon
Time to make a pizza! This clever game helps kids visually understand fraction concepts and skills using one of their favorite foods! Kids play seven different games to practice identifying fractions, matching fraction equivalents and performing fraction addition and subtraction by building pizzas. Game includes 13 double-sided pizzas (one side labeled with fractions) and three double-sided spinners providing different levels of learning. For 2¿6 players. Whole pizzas measure 10 ¾ in diameter.
It's hard to find family games that are fun and challenging for both kids and adults, but Rummikub fills the bill on all counts. The rules are simple, the game is varied, and the fun is free for everyone! This version of Rummikub has 106 plastic tiles with numbers in different colors and four dark-blue plastic tile racks to hold the tiles during play. The object is similar to rummy card games, combining your tiles in runs (consecutive numbers in the same color) or sets (groups of the same number). The game rolls along at a fast clip, with wild-card joker tiles adding a bit of luck to the strategy needed to win. Get this game out the next time the power goes off and show the kids some old-fashioned fun. –Marcie Bovetz, for Amazon
Sequence + Numbers = FUN! The cards each have an addition or subtraction equation and the game board has the answer.

Kids will have a terrific time learning math skills as they avoid the hilarious pitfalls of the Sum Swamp. Designed for two to four players, this game is sure to develop and sharpen beginning math skills, because the only way to escape the mire is to roll the dice and add and subtract your way around the board. If you're lucky, you'll be able to take the Crocodile Short Cut, although sooner or later everyone gets caught in the Endless Loop. Landing on special squares, such as Even or Odds or a number space, makes things even more interesting; you could get stuck for quite a while. The best part is that this is a game kids can grow with–children 5 to 6 will find it a learning challenge, and older kids can play for fun. The game is an Oppenheim Best Toy award winner. –Marianne Painter, for Amazon
Sumoku is a unique crossword-style game with numbers. Players add up their numbered tiles to a multiple of the number on the die. Scores grow with every connected row and column. With 5 game variations and endless challenges, the fun quickly adds up with Sumoku! Includes 96 numbered tiles, 1 die, and a canvas zippered pouch.
Award-winning game reinforces counting, addition, subtraction and place-value skills with a prehistoric twist! Children roll a 4-digit number, then move their dinosaurs to the appropriate ones, tens, hundreds and thousands places. Math problem-solving cards for various levels of play add to the challenge. Includes game board, 16 dinosaurs, cards and 5 number dice. For 2–4 players. Ages 6+.
What math board games for kids do you use at home to teach math?