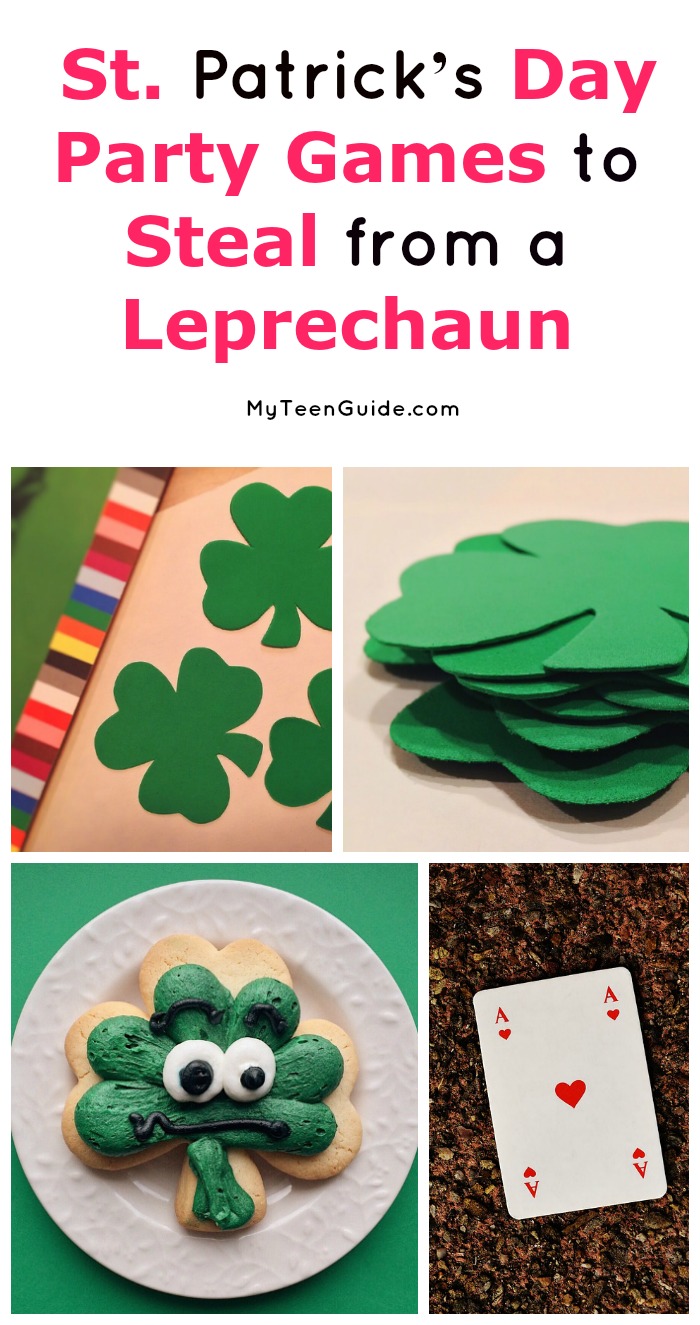 You need games for your St. Patrick's Day party!  What is a party without festive themed games?  I think that is just called a gathering, but that's not what we are talking about here.  If you are throwing a St. Patrick's Day party, we've got the games you need right here.  From candy rolling down your face to trying to find a word that rhymes with 'shamrock' (is there even one?) All you have to do is keep reading!
10 St. Patrick's Day Party Games You'll Love
Affiliate links included below. If you make a purchase through these links, we earn a small commission at no extra charge to you.
Peppermint Patty Party Game
Super simple, yet fun at the same time. You need a bunch of Peppermint Patty candies
.  Do not unwrap them (makes it more fun!).  Set the timer for one minute and see how many you can stack before the timer goes off!  Winner gets to keep them all!  I'm just kidding, that's a lot of candy though you can include some of the candy mixed into your party treats.
You've Got Something on Your Face
This is a fun game to play after you stack the Peppermint Patty candies.  Unwrap them and place them on your forehead.  Everyone can do this one at the same time (you might want someone to take pics because this is funny to watch!)  Everyone starts with a patty on their forehead and they have to work it down to their mouth.  If you drop it (which you will) you can pick it back up and try again.  The first person to get it in their mouth without using their hands wins! You can also play with cookies instead of candy.
Luck of the Irish
I love this game for a St. Patrick's Day party because it is so fun and fast paced!  All you need is a deck of playing cards
(take out the Joker).  Break your guests up into 3 teams.  Only one player from each team at a time.  Hand out the cards to each player until there are no more cards left.  Someone starts the timer for one minute.  You all flip over one card and the person with the highest number wins all those cards, flip another, same thing.  The idea is to win as many hands as you can in the minute you have.  Once the buzzer sounds, time is up and the next set of 3 sit down.  This time, do not deal out the cards, they get the pile that is left over from their teammate.  Fast paced games are always fun!
Lucky Charms
Ok, so I couldn't think of anything more creative but here is what you do.  You'll need a box of Lucky Charms cereal
.  Each guest will need 2 bowls and a plastic spoon.  Pour the same amount of cereal into one bowl for each guest (you should measure it out to be fair).  The object of the game is to get as many marshmallows out of the bowl filled with cereal and into the empty one, all within one minute. Don't forget to use the cereal boxes in your party decorations for a few more laughs.
The Rhyming Game
How many words are there that rhyme with gold, shamrock, rainbow, Irish and green?  Break your friends up into teams of 3 or 4 depending on how many guests you have.  Give each team a sheet of paper and the words 'gold, shamrock, rainbow, Irish and green.' They have one minute to see how many words they can get to rhyme with each one.  Who will get the most (and best) words? To help you out, here are lists of words that rhyme with gold, shamrock, rainbow, Irish and green!
Who's the Leprechaun
Are you going to be "It" or will you be the Leprechaun? One player is chosen to be "It" and that person needs to exit the room. The remaining party guests choose someone to be the Leprechaun. Then, the "It" player comes back into the room. The Leprechaun starts doing an Irish dance move, like a beat, cut or lift and the other party guests need to imitate the moves of the Leprechaun. The "It" player then needs to figure out who the Leprechaun is.
Irish Jig Freeze
This is a really fun St. Patrick's Day game to play! Gather everyone in a designated dance area. Play some traditional Irish music
and have everyone start dancing to the music. When the music stops, everyone must freeze in place. Any players that don't freeze in place are out of the game. The last one standing wins the game. Need some ideas for Irish music? I know I sure needed some ideas! Marc Gunn has a list of 12 Irish Songs for Kids for St. Patrick's Day and Songs for Teaching features a list of St. Patrick's Day Songs.
St. Patrick's Limbo
Who doesn't love to limbo? Have players stand in a line, wearing a leprechaun hat. Then, play the limbo game as usual, except the players who hats fall off is out of the game. The last one standing is the game winner! Amazon sells an array of leprechaun hats
. If you are feeling rather crafty, Artsy Craftsy Mom and Crafts by Amanda show you how to make your own leprechaun hats. I am one of those who will mess up even the easiest of crafts!
► Don't forget the food: St. Patrick's Day Cupcakes with a Secret Twist!
Famous Irish Name Game
So, how many famous Irish people and characters do you know? To play this game, give each party guest a sheet of paper and a pen or pencil. Then, have them write down a list of famous Irish folks and fictional TV and movie characters. The person with the most on their list is the winner! Yes, I know you're going to need some help here! Biography has a list of Famous People Born in Ireland and Map to the Future features a list of Irish-American Characters of TV & Film.
Memory Card Game
Using green construction paper
, cut out 12 shamrocks. Next, draw a picture or adhere a sticker of something dealing with St. Patrick's Day, using each picture or sticker twice. You can use things like shamrocks, leprechauns, gold, four-leaf clover, Ireland flag and/or rainbows. Mix up the 12 cards and place them face down on a table. Then, players flip two cards over, at a time, searching for a matching pair.
Playing games at any party is key but playing themed games at a themed party is just super fun!  My favorite out of all of these is probably You've Got Something on Your Face.  I mean, who hasn't tried, at least once in their life, to get a piece of food from their forehead into their mouth?  If you said, 'Not me!' well then you should because it's fun and challenging!
Do you have any favorite St. Patrick's Day party games? Share below!