No matter what the occasion is, you always try to ensure that your party is the most entertaining, spectacular and unique one ever, right? Here are some truly incredible, life-saving party hacks to ensure your guests have the best time ever!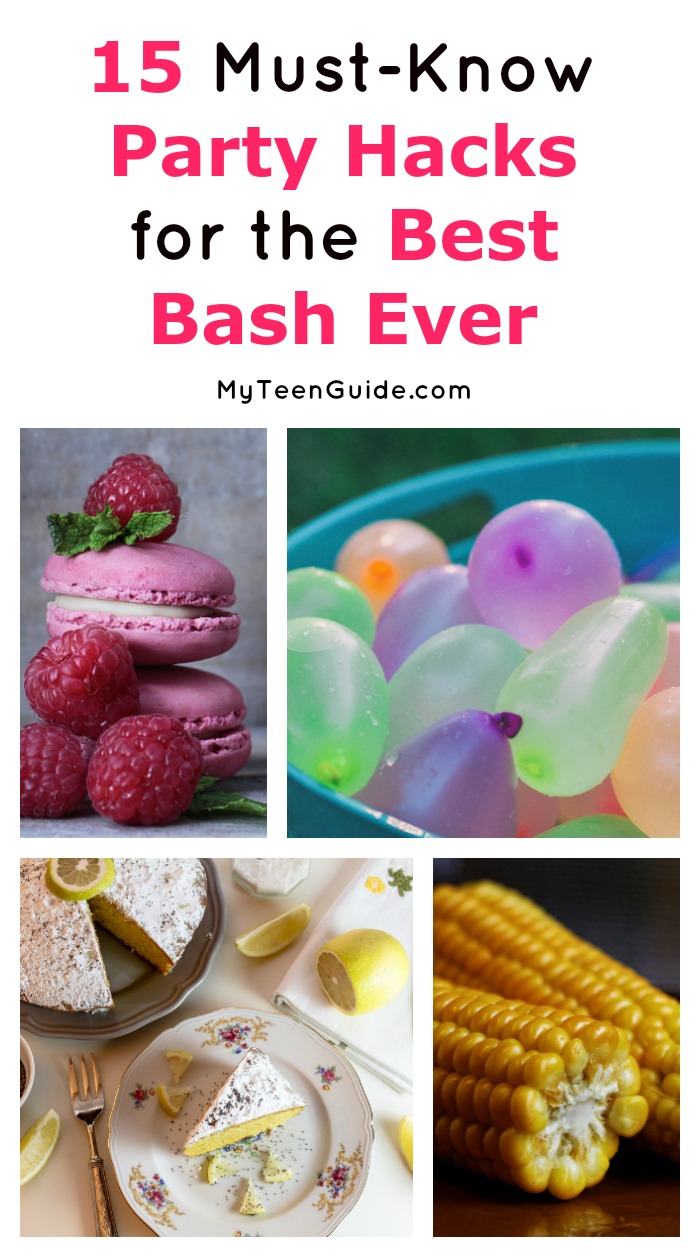 Throwing the ultimate party doesn't have to be so stressful. Yes, things can definitely go wrong, but with our list of party hacks, you'll head off the biggest issues before they can happen! From dealing with dead speakers to keeping yourself from passing out while inflating balloons, we've got you covered! Read on for some amazing party savers!
Ultimate List of Party Hacks for the Best Bash Ever
Affiliate links included below. If you make a purchase through these links, we earn a small commission at no extra charge to you. Thank you!
1. Free party invitations
Save money on your party invitations by sending them online or printing them for free. Punchbowl.com allows you to customize and send party invitations online. Greetings Island lets you personalize, download, print or send party invitations. If you're good with graphic software, use PicMonkey to create your own unique invites.
Related: 26 DIYs To Help You Throw the Best Slumber Party Ever
2. Dealing with Dead Speakers
If you have a huge music playlist for your party, but suddenly realize your speakers aren't working, use your iPhone to make speakers. Just cut a slit lengthwise in an empty toilet paper roll and slide the iPhone into the slit. The toilet paper roll will instantly amplify your music! You can also use plastic cups to amplify the tunes a bit more! Check out this video to see how it works:
https://www.youtube.com/watch?v=hlKa7LNLV0c
3. Instant outdoor lighting
If you want to have an outdoor party, but you don't have lighting outside, why not make your own lighting! All you need are balloons and miniature glow sticks to make your own glow-in-the-dark balloons. Before blowing up the balloons, put a miniature glow stick inside first.
4. Save your breath when blowing balloons
Before blowing up balloons, fill deflated balloons half way with baking soda and fill an empty 16.9-ounce plastic water bottle 1/3 of the way with white vinegar. Cover the top of the plastic bottle with the balloon and allow the baking soda to pour into the bottle. The baking soda will react with the vinegar, causing the balloon to inflate. If that sounds like way too much work, then splurge on a disposable helium tank
. You can usually find them for about $30. If you're blowing up a ton of balloons, trust me, it's money well-spent.
5. Oven cheeseburger sliders
Free up some space on the grill by making cheeseburger sliders in the oven. Find the easy recipe here.
https://www.youtube.com/watch?v=7NT2w36xJBU
6. Cooler corn on the cob
If you are making corn on the cob for your party, use a cooler
to cook it in. Yes, a cooler! This will free up space on your grill or stovetop. In a plastic chest cooler, add 4 quarts of boiling water and 24 shucked ears of corn. Then, close the lid and allow to set for 30 minutes!
7. Make portable tacos
So, you want to have tacos at your party, right? But, you don't want the mess that goes along with them, right? Well, cook up some ground beef with taco seasoning
. Use snack size bags of Fritos
. Have a variety of toppings available, like diced tomatoes, jalapeno slices, shredded cheese, shredded lettuce, salsa and sour cream. Then, open the Fritos bags, roll the edges of the bags down, then add meat and toppings.
8. Mess free condiments
To avoid a huge mess with your party condiments, like ketchup, mayonnaise, mustard and relish, place them in a muffin tin
. Make sure you place the muffin tin close to where everyone will be preparing their burgers or sandwiches. The middle of the table is NOT the best spot, FYI. You always end up with everyone leaning over each other to get to the ketchup! Maybe create two tins worth and put one at each end of the table.
► Don't forget the drinks! Try this perfect party mocktail that your guests will love!
9. Use cake mix and soda for the birthday cake
Want to have a fluffy, moist birthday cake? Forget the eggs, oil and water! Instead, use a box of cake mix and a 12-ounce can of soda. Ideas? For a Chocolate Root Beer Float Cake, combine Dark Chocolate Cake Mix with a can of Root Beer. For a Creamsicle Cake, combine French Vanilla Cake Mix
with a can of Orange Soda. For a Strawberry Shortcake Cake, combine Strawberry Cake Mix with a can of Vanilla Cream Soda.
10. Scoop & freeze ice cream
Birthday parties and ice cream go together like peanut butter and jelly. However, scooping out ice cream can be time consuming and rather messy. To avoid this, before the party begins, place one scoop of ice cream in cupcake liners
, then freeze them. When it comes time to serve the cake, just hand out the individual scoops.
11. Water balloons = cold drinks
Keep juice, soda or water bottles cold with frozen water balloons
. Just fill some balloons ¼ of the way with water and then freeze them for 2-3 hours. This is cheaper than buying bags of ice and you don't have to deal with melted ice in your coolers.
12. No bugs with cupcake liners
Keep bugs out of everyone's drinks by punching a hole (for the straw) in a cupcake liner, slide through the straw, then place upside down over the drink.
13. DIY giant Jenga game
This is the oversized version of the classic Jenga game. Instructions on how to make your own outdoor Jenga game can be found here.
14. DIY corn-hole game
Corn-hole is a classic, fun and popular backyard game. Follow this tutorial to build your own corn-hole game.
15. Use party foods as favors
There is no need to spend money on party favors for your guests. Instead, use foods that you are already serving at the party, like cupcakes or cookies. Just wrap individual servings in plastic wrap and tie with ribbon.
These party hacks will save you from a lot of frustration so you can focus on having fun with your guests! After all, that's the whole point of the event, right?
Do you have any favorite party hacks? Share below!