How excited are you for the return of Lara Croft? We've been reading up on the cast and checking out some great Tomb Raider movie quotes and trivia in preparation for the reboot! Check them out!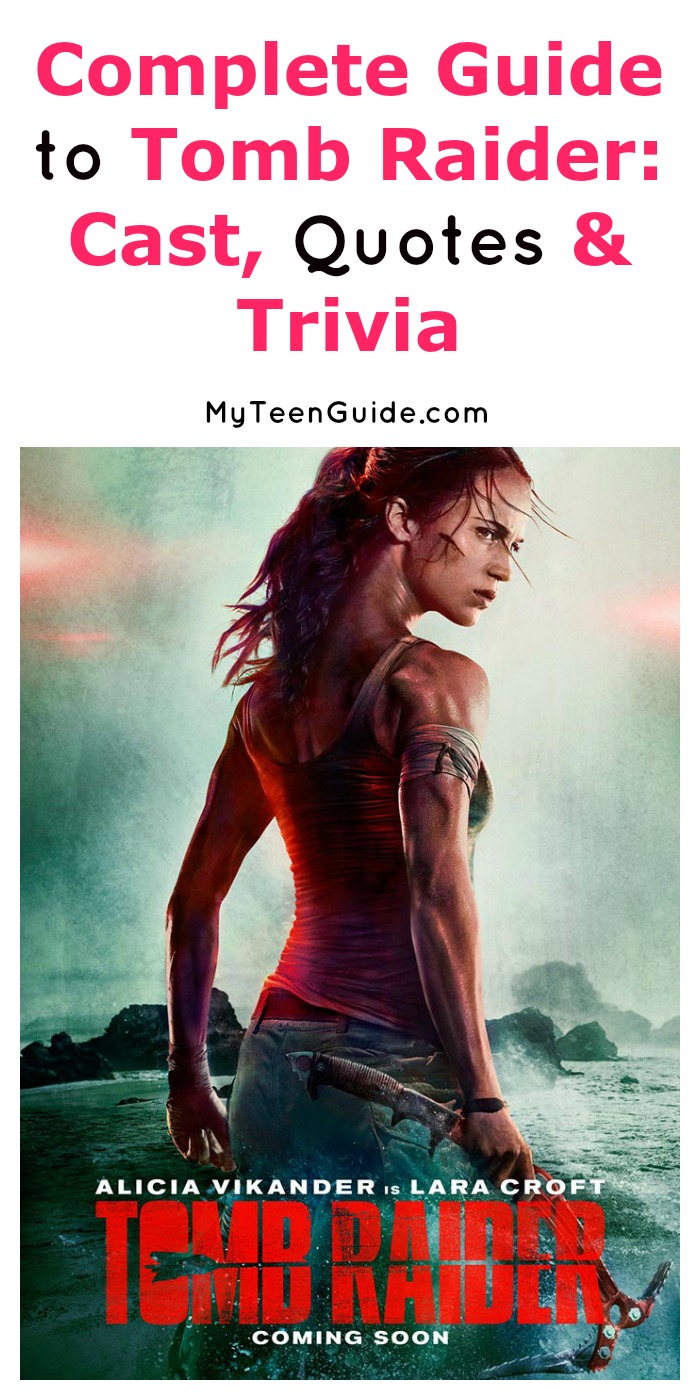 Tomb Raider is an upcoming action, adventure movie that is based on the 2013 video game, of the same name. Anyone who owned a computer back at the turn of the century knows that Tomb Raider was pretty much the iconic and epitome of action/adventure games of the time. It had everything: exploration, challenging puzzles, and a kick-butt heroine in the lead role. In an age where  male heroes dominated both the screen and video games, it was a total game-changer. It didn't take long for movie execs to realize that it was also big-screen entertainment gold!
The 2018 version is a reboot of the 2001 movie- Lara Croft: Tomb Raider and the 2003 sequel- Lara Croft Tomb Raider: The Cradle of Life. Tomb Raider is set to be released in theaters on March 16, 2018. Check out the trailer, then we'll get to know the cast and learn a bit of trivia (plus, of course, Tomb Raider movie quotes).
Tomb Raider Cast:
Replacing Angelina Jolie as Lara Croft definitely had to be a challenge. Love her or hate her (I personally adore her), you have to admit that there's no one quite like her! Let's check out the cast of the 2018 Tomb Raider movie.
1. Alicia Vikander- Lara Croft
If you saw The Fifth Estate, then you'll recognize Vikander. She played the role of Anke Domscheit in the dramatic thriller. The Swedish-born actress has been acting since she was a child, keeping very busy in both big-screen flicks and smaller indie films. I'll be honest, I haven't really seen many of her movies, so I'm definitely looking forward to seeing her in action in Tomb Raider!
2. Dominic West- Lord Richard Croft
Fans of Finding Dory will recognize West's voice as Rudder, one of the two snooty sea lions who never let  poor goofy Gerald have a spot on the rock. He's also played supporting roles in countless other films and TV shows, from The Hour to Les Mis (the TV mini-series).
3. Walton Goggins- Mathias Vogel
Goggins is one of those guys that you definitely know, even if you don't quite know why at first. He's played in HUGE movies by Quentin Tarantino and Steven Spielberg as well as tiny roles in shows like The Big Bang Theory and American Dad. Maze Runner: The Death Cure fans will recognize him as Lawrence.
4. Daniel Wu- Lu Ren
Wu is probably best known for his role in the TV show Into the Badlands, where he plays Sunny, or as Gul'dan in Warcraft.  He's also played the voice of King Pen in Skylanders Academy.
5. Kristin Scott Thomas- Ana Miller
Here's a name that you definitely recognize! Kristen Scott Thomas is probably the biggest name in Tomb Raider, even though she only plays a supporting role. She's had a long and vivacious career in Hollywood! Just how busy and in demand is she? Well, she has three other movies in production right now along with Tomb Raider!
Now that we know a bit about the main characters and cast, let's check out some Tomb Raider movie quotes!
2018 Tomb Raider Movie Quotes:
1. Lara Croft, to Ana Miller-
Lara- "I thought I saw dad again. I think I'm going mad."
Lara's father, Lord Richard Croft, played by Dominic West, was an archaeologist. Ana Miller, played by Kristin Scott Thomas, is an associate at Croft Holdings, Richard Croft's company.
2. Conversation between Lara Croft and Lu Ren-
Lara- "I think I know where my dad went." (pointing to a spot on the map)
Lu- "That's right in the middle of The Devil Sea."
Lara- "It'll be an adventure."
Lu- "Death is not an adventure."
Lu Ren, played by Daniel Wu, is a ship's captain, who helps Lara search for her father.
3. Conversation between Mathias Vogel and Lara Croft-
Mathias- "What are you doing here, Lara? Seven years I've been on this island. Your father, he put me here. Now, I see the lightness, the intelligence, the recklessness."
Lara- "What do you know about my father?"
Mathias Vogel, played by Walton Goggins, is a rival archaeologist of Richard Croft.
4. Lord Richard Croft, in a video message-
Richard- "Lara, there was more to my life than boardrooms and business deals. There's an organization called Trinity. It's looking to start a global genocide. You must stop them, Lara. Promise me!"
5. Conversation between Lara Croft and Mathias Vogel, as he points a gun at her and she points an arrow at him-
Lara- "Put it down!"
Mathias- "It's your finger that's pulling this trigger!"
Lara- "You messed with the wrong family."
2003 Lara Croft Tomb Raider: The Cradle of Life Movie Quotes:
6. Lara Croft, as a voiceover in the movie trailer-
Lara- "In 2300 B.C., an Egyptian pharaoh found a place that he named The Cradle of Life, and there he found a box which contained life and death and it has never been seen again."
In both the 2003 movie and the 2001 movie, the role of Lara Croft is played by Angelina Jolie.
7. Conversation between Terry Sheridan and Lara Croft-
Terry- "The Shay-Ling are like ghosts, Croft. They move constantly, and their home is in the most remote mountain region in China."
Lara- "Region? You'll have to do better that that."
Terry- "Get me into China and I'll get you to them in a day."
Lara- "No guns, no money, no weapons of any kind."
Terry- "Talk about taking the fun out of life."
Terry Sheridan, played by Gerard Butler, is Croft's old flame, who is familiar with Shey-Ling, a Chinese criminal operation.
2001 Lara Croft: Tomb Raider Movie Quotes:
8. Conversation between Lara Croft and Manfred Powell-
Lara- "But you might try to kill me."
Manfred- "I'm not going to kill you."
Lara- "I said you'd try."
Manfred Powell, played by Iain Glen, is an Illuminati member.
9. Lara Croft, in a voiceover in the movie trailer-
Lara- "To see a world in a grain of sand, and a heaven in a wild flower, hold infinity in the palm of your hand and eternity in an hour. William Blake."
2018 Tomb Raider Movie Trivia:
Before Alicia Vikander was cast as Lara Croft, Cara Delevingne, Daisy Ridley, Emilia Clarke, Kristen Stewart, Olivia Wilde and Saoirse Ronan were also considered for the role.
Both Angelina Jolie and Alicia Vikander have won Academy Awards. Jolie won Best Supporting Actress in 1999, for her role as Lisa Rowe in Girl, Interrupted. Vikander won Best Supporting Actress in 2016, for her role as Gerda Wegener in The Danish Girl.
This is the 2nd movie where Dominic West plays the role of Alicia Vikander's father. In the 2014- Testament of Youth- Vikander played the role of Vera Brittain and West played the role of her father, Mr. Brittain.
Before Roar Uthaug was announced as the movie's director, Catherine Hardwicke, Kathryn Bigelow and Mimi Leder were considered as directors.
Have you heard any other great Tomb Raider movie quotes or facts? Share below!