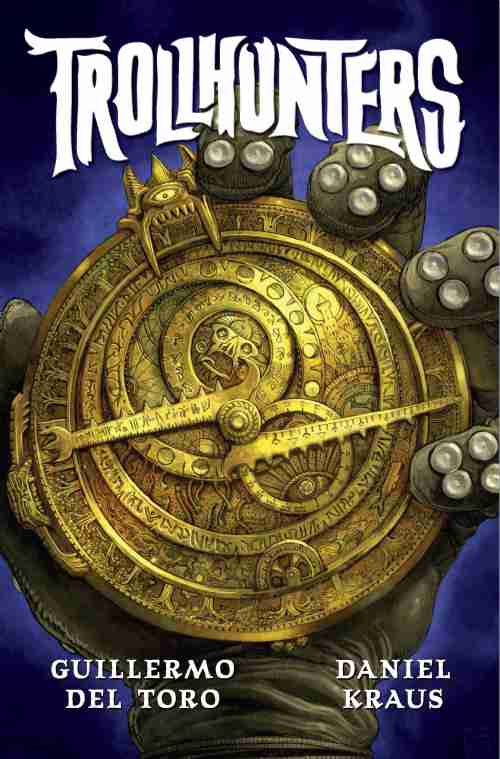 When was the last time you read a good scary young adult book? I'm not talking about wanna-be scary romances with shiny vampires. I'm talking full-on "hide under the covers" creepy? If that sounds like something you've been missing in your life lately, get ready for Trollhunters, a new novel by  Guillermo del Toro. Toro is the mastermind behind mind-benders like Pan's Labyrinth and cult classics like Hellboy. He's also the director and writer of the upcoming horror flick, Crimson Peak. Bottom line, he knows scary! I received a complimentary copy to check out and so far I'm loving it!
Joining Toro is Daniel Kraus, a horror writer who specializes in scary books for teens. His debut novel was selected by the  New York Public Library's  "100 Best Stuff for Teens" list. Both Toro and Kraus know how to spin a web of terror! Sean Murray, the illustrator, is known for his work on video games such as Dungeons & Dragons Online and The Lord of the Rings Online, as well as the creator of The World of Gateway, which includes his fantasy guidebook Gateway: The Book of Wizards and the upcoming card game Gateway Uprising.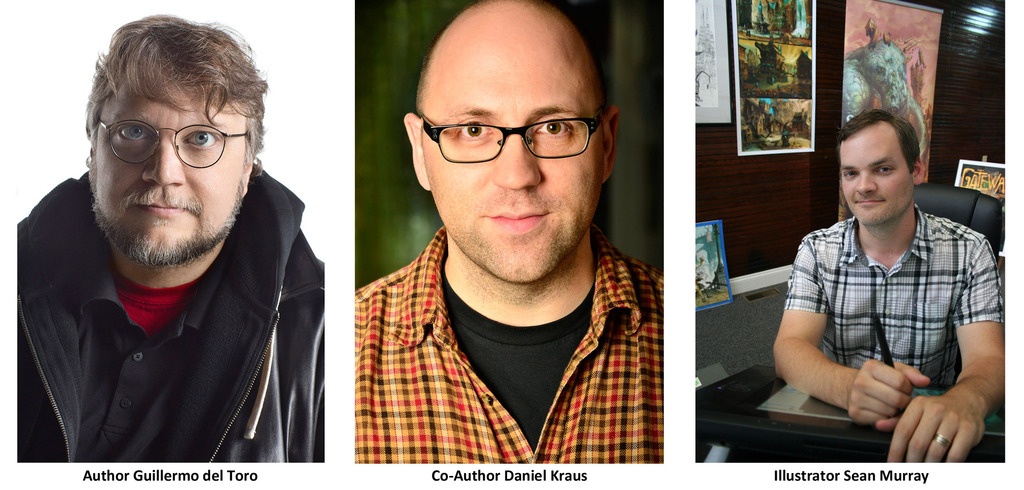 Trollhunters by Guillermo del Toro
Synopsis:
You are food. Those muscles you flex to walk, lift, and talk? They're patties of meat topped with chewy tendon. That skin you've paid so much attention to in mirrors? It's delicious to the right tongues, a casserole of succulent tissue. And those bones that give you the strength to make your way in the world? They rattle between teeth as the marrow is sucked down slobbering throats. These facts are unpleasant but useful. There are things out there, you see, that don't cower in holes to be captured by us and cooked over our fires. These things have their own ways of trapping their kills, their own fires, their own appetites."
Jim Sturges is just your average teen living in the 'burbs of San Bernardino. He has an embarrassingly protective dad, sure, but your dad would be protective too if his brother vanished without a trace decades ago. Jim as a BFF named "Tubby" who shares Jimes hatred of gym class, and he is totally crushing on a girl who doesn't even know he exists. Then one day, a 45-year-old mystery resurfaces and everything suddenly changes. The lives of everyone in the sleepy little town are threatened. Jim has to team up with a band of unlikely (and even a few un-human!) heroes to battle monsters he never knew existed.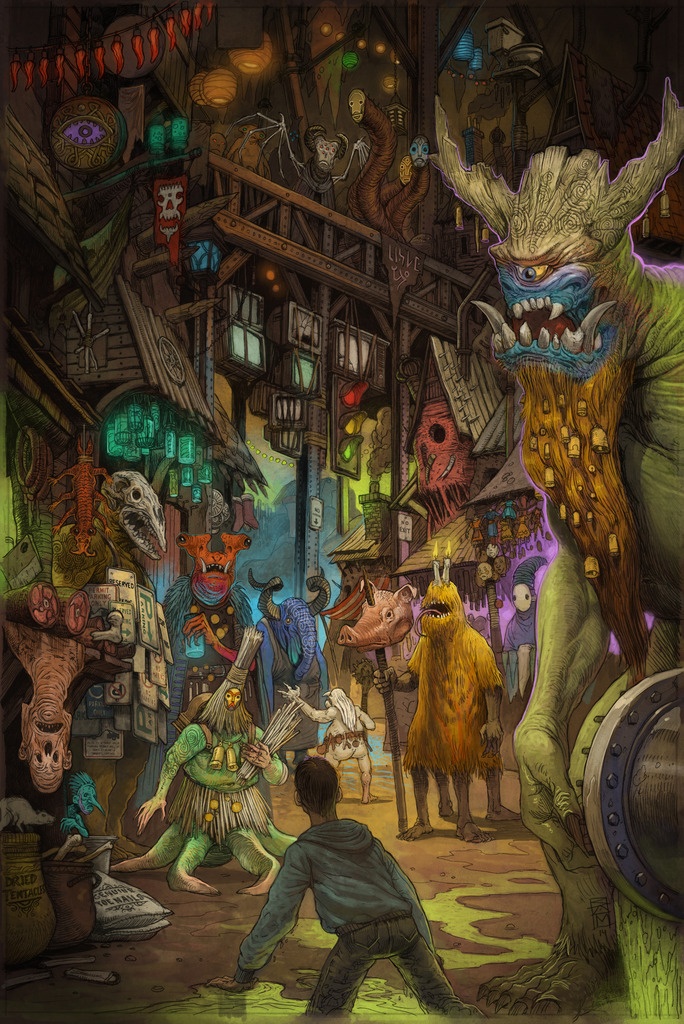 Don't worry, Trollhunters isn't a romance novel hidden behind a smidge of horror. Instead, it does have a smidge of romance amidst all the frights. It's gory at parts. It's creepy. It goes bump in the night. You'll make sure your feet are tucked securely in your bed before you turn out your lights (tell me I'm not the only one that does that!). Oh, and it's illustrated with some uber-creepy graphics throughout the book!
Ready to read? Head over to Amazon to grab your copy! Learn more at Un-RequiredReading.com. Follow Disney-Hyperion on Twitter & Tumblr to keep up with news.
COMIC-CON SIGNING 
Will you be at San Diego Comic-Con? Stop by the Disney Publishing Booth on Friday June 10th  between 2:30-3:30PM for a TROLLHUNTERS signing with co-authors Guillermo del Toro and Daniel Kraus. Limited to 100! Head to Disney Publishing Worldwide Booth #1129.
TOP OF THE FOOD CHAIN prize pack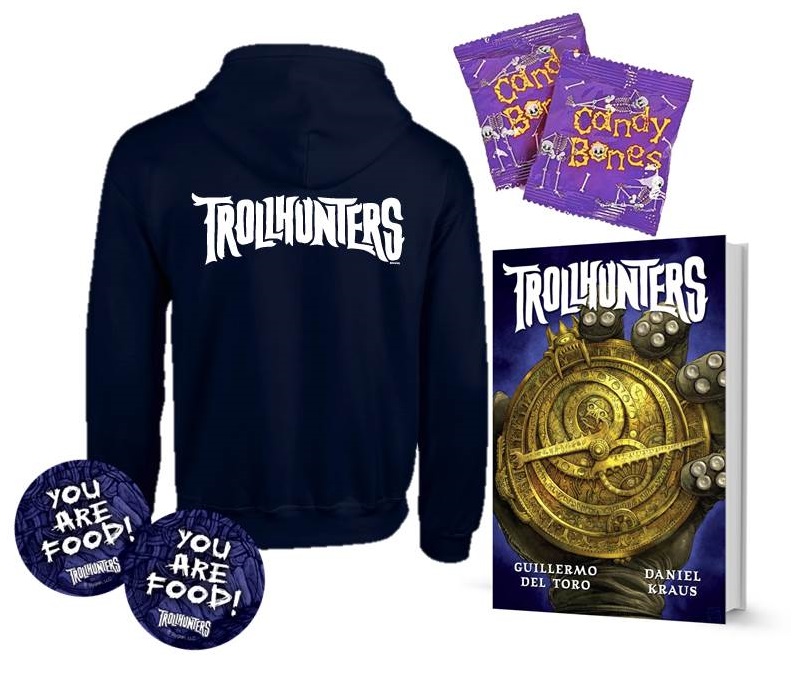 Avoid becoming a monster's next meal! One (1) winner will receive:
Branded Trollhunters zip-up hoodie and pins;
Candy bones;
and a copy of Trollhunters.
Giveaway open to US addresses only. Prizing and samples provided by Disney-Hyperion. Giveaway ends on July 30th. 
Giveaway ended: Congratulations to Jackie V!