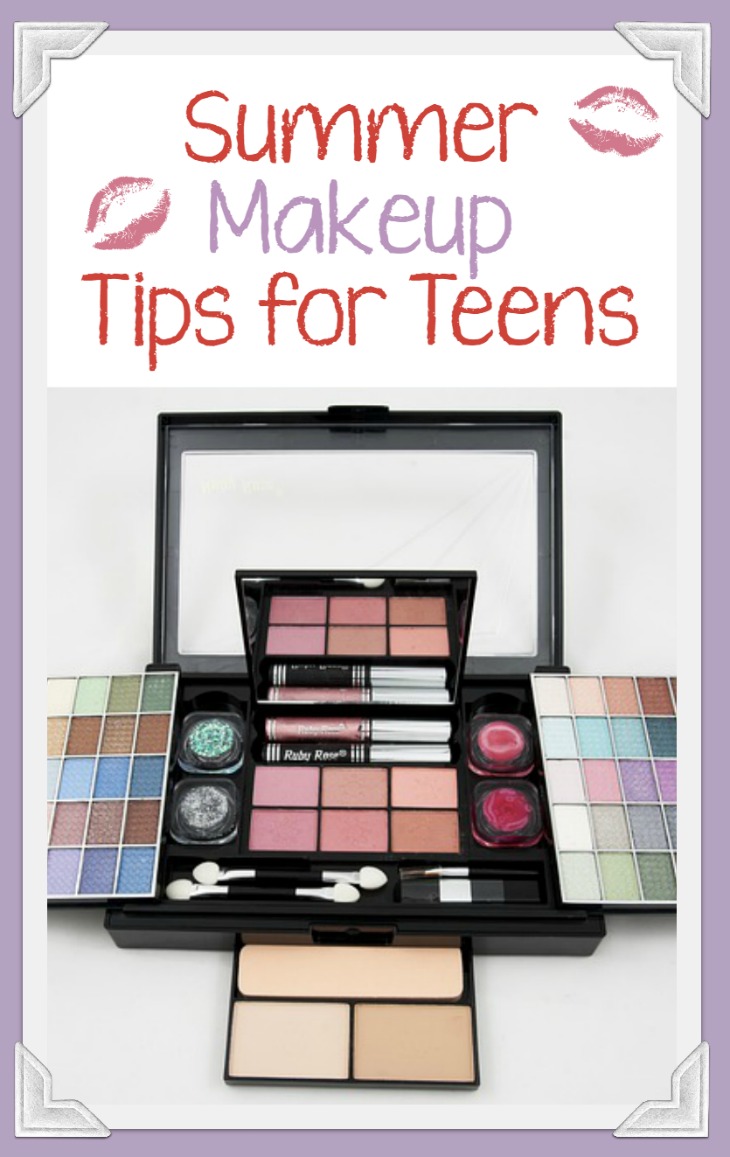 While many of us are excited that summer is upon us, we are also dreading putting on makeup during those hot summer days. After all, no one wants makeup melting all down their face. Here are some great summer makeup tips to help you looking your best all summer long.
Related: Keep Your Hair Gorgeous All Summer With these Must Haves!
Summer Makeup Tips for Teens
Affiliate links included below.
Ensure your eye makeup stays on– In the summer, you want to avoid using eye cream on your lids since this can cause eye makeup to lose its effect. Instead, you want to apply eye primer since this will create a base so your eye shadow stays on longer and it also reduces creasing. With eye liner, apply your eye liner as you normally would and then apply a darker color shadow over the liner so it stays on longer. E.L.F. makes an eye primer that's just $3 and works great!
Protect your face from the sun– Using foundation on your face in the summer just creates a look and a feel that is uncomfortable. Instead, you want to use a moisturizer that contains sunscreen. This will help to keep your skin not only protected from the sun but hydrated as well. So long, alligator skin! We love Olay Fresh Effects. It's decently priced, has a fun package and works fantastic.
Protect your lips from the sun– While you probably think about putting sunscreen on your face as well as the rest of your body, you don't want to forget to apply some to your lips as well. Lips contain very little melanin that repels the sun so it is important to apply a chapstick that not only contains Vitamin E to keep your lips moisturized, but also helps protect your lips from UVA and UVB rays. Skip the deep matte lipsticks during the summer. Instead, opt for shimmery balms and glosses that have built-in sunscreen. Or go nude with EOS Lemon Drop! Can't live without red lipstick? Apply the lip balm over a red stain!
Use water-proof eye makeup– Waterproof eye liner and mascara are designed to help stay in place on those hot and steamy summer days. You should only apply liner and mascara to the top of your eye lashes and eye lids so that the makeup won't run down your face. Yes, the under-eye liner look is coming back, but save it for the fall.  As for the mascara, you can't go wrong with Cover Girl!
Related: 20 Summer Teen Fashion Accessories Under $20
Less is more: Unless you have a hot date or you're heading to THE beach party of the year, stick with the "less is more" approach. You won't need many summer makeup tips if you're sporting a face that's all you, babe. I know, where is the fun in that? If you can't live without makeup (trust me, I know the feeling!), do this: pick one feature to play down and one to play up. Example: that period pimple that sprouted its ugly whitehead right before your date. Conceal, conceal, conceal. Then play up those stellar baby blues! Leave the rest of your pretty face alone.
These summer makeup tips will help keeping your best face forward and stop you from looking like a melting Wicked Witch of the West so you can enjoy your days hanging out on the beach with your friends.
Do you have any other great summer makeup tips for teens? Tell us in the comments!