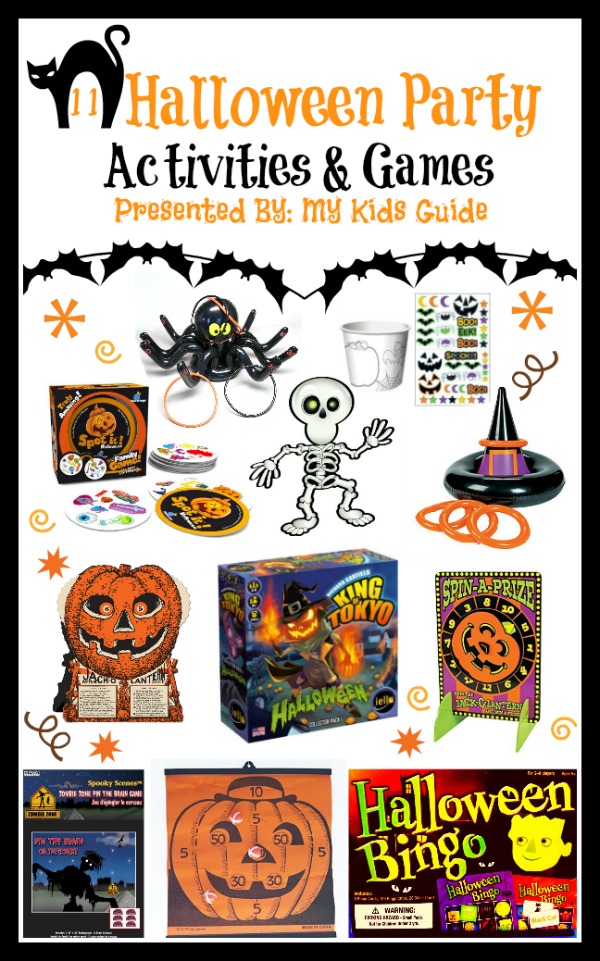 Halloween is just around the corner and those amazing parties are happening earlier and earlier every year, which means you need some great Halloween games for kids! This year's festivities can begin as early as October 10th! Grab your calendar and notebook and let's get planning!
First thing's first, set the date. You want to be the first host to get those party invites sent out so you need to decide NOW! Okay, so not necessarily "right now" but talk about it with your friends and family tonight and try to get something nailed down.
Next, pick your party supplies and activities (you have time to decide on a menu later). Appropriate Halloween games for kids can be more difficult to find than you think. Select one for each age group you plan to have attend your event. This will allow you to be sure you have something for everyone – without favoring one group over another
My Kids Guide has selected eleven great Halloween games for kids to help make your party fun and exciting. Pick three of your favorites and get ready for a fantastic Halloween event!
Awesome Halloween games for kids
This post contains affiliate links! Thank you for the support.
Treat yourself to a game of Spot it. Halloween, but don't be tricked by the ingenious game mechanics. The award-winning game, Spot it. bewitches everyone with its fast-paced fun. Spot it. is truly a one-of-a-kind card game. Each card has 8 images of varying sizes. There is always one and only one, matching image between any 2 cards. There are 5 challenging mini-games packed into this tin. Depending on the mini-game, players simultaneously try to gain or get rid of their cards by spotting matches between 2 or 3 cards. Play your way through all the variations or just play your favorites. No matter how you play, Spot it. Halloween provides spirited competition and endless laughs.

This exclusive, limited pack includes new Halloween themed contents to be played with King of Tokyo! Meet Pumpkin Jack and Boogey Woogey! Those two new, scary monsters come with their own sets of Evolution cards. This mechanic introduced by the Power Up! expansion provides each monster with 8 square-shaped cards to mutate into an even more nightmarish version of itself! But for Halloween, the original King of Tokyo monsters may want to look a bit spooky too: 12 new Power cards allow them to fit in! Costumes, a brand new type of cards, have powerful effects but can be stolen any time someone rolls 3 claws. An exclusive card for the next King of Tokyo standalone game (to be released in 2014!) will be featured as a promotional item. The pack also includes a set of 6 orange-and-black engraved dice, perfectly fitting the Halloween theme.

Everyone loves Bingo and you can really have a great game by selecting some fantastic prizes for your guest. This kit includes 8 Bingo Cards, 105 Bingo Chips, and 28 Caller Cards. (Party favors, prizes and/or candy not included)

Your little goblins and ghosts will enjoy decorating their own cups and filling them with treats. This great set includes six per pack.

Spook Up Some Fun with Halloween Party Games ! Entertain your Halloween guests with something different, like a ghoulish game! The inflatable spider is plastic and the rings are rubber. Includes the spider and four 6 1/2″ rings. These unique Halloween supplies aren't just a great surprise for your trick or treaters, they are also a fun addition to any Halloween party. Spook up the event with original Halloween games like these.

Fun party game pin the smile on the skeleton. This is a cute alternative to the Zombie, pin the brain on the Zombie, below. Decoration suggestion: use all of the "Pin the ___" recommended in this list for a wall full of fun for all ages!

Enjoy this great game at your event and take them along to all your Halloween parties! This inflatable set includes four 10″ rings and one approx. 20″ x 24″ witch hat, inflated. Vinyl. (5 pcs. per set)
This is the terrific, hilarious, grotesque spin on the old "Pin the Tail on the Donkey Game", only with ZOMBIES! Your mission is to pin your brain sticker into the brain pan of the approaching zombie. . . while blindfolded! The one who comes closest to the right spot wins! Game includes a terrific 24″ x 36″ background with a grotesque zombie image, 12 brain stickers, and a blind fold. From Spooky Scenes, game comes brand new in the factory display package! Great spooky fun!
Haunted Halloween Games. All of your guests will be entertained at your upcoming Halloween party when they play this Jack O Lantern Dart Ball Game! This fun game is a great way for children and adults to play together and have a ball doing it! Approximately 17 3/4 x 18 3/4. 3 velcro and plastic balls included. Orange and black jack o lantern with points on board. Dart board is made of foam. Keep your guests entertained with fun Halloween party games everyone can play! Halloween games work perfectly for Halloween events and Halloween school parties.

Can't decide on what prizes to give to who and what game should receive the best rewards? That's okay! Your guests will love spinning the wheel to pick their prize instead!
Talk about old school! Its old school vintage spirit is sure to make your party one of a kind. This is a must have centerpiece that is sure to be the biggest hit at your party. It works for all ages.
These Halloween games for kids are sure to make your next party a hit! Need more ideas? Check out our cute Halloween Mummy Craft for a fun activity kids can do together as well as those pumpkin games for kids.
Follow MyKidsGuide's board Halloween Fun for Kids on Pinterest.