If you are stumped when it comes to coming up with a cool, hip theme for your upcoming celebration, how about a Hawaiian themed birthday party?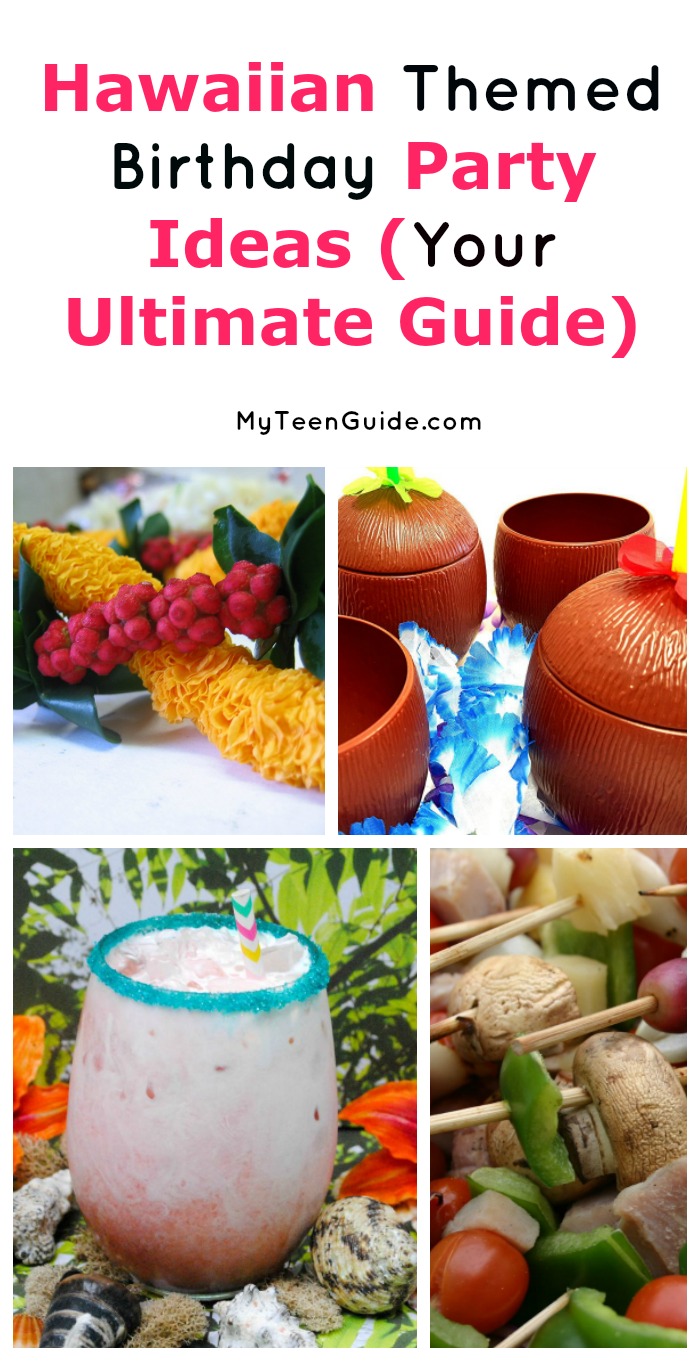 A Hawaiian themed party mostly focuses on tropical décor, Hawaiian-inspired foods and fun activities.
While it's absolutely perfect for a summer bday, with our tips you can pull it off any time of the year!
Read on to see how to put it all together!
Hawaiian Themed Birthday Party Ideas
Affiliate links included below. If you make a purchase through these links, we earn a small commission at no extra charge to you.
1. INVITATIONS
So, you're planning this huge Hawaiian bash, right? Well, you need to tell everyone about it, so they can attend! You have a few choices when it comes to sending out invites to your Hawaiian themed birthday party. Let's check them out!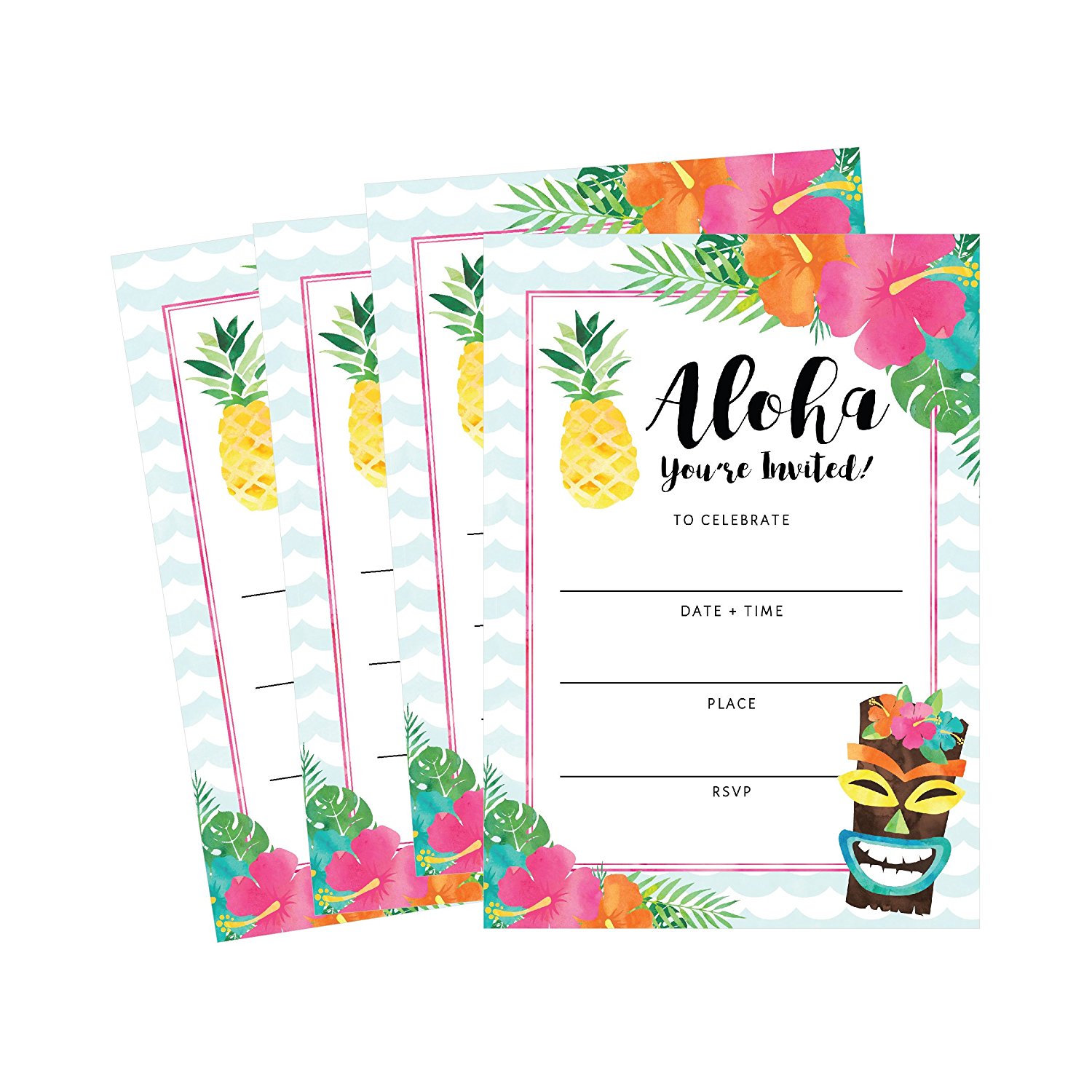 Buy them! 
I love these Hawaiian Luau party invites
from Amazon. You get 50 in the pack and they're easy to customize with your party details.
Make them yourself!
 For those of you with a creative side, consider making your own party invitations. This article provides you with easy, step-by-step instructions for creating Luau Flip Flop Invitations.
Canva also features an assortment of party invitations, which can be customized and printed out, including Colorful Palm Leaves Tropical Luau Invitation and Luau Party Pineapple Tropical Invitation.
If you're on a tight budget, you can also just send a text to all your friends with the party details. Just do it individually and not as a group text. I know it drives me nuts when my friends group-text me, then I get buzzed for every single RSVP, question, etc. By the day of the party, then info I need is so buried that I end up texting the host asking for the details again!
2. DECORATIONS
When it comes to Hawaiian themed birthday party, you want to pay extra attention to the decor. While you don't have to spend a fortune, the right decorations can really bring home the theme! Here are some easy ideas!
Check out more Hawaiian themed party decoration ideas here:
3. TABLEWARE
When it comes to tableware for your party, think tropical!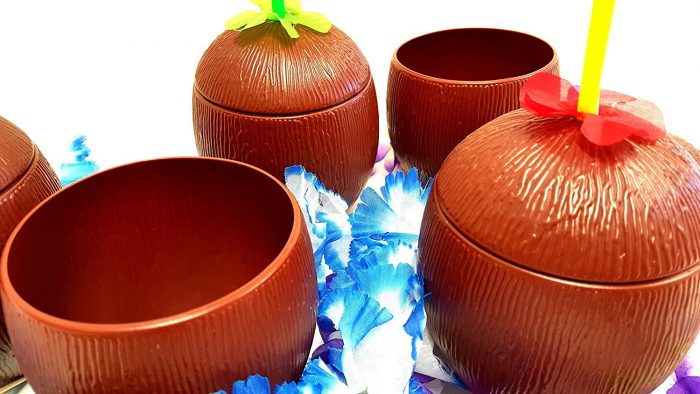 Amazon has some great Luau party tableware sets, including this complete set with everything you need! Add a bit of mix and match style with a package of these hibiscus dessert plates
 and these coconut cups
!
Your local Party City also has an array of Luau themed tableware, including Aloha Hawaiian Themed Tableware, which features bright hibiscus flowers and colorful pineapples; Bright Flip Flop Tableware, which has patterned, vibrant flip flops; Neon Hibiscus Tableware, which features neon hibiscus flowers and Palm Leaf Tableware, which has vibrant prints of palm tree leaves.
4. FOOD & DRINK
Hawaiian themed birthday party food mainly consists of fresh fruits and Hawaiian-related foods! Some fun ideas include:
5. ACTIVITIES
If you want to make your Hawaiian themed party fun and memorable, you'll need to have some awesome activities and games for your guests to engage in!
6. PARTY FAVORS
So, your party is over, and your guests had a great time. Now it's time to send them home with a cool party favor!
With these Hawaiian themed birthday party ideas, your friends will be talking about your bash for years to come! Everyone will have a blast and go home feeling like they just spent the night in the tropics!
Do you have any other Hawaiian themed birthday party ideas? Share below!