As the premiere of Solo: A Star Wars Story draws near, the excitement among Star Wars fans surely grows and can't be controlled.
If you are looking forward to the latest standalone movie from the Star Wars saga as much as I do, you might want to watch a few other flicks to get you even more in the mood for some Solo.
Don't miss out: Get a free exclusive poster with your 'Solo: A Star Wars Story' ticket purchase while supplies last.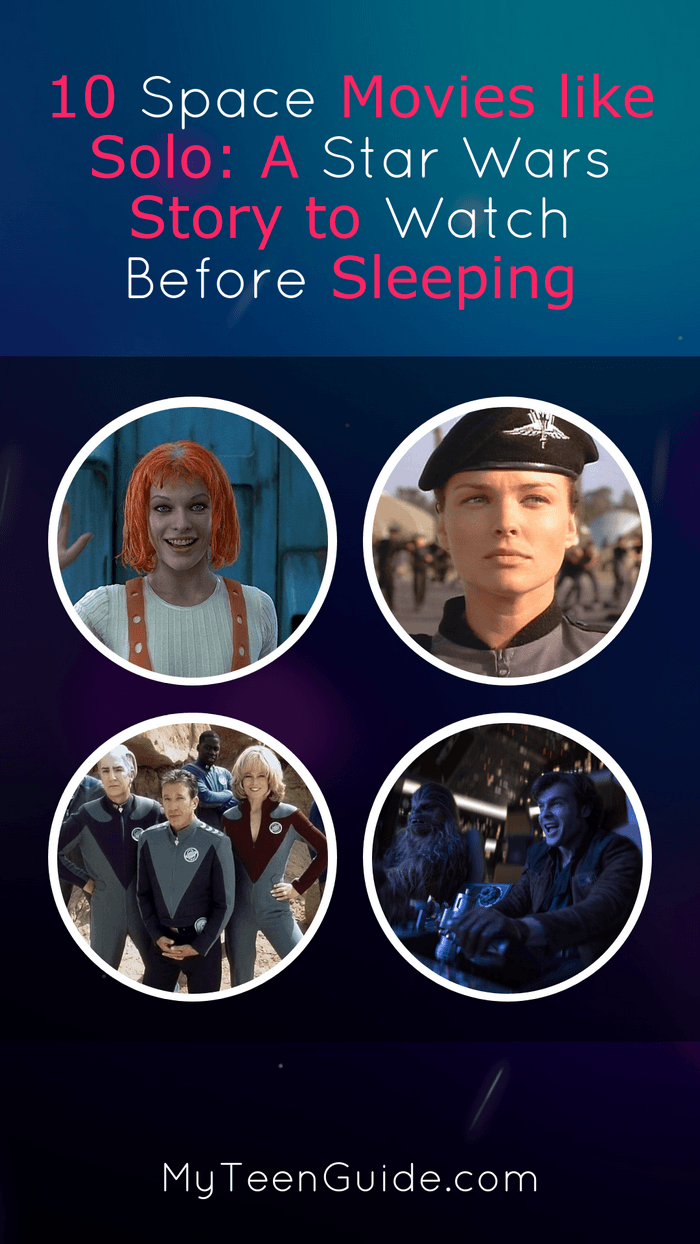 Of course, if you haven't seen all of the previous parts of Star Wars and the standalone movie Rogue One, that is the best way to prepare yourself for another Star Wars story.
If you did, I have a few suggestions that will suit you perfectly.
Read on for great movies like Solo: A Star Wars Story!
Space Movies like Solo: A Star Wars Story
This post contains affiliate links. We earn a commission if you make a purchase.
1- Star Trek: The Motion Picture (1979)
If you love Star Wars, then you shouldn't miss the second most popular space saga, Star Trek.
There are more than a dozen movies in the Star Trek universe and if you are ready to delve deep into this story, you should start with the first one (of course), the one where the USS Enterprise and its famous crew is first introduced.
It is not the best Star Trek movie, but you have to see if you plan to watch all of them.
2- Galaxy Quest (1999)
What happens when aliens watch a human space opera TV show and mistake it for the real thing?
Well, you can see if you take a look at Galaxy Quest.
This movie has everything a space flick needs: humor, a reptilian warlord and Sigourney Weaver in a tight uniform.
Yeah, and a bunch of amazing actors like Tim Allen, Alan Rickman and Sam Rockwell, for example.
3- Barbarella (1968)
If you are looking for a funny and unpretentious movie that doesn't have much to offer in terms of action but has a lot of weird characters and sexual innuendo, a classic like Barbarella should be your choice.
Featuring scarcely dressed Jane Fonda as the 41st-century astronaut trying to stop an evil scientist Durand Durand (Milo O'Shea), this movie directed by infamous French director Roger Vadim will keep you laughing and wondering what in the world is going on, all the time.
4- Starship Troopers (1997)
This movie is a good, old-fashioned action in which there is a big war between humans and alien bugs.
What more could a person want from a sci-fi space movie?
The cast is a group of relatively unknown actors, although it is always fun to watch beautiful Denise Richards and to see some of Neil Patrick Harris' earlier works.
5- The Fifth Element (1997)
I suppose that I don't have to say much about The Fifth Element since it quickly became a cult movie.
With a great cast that includes Mila Jovovich, Gary Oldman, Bruce Willis, Ian Holm and hilarious Chris Tucker, this movie by Luc Besson is probably one of the best space-based action flicks of all time.

6- Stargate (1994)
Yes, another movie with a star in the name.
This flick was quite popular back in the days and it still has plenty of avid fans, myself included.
I really like the story since I enjoy reading about Egyptian mythology and with James Spader and Kurt Russell in leading roles, you are sure to get drawn in the movie completely.
7- Guardians of the Galaxy (2014)
I know I am biased when it comes to this film since it is one of my favorite movies of the 21st century, which means that I would put it on any list without blinking, but I really feel that it objectively belongs here on this list.
Let's try it this way – a petty thief who loves only himself and his spaceship, accompanied by a furry friend, becomes an unlikely hero of the galaxy and gets together with a girl who he hated in the first place. Who is our mysterious bad boy – Han Solo or Peter Quill?
You can't choose? I rest my case.
8- Dune (1984)
Yes, I am aware that Dune is not highly regarded in the sci-fi community and that even the great director David Lynch admitted that he succumbed to the pressure of the producers when he made the movie.
Still, it is the only adaptation of Herbert Spencer's epic novel up to date (Denis Villeneuve plans to make it as well, keep your finger's crossed), so it is still worth a watch.
Also, if you are a fan of the novel, you can also check out Jodorowsky's Dune, an amazing documentary about the greatest movie never made.
9- 2001: A Space Odyssey (1968)
You can't discuss the best space movies without mentioning the greatest space opera ever made.
For those unfamiliar with this classic, let's just say that you are in for a real mind-altering experience from one of the most authentic directors in history, Stanley Kubrick. And if you don't develop a serious AI phobia after you meet HAL 9000, good for you.
10- Serenity (2005)
This one takes a bit more dedication, because you can't watch Serenity unless you watch Firefly beforehand, one of the best sci-fi TV shows in my modest opinion. Since Firefly was foolishly canceled after the first season, Serenity was made to provide closure to the story, and it did so in a way to remember.
Have you seen any of these movies like Solo: A Star Wars Story? Which is your favorite?