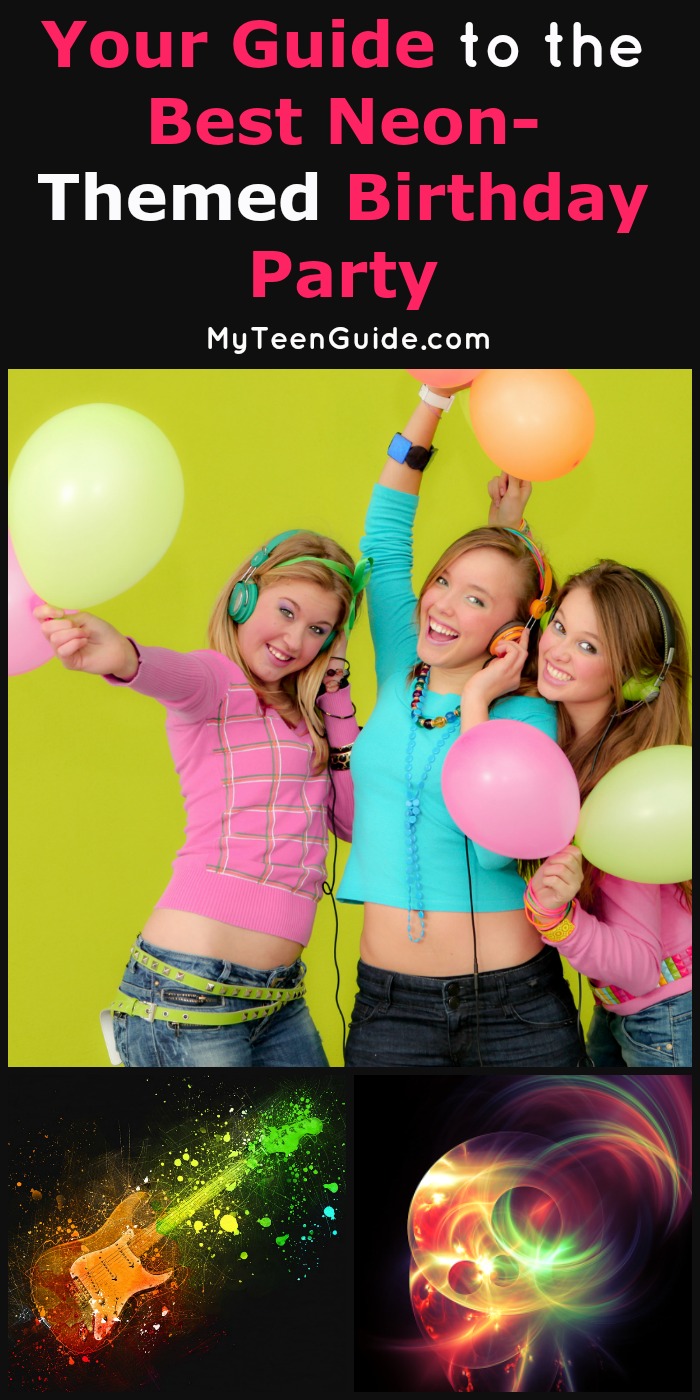 Who wouldn't love a neon themed birthday party?!
It's the perfect theme that brings together so many of our favorite things!
Lights, colors, and awesome glow-in-the-dark excitement!
Here's a ton of ideas to make sure that your party is a huge hit!
Amazing Neon Themed Birthday Party Ideas
This post contains affiliate links. We earn a commission if you make a purchase.
1. INVITATIONS
If you're going to have a birthday party, you're going to need to have people there, right? You have a few easy options when it comes to sending out invites to your neon themed birthday party!
You can just go the super easy route and buy them! Amazon has these Neon Paint Splatter Birthday Party Invitations.  The invitation set includes 10 invitations, along with 10 white envelopes.
Want to save money? Make your own invites! Whip up something simple in like PicMonkey or PhotoShop, then print them out on neon card-stock paper.
2. DECORATIONS
Usually, we'd tell you to save money on decorations by keeping it simple, but at a neon-themed birthday party, decorations really make or break the bash.
Don't worry, though, that doesn't mean you have to spend a fortune to really bring your party to life! Here are a few easy ideas:
Throw your party at night and keep the room dark so your neon elements really pop. Grab some cheap black plastic tablecloths to use on all your tables.
Use plenty of balloons to bring your theme to life! Amazon has great Blacklight Polka Dot Party Balloons that glow under a black light. You can also buy inexpensive balloons in neon colors at your local party store or even the dollar store.
https://www.instagram.com/p/Bf_pQRJAv-5/?tagged=neonpartydecor
Add a little creative chaos to your decor with neon and black light paint! Just get some black poster board, splash it on a la Jackson Pollock style, and hang your canvases up around the room.
Go crazy with glow sticks! You can find packages of them at your dollar store. Set them out in bowls for your guests, use them as decor around your food table, and so on.
Related ►► 10 Cool Things to do with Party Glow Sticks
3. TABLEWARE
Since your party is likely to have some food, you'll need some neon tableware! Try these:
Party City has a Neon Party Tableware Kit for 16 Guests- This tableware kit comes with dessert and lunch plates, beverage and lunch napkins, cups, cutlery, table cover, table centerpiece and birthday banner.
Amazon – Bright Neon Party Set– The set comes with enough party supplies for 32 guests, including 9-inch and 6-inch plates, napkins, cups and cutlery, in 4 colors: blue, green, orange and pink.
4. FOOD & DRINK
Speaking of food, you don't want to send your party guests home hungry, do you? Try these ideas!
Rainbow Pizza – Your party can't just consist of snacks and junk food, you know! Your party guests will love this colorful pizza! Just start with a regular pizza, then add veggies in bright colors! Red and orange peppers, yellow grape tomatoes, and even a little purple potato pull it all together.
Brightly colored drinks are a must! Try a Fizzy Raspberry Frobscottle recipe! It practically glows in the dark already, but you can add a bit of tonic water to take it to new levels.
Rainbow Fruit & Veggie Trays– Okay, I promise this will be the last of the healthy party food ideas! Arrange colorful slices of fruits and veggies in a rainbow pattern around a tray!
My Creative Way – Paint Splatter Cake- Here you'll get easy DIY instructions for making a paint splatter birthday cake. And when I say easy, I mean super-duper easy!
Fun 365 – Neon Snack Mix- This mix is made with popcorn, chocolate candies, sprinkles, pretzels, white chocolate chips and Fruit Loop cereal.
Glow in the Dark cupcakes are crazy cool! Check out this how-to:
5. ACTIVITIES
You'll need some party games and activities to keep your guests from getting bored, right? How about these:
Plan some fun Glow in the Dark Party Games! Glow bowling is my favorite, and it's so easy to put together!
It's Limbo time! Wrap a stick in glow sticks, or paint it with glow paint. Then turn on the music and do the limbo!
Queen of Theme Party Games has instructions on playing awesome games like Neon Truth or Dare and Glow in the Dark Sock Volleyball.
Or you can just turn on the music and dance the night away! Electronic dance music is perfect for a neon party. Check out this playlist:
6. PARTY FAVORS
After your fun neon party is over, you want to send your guests home with a cool party favor or two!
With these neon themed birthday party ideas, your guests will definitely have the time of their lives!
Did you ever throw a neon themed birthday party? Share your ideas!