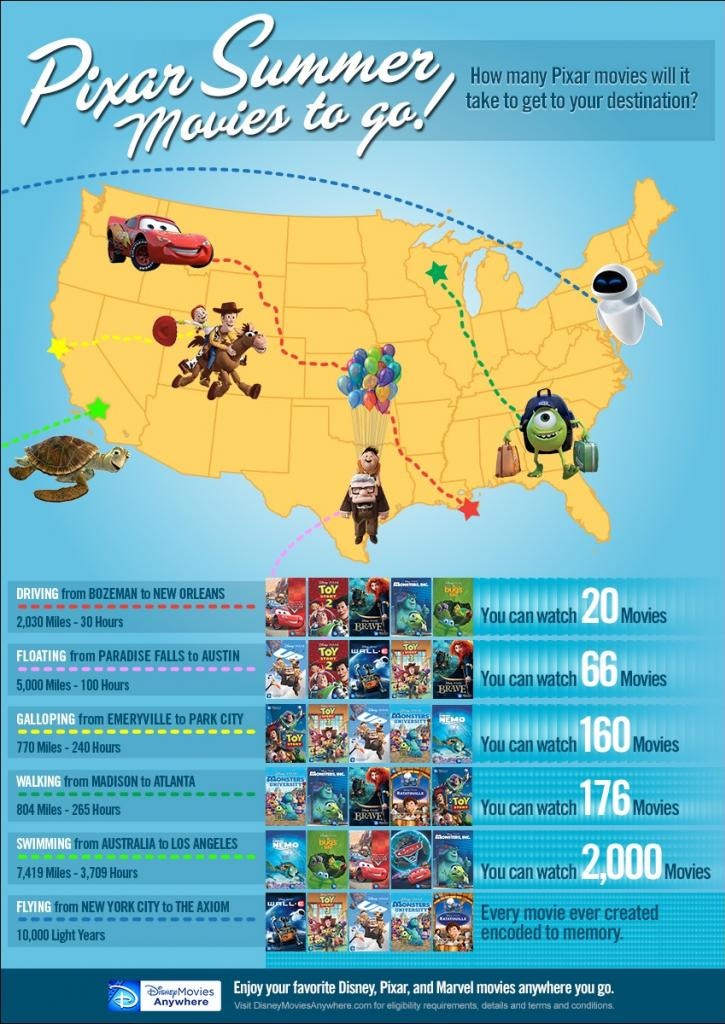 This summer, take all your favorite Pixar movies for kids on the road with Disney Movies Anywhere! The cloud-based digital movie service lets you buy, watch and manage Disney Digital content on all your platforms. Right now, there are over 400 films from Disney available for download. Once you download the movie, you can access it on your iOS devices or your PC. Watch your favorite movies at home or take them on the go! These summer movies are a great way to keep kids entertained on long car rides. Just hand them your smart phone and let them catch up with their favorite characters! I really wish they had this when I was a kid, I used to get terribly car sick if I didn't have something to keep my mind off the drive, and reading wasn't an option!
PIXAR Summer Movies to Go Countdown
Whether you're catching the East Australian Current or cruising the open road, you'll want to be entertained on summer trips and DISNEY MOVIES ANYWHERE is here to help! With PIXAR SUMMER MOVIES TO GO, a different fan favorite film is made available each week throughout the summer with exclusive bonus content like special filmmaker introductions, film trivia and the "Countdown to Pixar's Ultimate Movie-Making Secrets." Check out a sneak peek of this week's 12 SURPRISING FACTS ABOUT FINDING NEMO below and then head to the Disney Movies Anywhere app's Discover section to see the complete countdown!

Finding Nemo is one of my favorite Disney PIXAR movies, so I loved learning all those surprising facts. How about you? Did you know any of them already?
For more information or to redeem Digital Copy codes to build your library and earn Disney Movie Rewards for digital purchases (yes, you earn rewards, just like with Disney DVDs, and they do add up fast!), visit www.disneymoviesanywhere.com
What is your favorite Disney PIXAR movie? Do you have Disney Movies Anywhere yet?