If you're looking for some fun & pretty Christmas nail art ideas, you're in the right place!
The Christmas season is reflected in the decorations we see, the atmosphere and even the weather.
It's only right that us ladies can capture the Xmas spirit with our nails too.
It doesn't have to be anything too crazy, even the simple holiday colors can bring your nails to life and make them a hit at your Christmas party!
Let's look at some simple and some elaborate nail art ideas just in time for the holidays!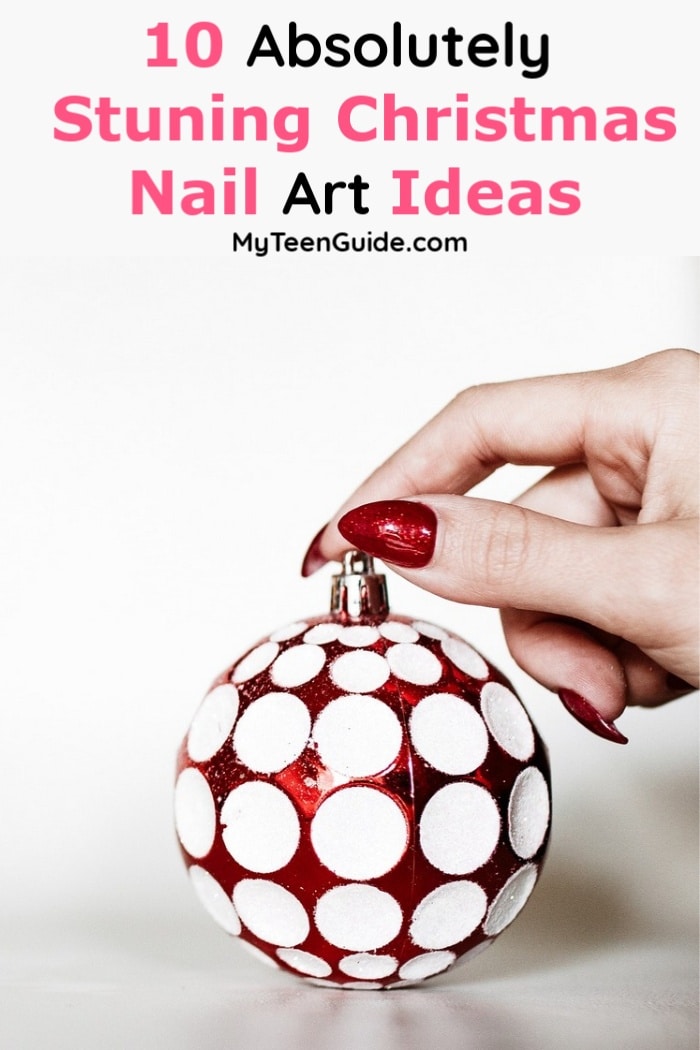 Christmas Nail Art Ideas
From simple holiday colors to over-the-top artistic designs, you'll find the perfect Christmas nail art ideas below!
We'll even give you some recommended products to help you achieve the look at home!
FYI, this post contains affiliate links. If you make a purchase through these links, we earn a small commission at no extra charge to you. 
1. Frozen
This movie was a hit a few years ago and still is with the sequel hitting theaters soon.
It does take a bit of work to get this design right, but just look at the finished product!
I love the simple elegance of white and silver, reminding me of a snowy wonderland.
Feel free to create your own unique nails by adopting this design but switching out the character or snowflake.
Replacing Olaf with Elsa and the snowflake with a small white Christmas tree will look just as cute.
2. Snow and Snowflakes
I love neutral and muted colors, with white and black as my go-to.
White and black are the basic staples of any wardrobe and….. everything really. Coffin nail shapes as seen above are also growing in popularity.
You don't need to have it this long if you think it interferes with daily activities.
The classic white nails look great with printed designs like these sparkling snowflakes.
Take inspiration from this design but switch out the snowflakes and replace them with ornaments, candy canes and even Santa hats for your own unique flair.
3. All That Glitters is Gold
Again, the shape is entirely up to you, don't let the impractical but super popular shape distract you from the beauty and simplicity of this design.
Using colors alone can invoke images in a person's mind. Think about black and orange, what imagery does that bring forth?
Maybe something to do with Halloween?
Although red and green are the more traditional Xmas nail colors, red and gold symbolize Christmas just as well.
If you like red and green, feel free to pair the red with green glitter or silver.
4. Christmas Characters
Just like Michael Jackson was and still is the icon of pop music, snowmen, Santa Claus, candy canes, etc are the epitome of Christmas.
Some nail salons will have seasonal designs pre drawn on swatches (the sticks you see above).
You can go in and take your pick or show them these ideas if you see one to your liking. I personally wish they had one with a little present!
5. Mix and Match
These days quirkiness and individuality are celebrated, as they should be.
For the indecisive people (guilty as charged) sometimes you can't make a decision!
Settling for one can be hard, but you have ten fingers and no one ever said they had to be the same.
By all means get two different colors or two different designs on both hands.
As long as you are open to the idea of not restricting yourself, why not go a little crazy and get 10 different colors or designs?
6. Snowflake "Cat Eye" Nails
The cat eye refers to the effect that you see here, a tad bit like chrome nails but with a different reflective effect.
The reflective particles are actually iron particles that rise to the surface when a magnet comes in contact with them.
So yes, at the salon you will get to see your nail artist use a magnet to coax out this effect.
I'm loving the midnight blue color because it reminds me of Silent Night. Especially with the snowflakes, it creates a mesmerizing effect.
Again, you can take your pick of other colors and designs. Get creative, mix and match!
7. Candy Canes & Snowflakes Nail Art
Candy canes and snowflakes are two of the most iconic winter symbols. With this gorgeous design, you don't have to choose between them!
I love how every nail is different (the pinky has a subtle glitter effect). This one is pretty easy to achieve at home.
Just use a snowflake applique for the ring finger and check out this tutorial on painting perfect stripes for the candy cane nail.
8. All that Glitters Nail Art
Another "mix and match" style that I absolutely adore, this one combines glittery nails with flawless snowflakes and a stunning ombre effect.
If you have a steady hand for the flakes, you can pull off this look at home. This tutorial will help you out with the ombre effect.
For the snowflakes, grab a set of nail stickers if you don't think you can DIY them.
9. Simple Yet Elegant Red
For those who can't really afford a trip to the salon and don't have a steady hand, don't feel left out of the Christmas nail art ideas fun!
These simple red glittery gel nails absolutely scream Christmas!
If you can hold a nail polish paint brush steady, you can absolutely get the look at home.
10. Pile on the Glitter and Ombre Effect
And last but definitely not least, we have the mounds of glitter!
While you can do whatever you wish with your nails, I feel Xmas is the perfect excuse to use outrageous amounts of glitter and get away with it.
In fact, it seems like the more you use the more Christmassy it feels!
Pair the glitter and sparkles with and ombre effect (light to dark) and add dimension to your nails.
As a person who discovered the joy and convenience of gel nails more than 5 years ago and recently graduated to doing solid colors at home, I must say that there are so many different designs that have yet to be explored.
Take your favorite colors, characters, and effects to create unique nails.
Remember that the above styles are just suggestions and I encourage you to put your own spin on it.
What are your favorite Christmas nail art ideas? Share below!