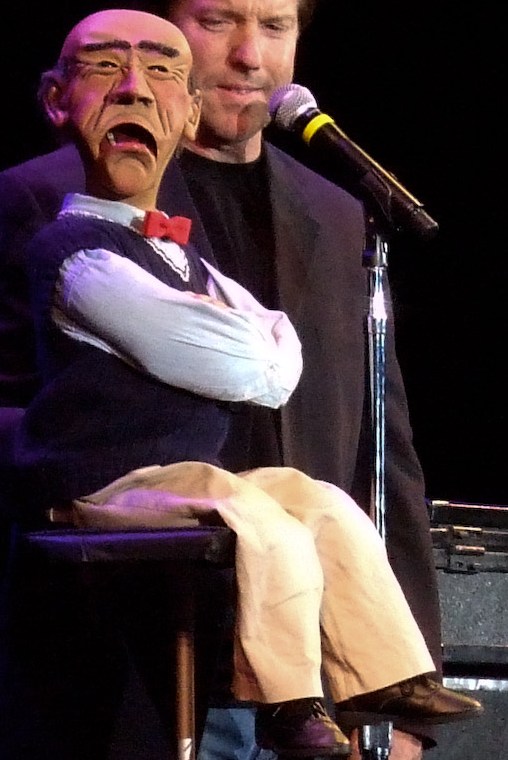 So, most people know that Jeff Dunham was born in 1962 in Dallas, Texas and that he was adopted at a young age. But, many people don't know much about his family. Here is your guide as to who is who when it comes to Jeff Dunham's family.
Who is Jeff Dunham's Family?
Paige Dunham– Paige (Brown) Dunham is Jeff's first wife and the mother of his three oldest children. The two started dating in December of 1992 and were married on May 19th of 1994. When she met Jeff, Paige was a single mother to a little girl, Bree, whom Jeff adopted after he and Paige were married. Jeff and Paige divorced in 2010. Paige is an advocate for divorced women as well as a businesswoman and philanthropist. She was born in Savannah, Georgia on March 13, 1968, raised on Amelia Island, Florida and attended the Glades Day School, a private school, in Palm Beach, Florida. While she was married to Jeff, Paige would help out with taking care of Jeff's merchandise empire, pitch meetings for new show ideas and writing material for his acts.
Bree Dunham– Bree Dunham was born in Los Angeles on August 29, 1991, the daughter of Paige Dunham. According to her Facebook page, Bree is the community manager at the American Cancer Society and she is working an internship at the World Affairs Council of Montana. She is a 2015 graduate of the University of Montana. She was adopted by Jeff when she was just a toddler, her biological father has not been revealed.
Ashlyn Dunham– Ashlyn Dunham was born on September 11, 1995, the daughter of Jeff and Paige Dunham.
Kenna Dunham– Kenna Dunham was born on June 19, 1997, the daughter of Jeff and Paige Dunham. Kenna graduated from Campbell Hall High School in North Hollywood, California in 2015. She is currently enrolled at Cornell College in Mount Vernon, Iowa.
Audrey Dunham– Audrey (Murdick) Dunham was born in Norco, California on August 29, 1980. She is the wife of Jeff; they were married October 12, 2012. Yes, she has the same birthday as her step-daughter, Bree. Audrey is a nutrition specialist, fitness trainer and former fitness competitor. She is also a blogger and pastry chef. Audrey and Jeff were married at Sunstone Vineyards and Winery in Santa Ynez, California.
James Jeffrey Dunham and Jack Steven Dunham– James Jeffrey Dunham and Jack Steven Dunham are the twin boys born to Jeff and Audrey Dunham. They were born on October 11, 2015, two hours apart.
Howard Dunham– Howard Dunham is Jeff's adopted father. He is a former owner of a real estate appraisal firm.
Joyce Dunham– Joyce Dunham is Jeff's adopted mother. She is and was a housewife and is actively involved in her church.
Did you know any of these facts about Jeff Dunham's family? Tell us your favorite things about Dunham in the comments!