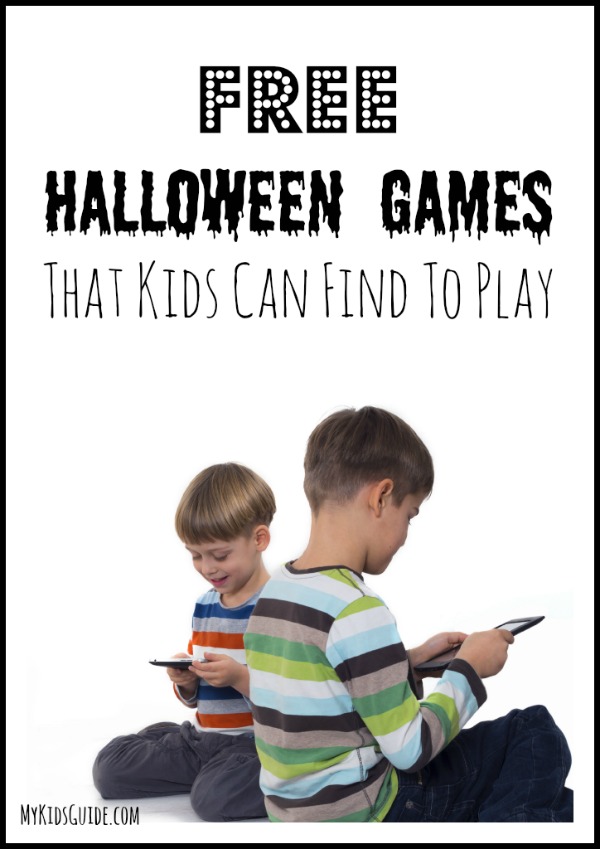 With Halloween just around the corner, we have gathered up our favorite Free Halloween Games That Kids Can Play. Every kid loves the chance to play games on their phone, tablet, or computer.  All of these games and sites are trusted, easy to navigate and some are even educational.  What more could you ask for than a fun game that teaches your kids great things while they play?  Look no further than our list for a great list that will keep your kids occupied in weeks to come.
FREE HALLOWEEN GAMES THAT KIDS CAN FIND TO PLAY
1- The Kidz Page:  This great page is chock full of fun games for kids year round.  Their Halloween section includes links to printable color pages, puzzles and of course fun games where kids can create their own custom graphic Jack-O-Lantern.  The Kidz Page has tons of great free Halloween games that kids will enjoy playing this year.
2- PBS Kids:  We already love the PBS Kids site for all the great educational games with our kids favorite shows featured.  Now you can direct them to the Halloween section for fun word games, puzzles and adventures with spooky results.
Related posts
3- Nick Jr.:  If you have a fan of Blue's Clues or the Bubble Guppies this is the site for you!  Great Halloween Ghost hunts, dress up games and more featuring the latest beloved Nick Jr. characters.  Perfect for the preschool crowd to early elementary.
4- Memozor:  This site has fun matching and memory games for kids of all ages.  Their Halloween section is perfect for the early elementary age group.
5- Activity Village:  Looking for online games and printables?  Check out Activity Village and the dozens of options available.  This site caters to kids and has a lot of fun Halloween games that are both easy and educational.
If you are looking for some fun games to occupy your kids during their free time, this is a great place to start.  These Free Halloween games that kids can find to play are perfect for those cooler days ahead where playing outside won't be as much fun.  Set your kids up with their tablet, laptop or computer and some great games for Halloween to help them learn and have fun at the same time.
Looking for offline game ideas? Check out our scary Halloween games and, of course, our not-so-spooky Halloween games for kids!
Do you have any favorite free Halloween games for kids? Share them in the comments!