This Melissa & Doug Educational Toys for Babies contains affiliate links. We get a small commission if you purchase. However we recommend only what we love. Melissa & Doug have always been a favorite name for educational toys in our household. From birth straight through to the early elementary years, they offer a wide variety of fun, entertaining and educational toys. This holiday season, let them take the hassle out of trying to choose the perfect educational baby toy for the special little one in your life!
Melissa & Doug Educational Toys for Babies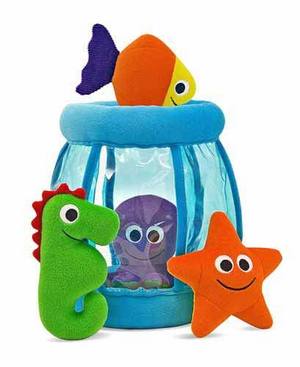 Fishbowl Fill & Spill features adorable and silly plush fish that fit into the soft fishbowl. Babies age 6 months and up will love putting them in and taking them back out! The colors are appeallign to little ones, and the soft texture will delight them. Each fish also features some type of sound, such as a rattle or a squeak. Pick it up at Melissa & Doug for $24.99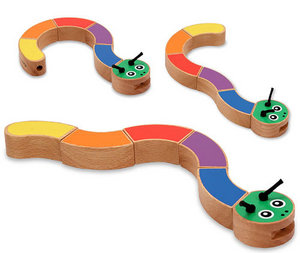 The Caterpillar Grasping Baby Toy is an also ideal educational toy for babies age 6 months and up, and gives them a chance to practice their grabbing skills. The colorful caterpillar has an easy-to-grasp body and can twist and turn in many different directions. At just $7.99, it's perfect for a stocking stuffer!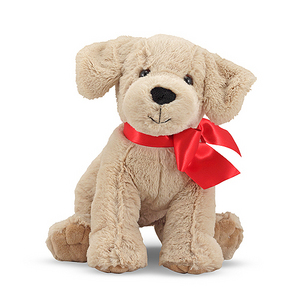 Everyone needs a cute new stuffed animal for the holidays, and this Sunny Yellow Labis adorable! Did you know that stuffed animals are actually great educational toys for babies? They offer them a chance to practice their fledgling babbling skills, provide comfort, and allow them to start connecting with other creatures in a safe manner. Sunny retails for $14.99.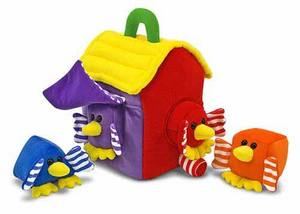 The Birdhouse Shape Sorter features four different shaped birds that go into different sides of the house. Babies age 9 months and up can practice their shape sorting skills, or just have fun crinkling and squeakign the different colorful creatures. This educational toy for babies is available for $24.99.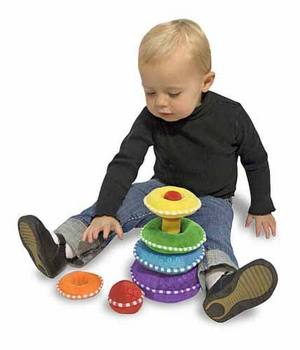 Remember the hard, plastic rainbow stackers from the 70s and 80s? Well, Melissa and Doug have taken these classic educational toys for babies and given them a whole new style. Their Soft Rainbow Stacker eliminates the worry of your baby chucking the rings across the room and breaking something, or hurting himself on the hard base if he falls into it. All of the colorful rings and the middle are soft plush. Perfect for ages 9 months and up. Retails for $19.99.
Melissa & Doug makes hundreds of other great educational toys for babies, toddlers, presccholers, and even elementary school kids. Their products are durable, classy, and fun. For other fun educational toys for babies, check our selection of Fisher Price Toys for Infants and  read our tips on choosing educational toys for babies.