The Best Fisher Price Toys for Infants article contains affiliate links. We will be compensated if you make a purchase. However we recommend only what we love!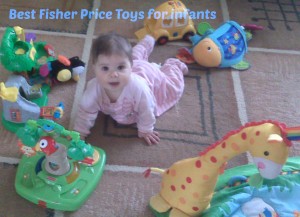 Fisher Price was created in 1930 by Herman Fisher, Irving Price, and Helen Schelle. It was risky to start a new business during the Great Depression, but the whimsical nature and magical surprises of their first toys became a quick success. The company is still considered one of the top toy companies to this day. Parents will find that their infant toys are not only fun for their children, but educational, too.With so many toys to choose from, what are the best Fisher Price toys for infants?
Our selection of Best Fisher Price Toys for infants
Infant Toys for Birth to 3 Months
Babies from birth to 3 months are not sitting or crawling yet and many parents wonder what kind of infant toys would be best. The Fisher-Price bConnect Digital Soother
has 6 apps that will soothe or entertain your baby with sights that enhance visual skills. This toy also has 70 sounds and tunes, and you can even upload your own personal photos to the device. It fits securely in the crib or you can have it on the floor for your baby during tummy time.
Fisher Price Toys for 3 to 6 Months
Babies aged 3 to 6 months are often teething and Fisher Price sells the Fisher-Price Disney Baby Nemo Squirt Teether
 that is easy to grasp and has a linkable ring rattle. To get the teether to make a squeaking sound, just press the plush Nemo pillow. Your baby will get a lot of enjoyment out of the clacker fish, octopus, and seahorse. Not only is this teether soothing on your baby's gums and a lot of fun, it also encourages fine motor skills.
Best Toys for 6 to 9 Months
ThePeek-a-Blocks IncrediBlock is one of the best Fisher Price infant toys for ages 6 to 9 months. This huge block of fun makes sounds like words and music. Your child will learn how to bat at items, flip them over, tap, and spin. It has bright, bold patterns with a mirror to visually stimulate your child. Your baby can also put the blocks inside the holes watch them disappear. The IncrediBlock is a very large toy, but has so many learning activities to keep your infant entertained for hours.
Toys for Infants 9 to 12 Months
The Laugh & Learn Fun With Friends Musical Table is the best infant toy for kids that are 9 to 12 months old. This toy from Fisher Price that will keep your child entertained. The table has four corners and each corner is a separate interactive learning center with lights, sounds, and movement. This toy teaches your child letters, numbers, counting, colors, shapes, animals, opposites, and even first words in English and Spanish.
Fisher Price has so many choices when it comes to toys for infants.  It can be difficult to choose just one. All of their toys are educational and fun for our little ones. Don't forget to stop by our Kids Toys section for further ideas and don't forget to read our tips on choosing the best educational toys for babies.