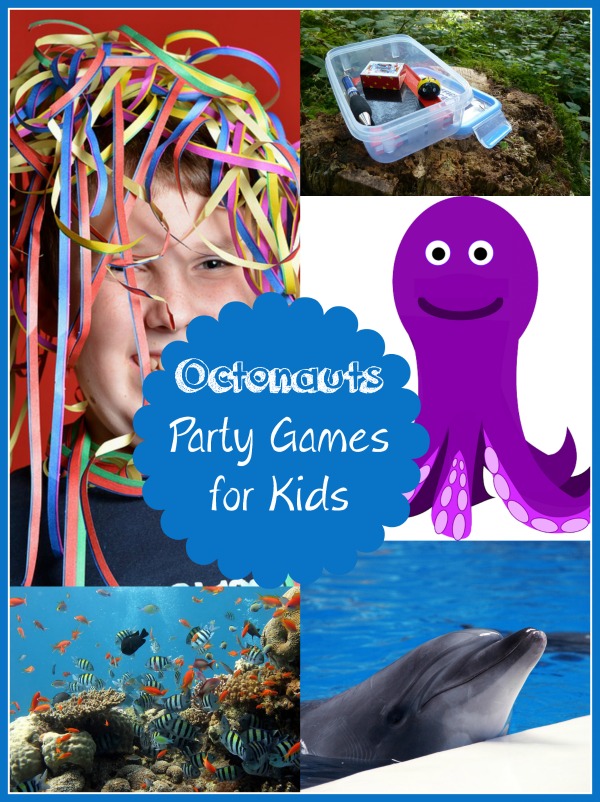 If your kids birthday party is an Octonauts theme, these Octonauts Party Games For Kids are perfect for you!  Not only are they tons of fun, they are easy to put together.  Keep the under water sea theme and have fun letting the kids explore like the Octonauts would!
OCTONAUTS PARTY GAMES FOR KIDS
Affiliate links included below.
Treasure Hunt:  Buy 2-3 small plastic swimming pools and cover the bottoms with 2-3 inches of sand.  Hide them in a location away from the party area.  "Bury" small toys and treasures in the sand.  Give the kids directions like a scavenger hunt to lead them to the treasure.  They can then go through the sand to "dig" for their treasure and keep what they find. Bury things like bags of chocolate gold coins, beaded necklaces and bracelets, crowns, fun rings, tattoos or anything else you might put in a regular party favor or treasure box!
Fish Tank:  Put up a blue curtain or sheet in the corner of the room an decorate with fish stickers, foam cutouts and other sea life decor.  Keep it at least a foot taller than the kids.  Grab some sticks, twine and magnets to create fishing poles.  Have someone hide behind the curtain to attach a prize to kids fishing poles when they "fish".
Build A "Submarine":  Game and food in one!  Submarine sandwiches are a great party food! Create a sandwich buffet and let the kids "build a submarine" to eat!
Pin The Tentacle On The Octopus:  This one is a fun spin on the classic.  Let kids pin a tentacle on the octopus just like the classic pin the tale on the donkey game!  This can also be done as a pin the fin on the dolphin game too!
Dolphin Nose Ring Toss:  Grab a stuffed dolphin or inflatable dolphin and some rings.  Fix the dolphin in place and let kids take turns tossing the ring to get it on the dolphin nose.  Make the kids stand at different places 3 feet, 5 feet and 10 feet away depending on ages.
You can take these Octonauts party games for kids to the beach to make the party even more fun!  Make sure to decorate with thing like inflatable sea creatures, blue, green and white colored streamers, tons of fun wall decals and balloons all themed in Octonauts or sea life themes.  Great party foods include submarine sandwiches, goldfish crackers, blue and green gelatin, fruit punch, hot dogs cut and cooked to look like octopus and more!
What are your favorite Octonauts party games for kids?