Want to know all about the most popular guest characters of This is Us Season 1?
While the show focuses mostly on the family itself, the 1st season did have some pretty amazing guests!
Check out our picks for the best of the best!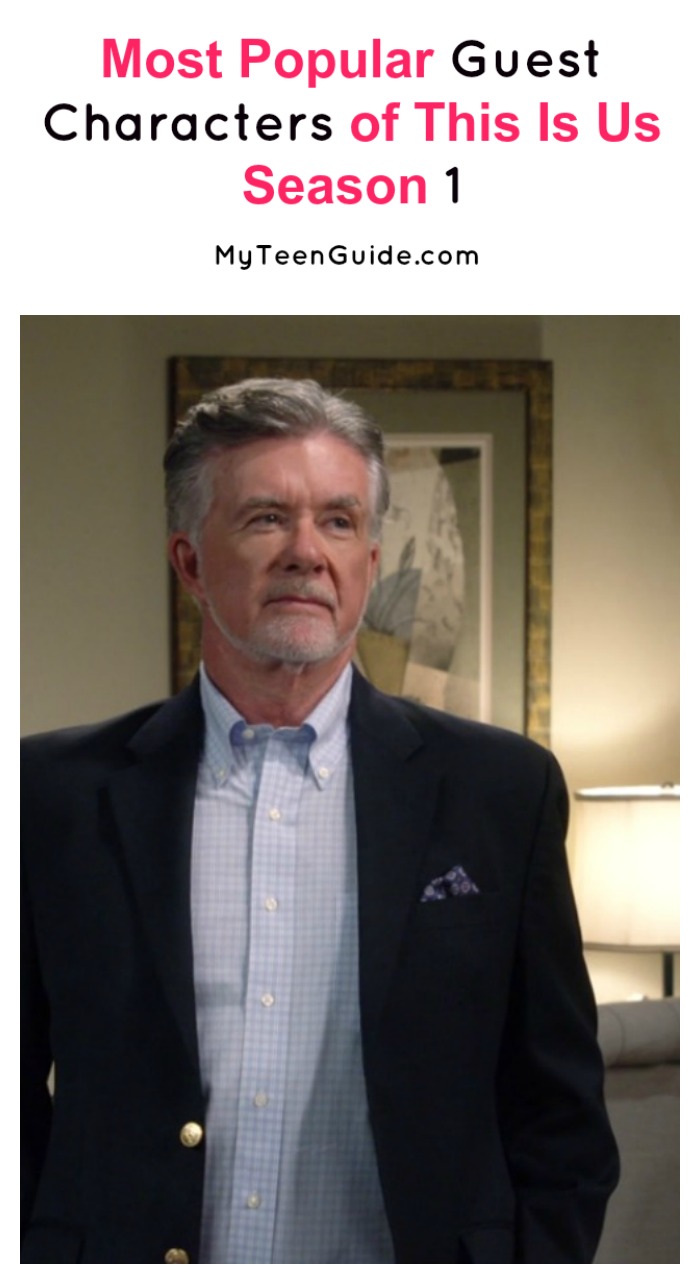 This Is Us is a comedy family drama television series that premiered on September 20, 2016 on NBC. The series showcases the stories of several people who share the same birthday and how their lives intertwine. On January 18, 2017, NBC renewed the series for seasons 2 and 3. Here are some notable guest stars from season 1.
Most Popular Guest Characters of This is Us Season 1
1-Alan Thicke- as himself- Episode 1- Pilot
Alan Thicke was a guest star on Kevin's show, The Manny and gives Kevin some words of wisdom. Thicke was best known for his role as Jason Seaver on Growing Pains, from 1985 to 1992. Thicke passed away at the age of 69 on December 13, 2016, from aortic dissection.
2-Brad Garrett- as Wes Manning- Episode 2- The Big Three
Wes Manning is the president of the television network that showcases Kevin's show The Nanny. Manning tries to negotiate with Kevin regarding his exit from the show. Garrett is best known for his role as Robert Barone on Everybody Loves Raymond, from 1996 to 2005.
3-Natalia Cigliuti- as Josie Woods- Episode 4- The Pool
Josie Woods is the ex-wife of Toby, who owns a boutique where Kate takes a short-lived job. Cigliuti is best known for her role as Lindsay Warner on Saved by the Bell: The New Class, from 1993 to 1995.
4-Seth Meyers- as himself- Episode 7- The Best Washing Machine in the World
Seth Meyers approaches Kevin and Randall when he notices the brothers arguing on a sidewalk in New York City. Meyers has been the host of the late-night talk show, Late Night with Seth Meyers, since 2014.
5-Denis O'Hare- as Jessie- Episode 10- Last Christmas, Episode 11- The Right Thing to Do & Episode 17- What Now
Jessie is a friend and former lover of William, whom he met at a Narcotics Anonymous meeting. O'Hare is best known for starring in 5 seasons of American Horror Story. He appeared in 8 episodes of Murder House as Larry Harvey, 10 episodes of Coven as Spalding, 10 episodes of Freak Show as Stanley, 11 episodes of Hotel as Liz Taylor and 4 episodes of Roanoke as Dr. Elias Cunningham.
6-Elizabeth Perkins- as Janet Malone- Episode 11- The Right Thing to Do
Janet Malone is Rebecca's bossy mother, who appears in flashbacks featuring Rebecca as an adult. Perkins is best known for her movie roles as Susan Lawrence in Big in 1988, Wilma Flintstone in The Flintstones in 1994 and her television role as Celia Hodes in Weeds, from 2005 to 2009.
7-Ron Howard- as himself- Episode 17- What Now
Ron Howard calls Kevin, after seeing his play, and offers him a role in his latest blockbuster movie. Howard is best known for his acting roles as Opie Taylor on The Andy Griffith Show, from 1960 to 1968 and Richie Cunningham on Happy Days, from 1974 to 1984. Howard is also an award-winning director, winning an Academy Award for Best Picture and Best Director in 2001, for A Beautiful Mind.
With the incredible popularity of This Is Us, I'm betting we're going to be seeing a lot more guest stars in the future! As I'm sure you've heard, the series has already been picked up for two more seasons.
Who were your favorite guest characters on This is Us Season 1? Share below!