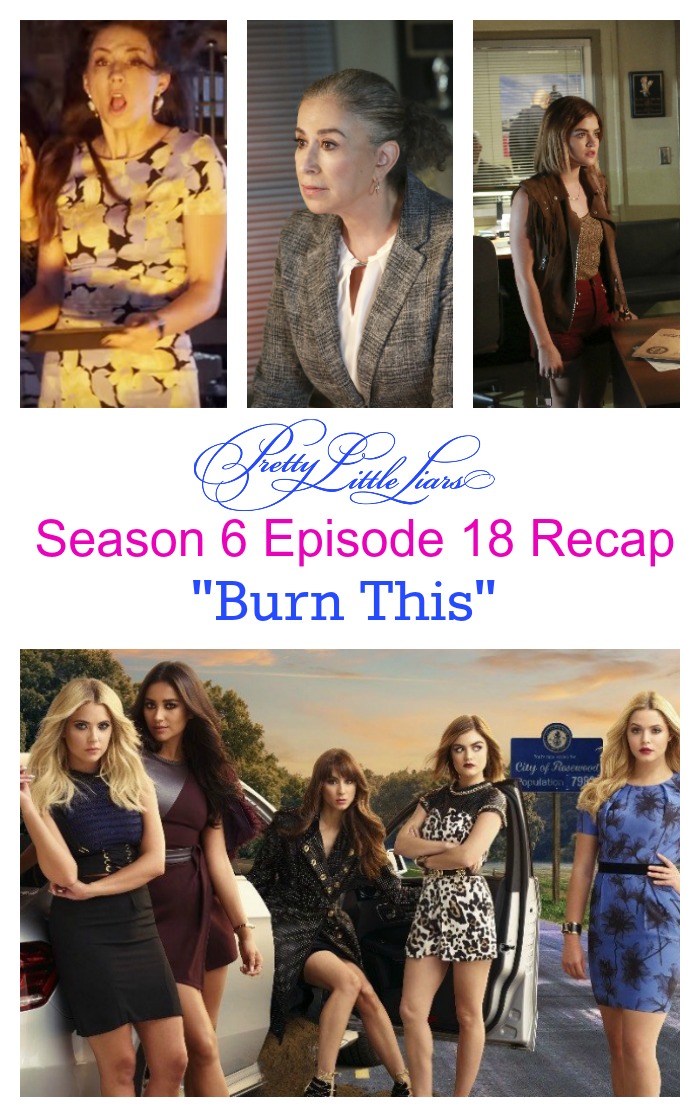 This week's Pretty Little Liars season 6 episode 18 recap for "Burn This" shows that Evil Emoji is out of patience and ready to light a fire under the liars…literally! We also learn a bit more about what drove Toby and Spencer apart during the missing 5 years. As with all Pretty Little Liars episodes, by the end of "Burn This," we think we may have an answer to one question, but many, many more pop up. Read on for your Pretty Little Liars season 6 episode 18 recap!
Pretty Little Liars Season 6 Episode 18 Recap- "Burn This"
The episode "Burn This" of the hit drama tv series Pretty Little Liars, starts with Hanna, Aria, and Emily talking about Allison getting married so soon and how she won't be able to make it to Hanna's bachelorette party. They also talk about how they can not go to the police with everything that is happening to them. As Aria is flipping through her parents' wedding photos, they discover that Evil Emoji was at Aria's parents wedding. The wanna-be A left notes all over the place with one clear message: give him/her/it the killer before the election or THEY will lose. Spencer finds out from her father that Melissa went back to London. Hanna and her mother Ashley discuss her bachelorette party and how they need something normal in their lives. 
Aria and Ezra talk about Liam and the book. He tells her that he wants her to be his co-writer on the book and she is thrilled. Skeptical that her editor will go for it, but thrilled at the opportunity.  While on the phone with Hanna walking in town, Emily hears the SUV that tried to kill her.  She also runs into Ezra, who tells her that a garage in town makes the engines sound like that noise she keeps hearing. Caleb is no longer a part of the Hastings campaign after confessing to leaking the information about Evonne and is looking for a place to stay. Ashley offers the guest room, but Caleb declines. Hanna freaks when she finds out that her mom even offered. She feels that Ashley has always liked Caleb more than her fiance. Ashley says she just doesn't know the guy that well because Hanna never brought him around. 
Toby confronts Spencer about Caleb and Caleb shows up but does not tell him the truth, so Toby punches Caleb. Emily tells Hanna about the SUV while setting up the party and decides to go talk to the garage Ezra told her about. Aria and Liam have lunch and she tells him about what Ezra asked her. Mona confronts Spencer about the leak and about her losing her job. In typical Mona fashion, she feels like Spencer should be kissing her feet for helping her. Sometimes I think Mona does have good intentions, she's just horrible when it comes to executing them. 
Lieutenant Tanner shows up at Aria's and asks her to come down to the station for a line up because some witness described her as the person who called Charlotte the night she was killed. Emily goes to the garage and finds the same SUV but no one there will tell her anything about it. Aria asks Tanner if Sarah was the witness but Tanner won't tell her anything. Aria understandably loses it on Tanner. She basically tells her, after all they've been through, you'd think Tanner would take her seriously. Tanner says she takes every accusation seriously but doesn't have to follow up on them right away, and with that, Aria is free to go. Hmmm, what does that mean? I'm betting it means someone is spinning lies (or half-truths) about our dear Aria. Not a big surprise.  
Meanwhile, at the party, Emily tells Hanna and Aria about the SUV while waiting for Spencer. Spencer and her father talk about Caleb and how Melissa was blackmailed, so that was why she returned to Rosewood before Charlotte was killed.
Now that all the liars are at the party, things really start heating up. Literally. Spencer relays the news about Melissa's blackmail to her friends, and Aria tells them that she saw a report saying a brunette with a pink dice key chain was the caller from the diner the night Charlotte was killed.   Mona shows up minutes later with a really sweet, sentimental gift for Hanna. I almost forget that she was the original A for a while.
Earlier in the episode, we saw Ashley having problems with the smart house controls. I figured something bad would happen later on with that. The whole system gets out of control and the fireplace blows up and burns Aria. She has second degree burns but will be okay.
Ezra shows up with horrible reading material (at one point, he recommends the pamphlet on staph infections as a better alternative), gummy bears and extra clothes for Aria. It's really quite sweet. Then Liam shows up and tells them that the book is happening, and basically dismisses Ezra. The guy is nice and all, but does anyone else notice a major lack of chemistry between Liam and Aria? She had more chemistry in that boring relationship with the gym guy a few seasons back!  Besides, we all know you can't trust anyone new when it comes to Pretty Little Liars! How do we know HE'S not Evil Emoji? Huh? 
Throughout the episode, we saw flashbacks of Toby and Spencer in her dorm room, waiting on the results from a pregnancy test. While they don't come out and say it, I'm guessing it was negative. During those long minutes waiting for the results, the two talk and realize they're not looking at the same picture for the future anymore.  Spencer goes to Toby and tells him that Caleb didn't out Yvonne. She tells him the truth, that "A" is back. She also tells him that she would never judge Evonne for a choice they "almost" had to make, which is why I'm pretty sure the test was negative. Of course, in PLL-land, you can never be sure of anything.
The episode ends Emily and Mona helping to clean up the party. As Mona is walking away, Emily sees Mona jiggling a pink dice key chain and asks if she was the one who called Charlotte that night.  Mona says she can't talk about it. The episode ends with Emily ordering her to get in the car. Boy, Em, maybe if you asked nicely for once…
All in all, it was a pretty good episode of Pretty Little Liars. Did we really learn anything new about Evil Emoji and the other person that's after the Liars? I'm not sure. It seems like we didn't, but when this all ends, we could look back at this episode and say "oh, there it was all along!" Check out this sneak peek at next week's episode. Tuesday can't get here fast enough!
You won't believe what happens next week on #PLL! Watch this sneak peek brought to you by @CleanAndClearhttps://t.co/EQUdk1r4qt

— Pretty Little Liars (@PLLTVSeries) March 2, 2016
What unanswered questions are you hoping they'll resolve (aside from the obvious!) after reading this Pretty Little Liars Season 6 Episode 18 Episode Recap? Tell me in the comments!