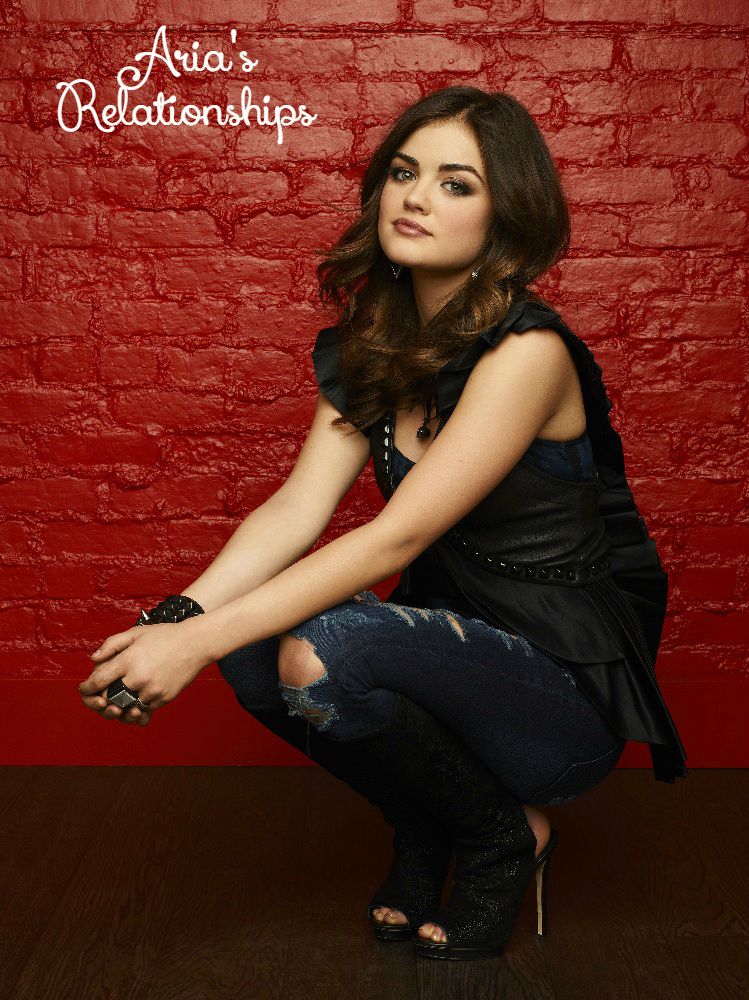 Aria Montgomery is one of my favorite characters on Pretty Little Liars. She has the biggest heart of all the girls, something that A often uses against her. She also has an amazing sense of style! Aria's had a few relationships over the course of 5 and a half seasons. While only one was really serious, the others played their part in the show and are worthy of mentioning. Of course, for us PLL fans, there will always be only one man for Aria!
Past and Present Relationships for Aria
Ezra
Ezra have had an on-again off-again relationship ever since she came back to town after living in Iceland for a year with her family. Upon her return, Aria heads to the local bar when she strikes up a conversation with Ezra. He tells her that he is starting a new job as an English teacher and Aria leads him to believe that she is a college student who is interested in majoring in English. The two head to the bathroom of the bar where they engage in a make-out session. The next day school starts and Aria is shocked to find out the Ezra is her English teacher. They have a rocky relationship, splitting up and getting back together several time. Even though they are no longer together, they still love each other.
Jake
Aria and Jake dated briefly during season 4. She first meets Jake when she takes karate classes and he is her instructor. The two become close and she confides in him about Ezra. Jake says that he likes Aria but knows she is still in love with Ezra. Jake spends the night at her place and sleeps on the couch. Aria sees Jake at a party with another woman and gets jealous. Turns out that it was just a friend of Jake's and she admits she likes Jake. She and Jake split up when Aria realizes she still has the total feels for Ezra. Honestly, I never thought they had much chemistry anyway.
Jason
Aria and Jason didn't exactly have a relationship but they did kiss and become close. While Aria was still in a relationship with Ezra, Jake starts flirting with Aria. During one of their conversations, Aria is bothered about the fact that Jason seems to have a memory lapse when it comes to the night Alison vanished. Aria continues to press him for information and he feels like he is being interrogated. This dashes any hope of a romance between them. One night after driving Aria home after a fashion show, Jason tells Aria he has feelings for her and kisses her. She doesn't pull away immediately but eventually says she is in love with someone else. Of all the guys Aria dating aside from Ezra, Jason is the only one I really felt like she had any chem with. I could see her with him if she can't end up with Ezra.
Noel
Ewwww. Just ewwww. I cannot STAND Noel. But Aria had a total thing for him for a while back when Alison was still "alive" (she was never really dead). Eventually, Noel and Aria end up dating for a bit after Aria and Ezra call it off for the first time. They have a lovely little moment before Noel starts acting like a total creep, and I actually felt for the guy. Then Noel finds out about Ezra and shows his true blackmailing colors.
Riley
Riley and Aria meet while they are both on a college trip. They are both visiting a college they are interested in attending. They attend a party together and end up getting drunk and having a one night stand.
Who will Aria be dating when we come back from the break? Who do YOU hope she'll be dating? I know who I want her with! Talk to us in the comments!