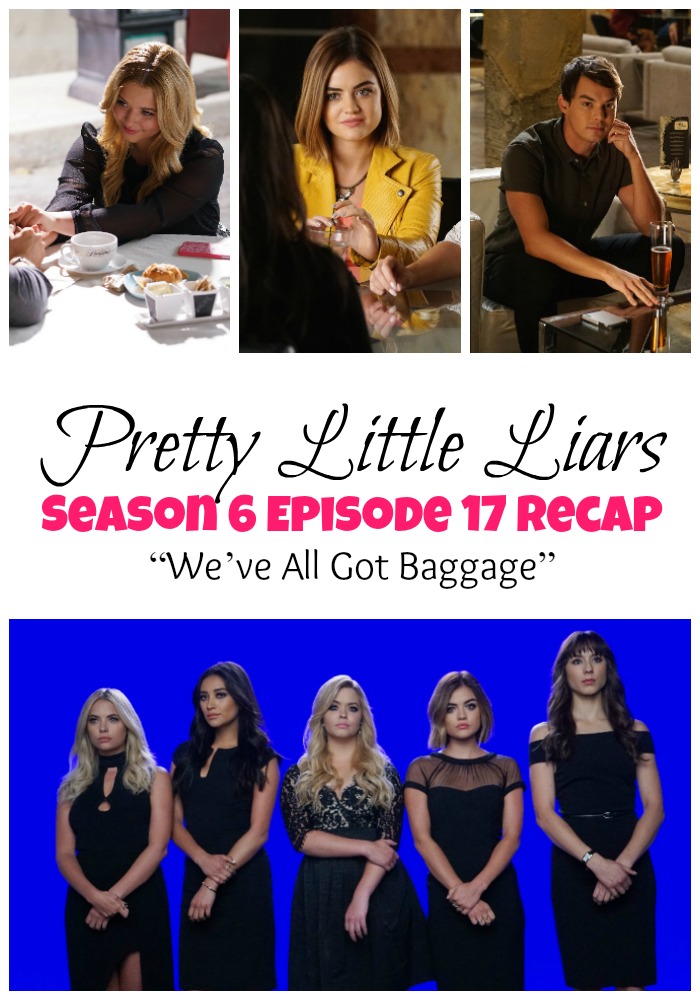 This week's episode of Pretty Little Liars season 6 episode 17 recap for "We've All Got Baggage" is full of wedding bells! While by the end of this episode we're sure of wedding bells for Alli and Dr. Rollins are ringing soon, we see them ring for another couple this week that is traumatizing for Aria. We learn more about Emily's eggs that were stolen this week, and it might be the end for Liam and Aria when he finds out about a certain scandalous past relationship. Read our full Pretty Little Liars season 6 episode 17 recap for the full deets!
Pretty Little Liars Season 6 Episode 17 Recap – "We've All Got Baggage"
We start off this Pretty Little Liars season 6 episode 17 recap of "We've All Got Baggage" with Emily and Hanna showing Allison the hotel room that we are pretty sure is Sarah's. When all three get into the room, they discover that the hole in the closet is not there. How the heck did that hole get closed up so quickly? Creepy, really creepy. Caleb tells Spencer that he erased all the information about her mother's cancer from the competition so the other politicians can't use it against her which is a big sigh of relief for all of us for now. Emily shows up, and they tell her about Melissa's suitcase. Aria is freaking out with Liam at the cafe about Ezra finding out she wrote part of his book. Melissa returns after her trip and has another suitcase.
Spencer confronts her mother about her mother's cancer coming back, which we learned about in last week's episode. Her mother agrees that she needs to tell everyone the truth about her cancer before it gets out and used against her in her political career. Allison gets a text from the same mystery person who was texting the girls. Aria has lunch with her father, and he asks her to officiate her parents wedding, which she agrees. I have to say I'm a bit confused why they wouldn't wait to get married. Their daughter Melissa is being investigated for murder, wouldn't you wait a bit before asking your somewhat traumatized daughter to officiate? Maybe just ask Aria to be at the wedding instead of officiating the remarriage of her divorced parents? Great parenting. Spencer and Caleb confront Melissa about her broken suitcase. Melissa tells them that her suitcase was broken at the airport, but Spencer and Caleb don't believe her and neither do I.
Allison and Dr. Rollins talk about why Charlotte ran out of the house the night she was murdered. We find out it's because Allison told Charlotte about their relationship. Emily and Hanna talk about how Melissa could be working with Sarah. Emily gets a creepy package in the mail of baby books and a bookmark that says, "You better start talking before our baby does." I KNEW that the new evil emoji "A" must have gotten ahold of Emily's eggs, and this confirms it. I wonder who creepy emoticon choose as the father? Hanna then goes to Spencer and Caleb and tells them she thinks Melissa killed Charlotte. Hanna remembers seeing Melissa a few years back, and she had a grudge against Charlotte.
Emily meets Damien, the same reporter who Spencer thought was creepy and they talk. Dr. Rollins tells Allison not to feel guilty about them being together and tells her he loves her. Emily leaves a voicemail for Hanna and tells her Damien said that Melissa was back in town before Charlotte was killed. A mysterious truck shows up really fast and freaks Emily out, almost running her over. Run!
Aria marries her parents, which is still weird IMHO. At the wedding party, Aria talks to Liam about her history dating Ezra. Liam was going to find out eventually; everyone in town now knew she dated her teacher, so it was only a matter of time before Liam knew. This news doesn't seem to phase Liam too much. 
https://www.instagram.com/p/BCJcjR4NZCf
Emily climbs on top of a shed and discovers the missing rod to Melissa's suitcase. We see that Emily accidently drops the rod, and we see someone get out of the creepy truck and grabs the rod. Later that night Emily goes to Hanna and explains what happened. They both figure out that there are two people behind all of this. Allison and Dr. Rollins ask Aria to marry them. We don't see Alli and Dr. Rollins get married just yet, but we know it is coming very soon. Why are they pushing to get married so quickly all of a sudden? "We've All Got Baggage" must have some extra baggage lurking here in the shadows!
It's time. Are you ready? ❤️‍ #PrettyLittleLiars pic.twitter.com/FCSlyYYlwh

— Pretty Little Liars (@PLLTVSeries) February 24, 2016
This episode has lots of loose ends still unraveled that I can't wait to see next week. What questions do you have after this Pretty Little Liars season 6 episode 17 recap? Tell me in the comments!