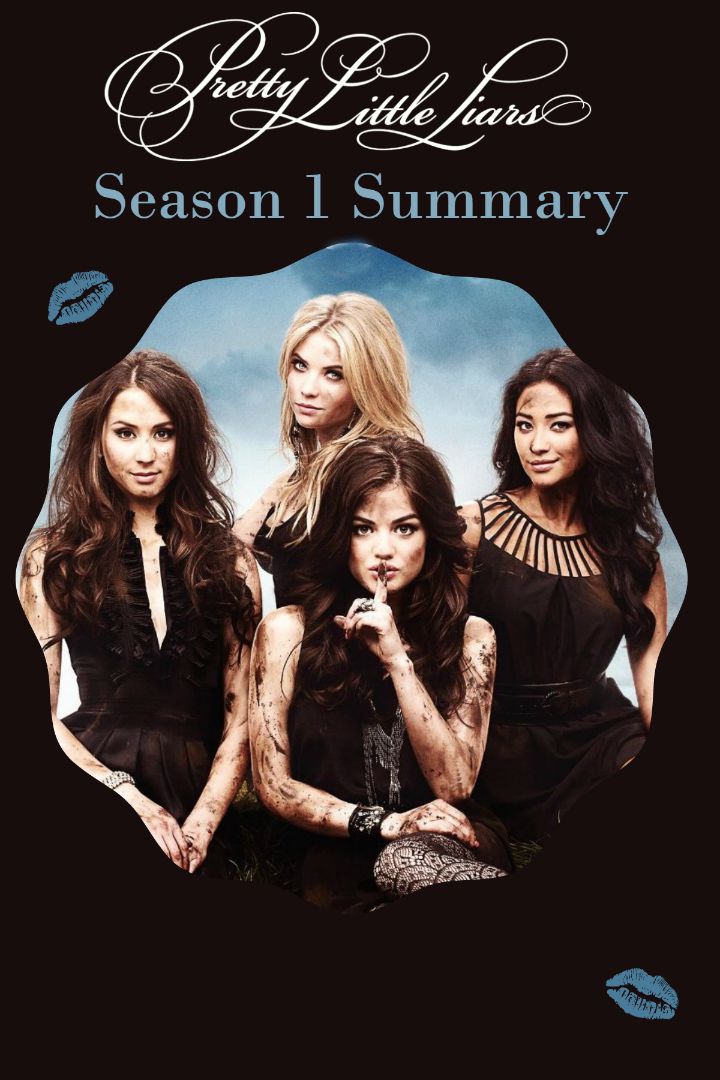 Season 1 of Pretty Little Liars premiered in June of 2010 and finished in March of 2011 on the ABC Family network. The first episode of the show was watched by 2.47 million viewers and maintained a summer average of 2.5 million viewers. The summer finale was watched by 3.07 viewers while the winter premiere drew in an audience of 4.20 million viewers. Note that this Pretty Little Liars Summary season 1 contains spoilers.
More about PLL: How it All Started on Pretty Little Liars
Pretty Little Liars Summary Season 1
The premise of the show is centered on a group of five friends: Alison, Spencer, Hanna, Emily and Aria. Alison was the leader of the group who was self-centered and mean but the other four looked up to her. Alison vanishes one night and the story jumps ahead one year. None of the other four girls are communicating with one another until right before the day they found out Alison was found dead. That same day, the four liars received taunting messages from A, threatening to expose all of their dirty little secrets. In Season 1 of Pretty Little Liars, viewers get to know each of the characters in the show. The first to be showcased are the four "liars": Spencer, Hanna, Emily and Aria.
Spencer is smart but tends to attract the attention of her sister Melissa's boyfriends. Before Alison vanished, she caught Spencer kissing Melissa's boyfriend Ian and threatened to tell. When the first season starts, Spencer has a "moment" with Melissa's newest love, Wren. Melissa and Spencer have a strained relationship, to say the least. Melissa still doesn't know about Ian though.
Hanna was a chubby girl not too long ago but lost weight and is now one of the most popular girls at school, along with her new BFF Mona. She's got a quick wit and a good heart, but she has a few issues that she definitely needs to overcome. Sticky fingers, for example, don't just land her in trouble, but also cause her mom to do things she's not so proud of to protect Hanna. Like sleeping with Detective Wilden, a dirty cop bent on pinning Alison's murder on the girls.
Emily is kind and sweet, the "good girl" of the group. She's also just coming to grips with the fact that she's gay. She falls in love with the new girl. Maya. Emily is an expert swimmer and is on the swim team. Later on, things turn sour with Maya and Emily finds a new interest, Paige. Unfortunately, Paige isn't ready to come out just yet and it doesn't last long, at least in this season. Emily's dad is in the Army and stationed overseas most of the season. Her mom is a bit over-bearing and very concerned about appearances. She doesn't take it too well at first when Emily comes out, but she learns to accept it.
Last is Aria, who returns from Iceland after a year away at the start of the season. Aria spends most of the first season secretly having a relationship with her high school English teacher, Ezra. She meets him before school starts and lies about her age, not knowing he's going to be her teacher. Aria has a strained relationship with her dad because she caught him cheating on her mom with one of his grad students before they went away. She's about to tell her mom the truth finally when A does it for her.
Other characters that are introduced in the first season include Jenna and Toby. Jenny is a creepy blind girl who basically blackmails her stepbrother Toby (stepbrother) into sleeping with her. How she got blind is a major part of the plot. It happened when Alison threw a stink bomb in the shed where she was at, causing it to catch fire. Alison blackmailed Toby into taking the fall. Alison blackmailed a lot of people before she vanished.
Toby ends up accused to murdering Alison, but Emily doesn't think he did it. Unfortunately, Emily is the only one who really believes in him for a long time. Toby eventually gets cleared and ends up dating Spencer. Melissa ends up back with Ian, who's uber-creepy. When Melissa gets pregnant, she becomes totally oblivious to the fact that her husband is a creep.
The girls, on the other hand, taunt and push Ian until he snaps. He tries to kill Spencer but a hooded figure gets to him first. The season ends with the girls telling the cops that Ian is dead, but the cops saying they're liars because the body is gone.
Obviously this is the long story short version, but it's enough of a Pretty Little Liars summary for season 1 to get by if you haven't watched the show!
Do you think I missed anything really major in this Pretty Little Liars summary for season 1? Tell me in the comments!