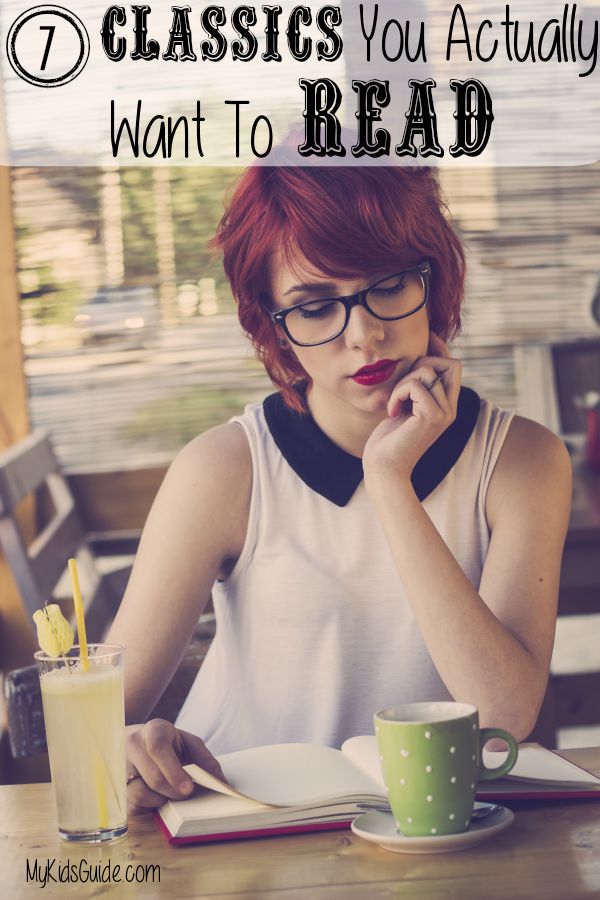 I love to read and these 7 Classics You Actually Want To Read are my all time favorites. I love classic romance, mystery and fantasy. These books include a lot of romance, but a few have the mystery and fantasy I love. A couple are just great books about relationships in general, and not necessarily romantic. Overall these are my favorite classic literature pieces and I know you'll love them too.
Related: 5 Best Young Adult Books To Read This Summer
7 Classics You Actually Want To Read
Affiliate links included below.
Jane Eyre. This book follows Jane through a rough childhood and into a romance that is somewhat doomed from the start. A tragic wonderful love story everyone loves to read, because it makes it so easy to have hope and see the beautiful romance that can be between two people.
To Kill A Mockingbird. This book is a bit harder to read and not as much fun as the others, but you still want to read it. It's all about a Southern lawyer who defends a black man accused of rape. In the time it is set, this was very controversial. It's great to remind you of how lucky we are to have so much less prejudice now, but sad to see how much farther we need to go.
Little Women. This book follows all of the sisters, but really focuses on Jo and how she is willing to work and sacrifice to help her family in the face of war and loss. A beautiful story of love, family, sisterhood and friendship that is also sprinkled with humor and a good bit of romance.
Sense And Sensibility. Marianne and Elinor give you both sides of the dramatic life of women in love. From flaunting their newfound love, to hiding a broken heart this story is one that teaches a lot about how to handle romance, love and emotions but pulls you along and has you cheering and groaning for the sisters in turn.
Related: Hottest YA Summer Beach Reads for Teens
The Hobbit. If you haven't seen the movies, you will definitely want to do so after you read the original works by Tolkien. The adventure of the young Bilbo Baggins with his dwarf friends is sure to keep you on th edge of your seat and always rooting for the underdog.
The Secret Garden. Another great story that is something kids often read. A budding friendship between a boy and girl, and the secret garden where dreams come true. Just a fun read for everyone.
Dracula. The original vampire story is found in this classic Dracula manuscript. If you want to know the oldest tale of Dracula, find this book and read. It's a beautiful story of pain, suffering and drama that you will love.
These classics you actually want to read are great choices for your next book report, or just because!
Do you have any favorite classic books that you love? Tell us in the comments!