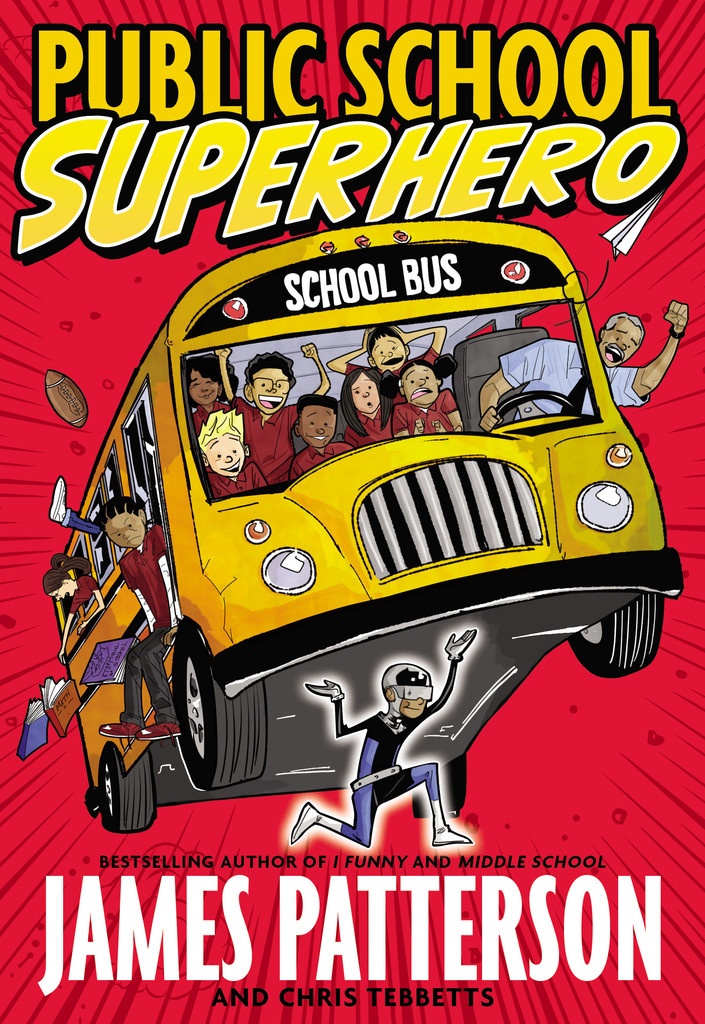 Did you know that March is a big month for encouraging reading in kids? It happens to be March into Reading! I think that every month should be "reading month," of course. There's never a wrong time to introduce new books for kids! I'm not sure if it's a coincidence or if it was timed for March into Reading, but it also happens to be a big month for James Patterson. He just released his newest book for kids: Public School Superhero. To celebrate, we're offering you the chance to win a pretty awesome prize pack!
James Patterson's Public School Superhero Book for Kids
Prizing & samples courtesy of Little, Brown.
Making it through Middle School is hard! Just ask Kenny Wright, star of Public School Superhero! His chess-loving ways and "Grandma's Boy" title sadly make him a target for bullying.  But in Kenny's mind, he's a super hero known as Stainlezz Steel. His mission? Defending the defenseless, the weak and meek, the picked on and misunderstood. He's the anti-bully in an environment where bullies have all the power.
See, Kenny lives in an urban environment where every decision he makes can completely alter his life. Kenny has to find his true strength and resist peer pressure. Otherwise, he could end up making mistakes that take him down a path he can never return from.
Public School Superhero is written FOR kids. It's full of slang that most parents won't get, and that's actually pretty cool. I'm not its target audience. Neither are you. Your middle-grade child is. That said, I still think you should read it, because the anti-bullying message is pretty powerful.  When Kenny is in his superhero-thinking mode, the book changes into a comic-style. The break from prose to graphic novel will definitely keep kids engaged.
If you're a fan of James Patterson's grownup works (I love the Women's Murder Club series), don't fret, you won't find anything inappropriate in his children's books. James Patterson typically writes with a co-author. In the case of Public School Superhero, it's Chris Tebbetts.
Patterson is passionate about inspiring kids to read. You can tell not just in his books for kids, but also by the fact that he just pledged to donate $1.25 million to school libraries this year.
Learn More at PublicSchoolSuperhero.com.  Visit the Author Site at JamesPatterson.com. Follow James Patterson on Twitter.
JAMES
 

PATTERSON

 

READS prize pack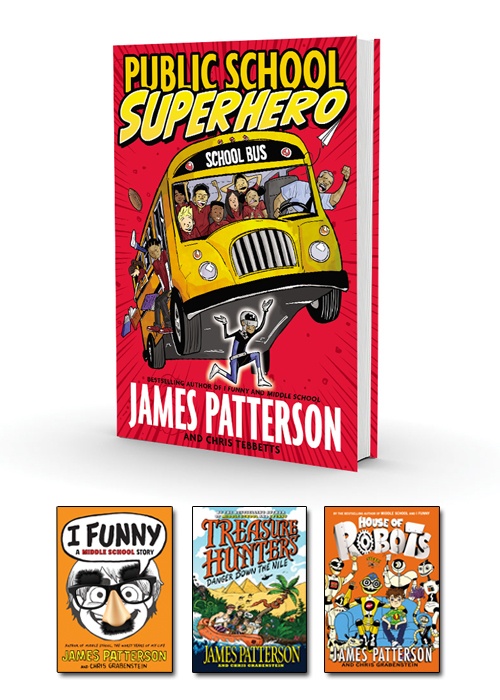 Enter below for a chance to win a James Patterson Reads prize pack. This is an awesome pack because there's something for everyone! Winner will receive a copy of each of the following:
Public School Superhero
I Funny
Treasure Hunters

 

House of Robots
Giveaway is open to US residents and ends on April 3rd.
DON'T MISS OTHER GIVEAWAYS
Sweepstakes at Sweepstakes-Search.com
As seen on Hypersweep.com!
Featured on ContestHeat
SandysRealm.com Sweepstakes & MORE! – Earn, Win & Save! FREE listing of prizes waiting to be won by YOU!
BigSweeps.com – Sweepstakes & Contests
Our sweepstakes is listed on ContestHound.com Enter to Win a $100 Gift Card at ContestHound.com!