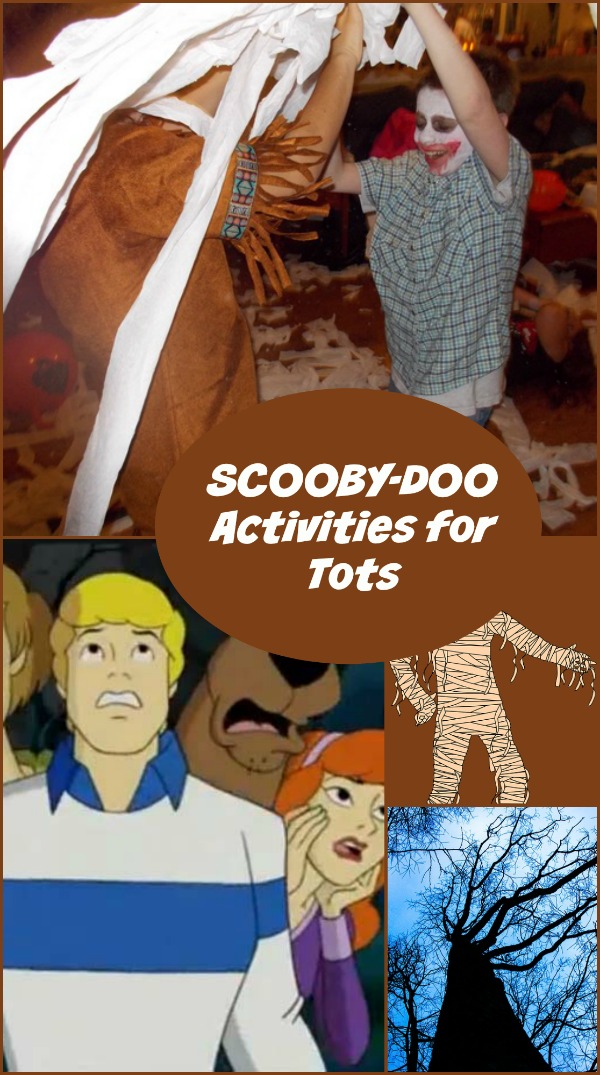 Let your tot solve get in on the sleuth fun with these Scooby Doo activities for toddlers! Scooby Doo is a classic cartoon that spans generations.  Why not have a Scooby Doo themed birthday party?  Boys and girls will enjoy hunting for clues or dressing up as mummies, they are sure to leave having had a fun-filled day!  Send them home with some Scooby Snacks in a doggie bag and they will want to come back for more fun!  Here are just a few ideas to get you started.
Related Posts
Scooby Doo Activities for Toddlers
Toilet Paper Mummy: How many episodes are there with mummies?  Grab some toilet paper and your tot and roll him up!  Have him hold one end and cross his arms across his chest.  You hold the roll, and he spins himself in circles to wrap himself up! (Be careful of his face, be sure to leave some space for eyes, nose and mouth, we don't want to freak him out or hurt him!) This is one of the easiest Scooby Doo activities for toddlers because all you really need is a roll of toilet paper!
Game Of Clues: Create a fun list of things you have hidden around the house.  Now give your tot a magnifying glass (real, or you can one out of a paper plate and popsicle stick, cutting out the center of the plate). He will be so excited when he finds each item!
Bake Scooby Snacks: Make sugar cookies in the shape of dog bones!  Get your tot involved in putting all the ingredients together.  They love to help out when you are doing 'grown up' things, get him involved!  You could even do this before your clues game and eat them as a reward.
Play Ball With Scooby: For this you need a large piece of cardboard.  If you can draw, two thumbs up to you!  Draw Scooby with his mouth open, cutting out the opening for his mouth.  If you are not as artistic as you would like to be, print him out!  Now grab some balls and watch your tot toss them into Scooby's mouth!
Scooby Doo Matching Game: Print out some images of the gang, be sure to print out two of each one.  Cut them all the same size.  Be sure to not print out too many, you want your little one to be able to have some success at finding the matches!  Enjoy some Scooby Snacks then you are done!
Do you have  Scooby Doo activities for toddlers that you have done with your little one?  Whether it be a birthday party or just having some fun on a rainy day, share your ideas with us and  post them in the comments below!
For more fun activities for toddlers, follow our Pinterest board
Follow MyKidsGuide's board Activities for Toddlers on Pinterest.