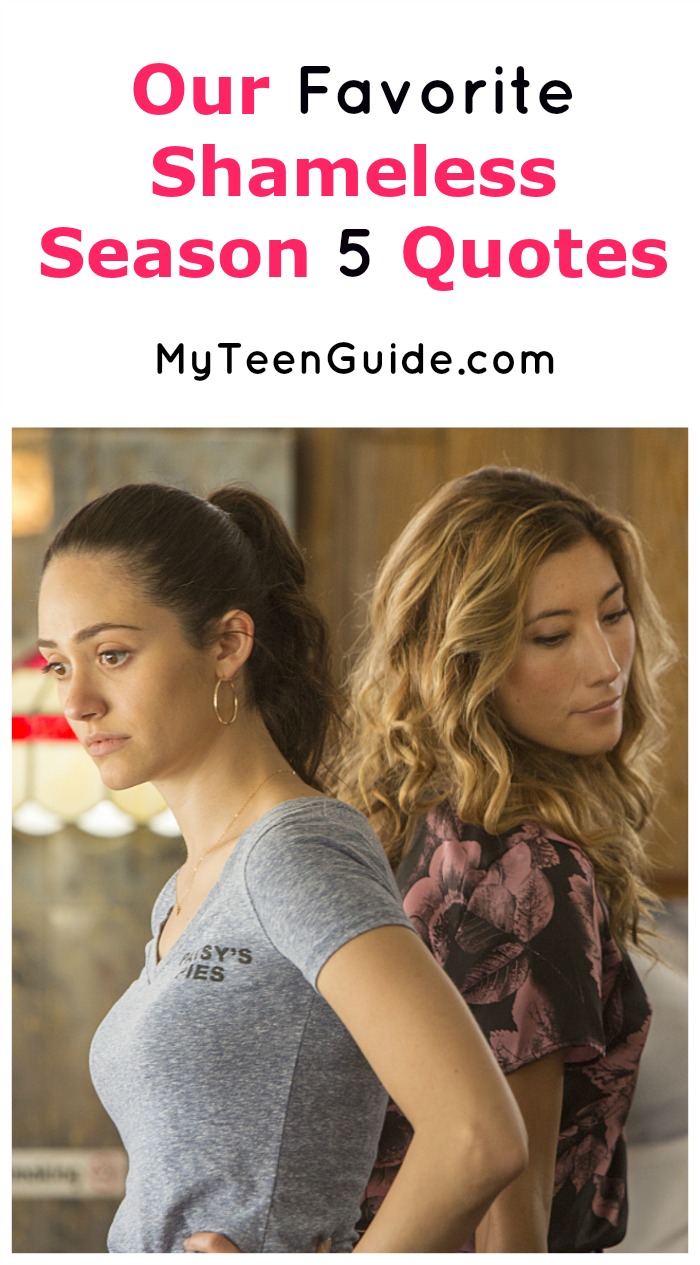 Think your family is dysfunctional? These Shameless season 5 quotes will prove the Gallaghers have you beat by a long shot! Shameless is a comedy-drama television series that airs on Showtime. The series premiered on January 9, 2011 and is currently in its 7th season, which will conclude on December 18, 2016. Frank Gallagher is the single father of six children, who does nothing but drink all day. The kids take care of themselves and sometimes do a pretty good job at it.
Season 5 of Shameless aired from January 11, 2015 to April 5, 2015. Here are some cool quotes from that season.
Shameless Season 5 Quotes
Affiliate links included below.
Episode 5- Rite of Passage
Conversation between Gus Pfender and Fiona Gallagher:
Gus- "Uh, favorite Eagle?"
Fiona- "Bald."
Gus- "Oh, come on. The band, and the correct answer is Joe Walsh."
Fiona goes on a date with Davis, the lead singer of an indie band. However, Davis' girlfriend shows up so Fiona starts hanging out with Gus, the band's bass guitarist.
Episode 6- Crazy Love
Conversation between the Nurse and Frank Gallagher:
Nurse- "Mr. Gallagher? How you feeling, Frank?"
Frank- "I've felt better."
Nurse- "I would hope so. We've started you on Prednisone to decrease the inflammation in your liver, also Lasix to bring down your fluid levels. You were quite jaundiced when you arrived. Have you been taking your antirejection meds as prescribed?"
Frank- "My bitch of a newfound daughter hasn't been giving them to me."
Nurse- "Your daughter has been keeping your medications away from you?"
Frank- "No, but she was supposed to make sure I take them."
Nurse- "Mr. Gallagher, you are a 51-year-old man with a new liver transplant. You should be able to take responsibility for your own medications, unless you're mentally incapacitated. Are you mentally incapacitated?"
Frank- "Mentally incapacitated?"
Nurse- "Retarded. Are you retarded, Frank?"
Frank- "No."
Nurse- "Then get your shit together."
In season 4, Frank receives a liver transplant, as a result of his failed liver due to excessive drinking.
Episode 9- Carl's First Sentencing
Conversation between Judge Gaither, Chuckie Slott and Sammi Slott:
Judge- "Would the defendant like to say anything? Charles?"
Sammi- "Chuckie."
Chuckie- "What?"
Judge- "Would you like to say anything before sentencing?"
Chuckie- "Okay."
Sammi- "I would, Your Honor. I'm his mom. May I speak? My Chuckie is a good boy. The only thing he's ever stolen was my heart. But he was taken advantage of by an older family member. If you're gonna blame anyone, you should blame his uncle Carl or the family who raised him or me, for putting an innocent boy in a den of wolves."
Chuckie is Sammi's son and Frank's grandson. Chuckie is arrested after he is set up by Frank and Carl Gallagher, when he unknowingly helped Carl on a drug run.
Do you have any favorite Shameless season 5 quotes? Share them in the comments!