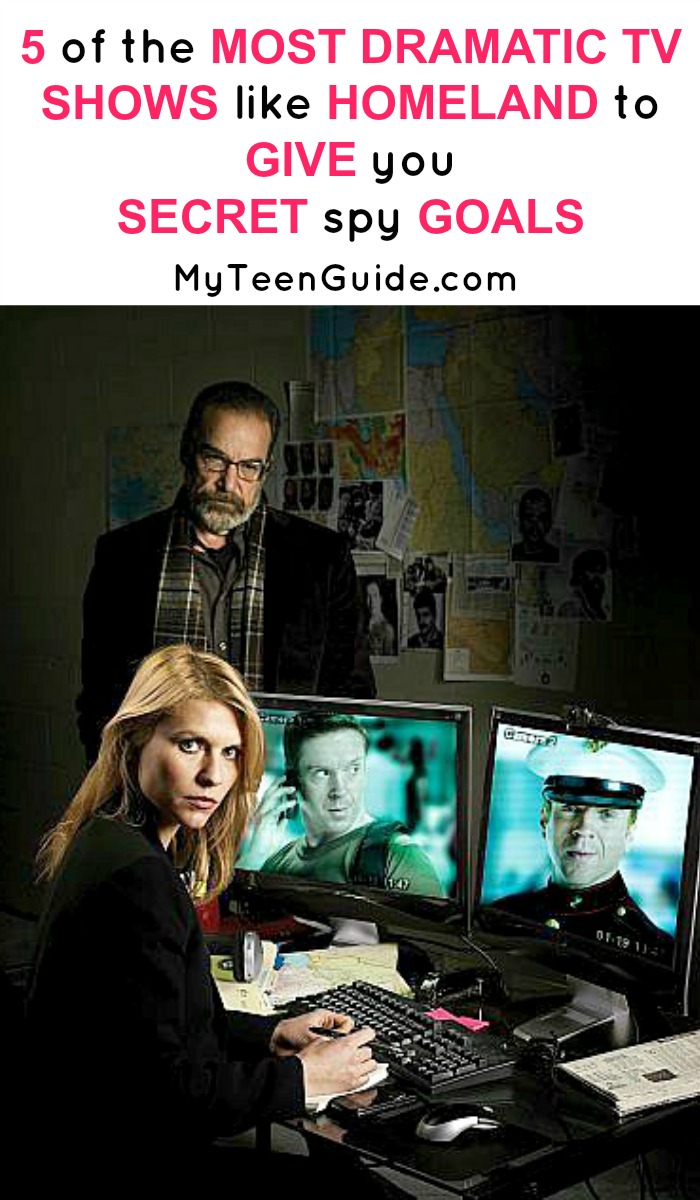 Half political spy show, half drama, TV shows like Homeland packs a punch that makes it hard to stop watching! Whether you're a fan and are looking for more, or just love a good, intense TV show to watch that keeps you on the edge of your seat, these picks are going to help you out. We all need a little more spy drama in our lives! To make things super simple, I've also included shows to watch on Netflix below because that's where most of us turn first when we're looking for a new tv show. Check out all of my TV shows like Homeland below!
5 Of The Most Dramatic TV Shows Like Homeland To Give You Secret Spy Goals
Homeland is a political thriller TV series that premiered on Showtime on October 2, 2011. The show stars Claire Danes, Damian Lewis and Mandy Patinkin. The series follows Carrie Mathison, a bipolar CIA officer, who believes Brody, played by Damian Lewis, is a terrorist, after he was rescued after 8 years as a prisoner of war by al-Qaeda.  If you haven't seen Homeland, check out the trailer below then see these other TV shows like Homeland to watch.
The Americans
The Americans is a period drama television series that premiered on FX on January 30, 2013. The series is set during the Cold War, during the early part of the 1980's. The Americans showcases on a couple of Soviet KGB agents, posing as a married couple. Even their children are unaware that they are spies. The series stars Keri Russell, Matthew Rhys, Holly Taylor, Keidrich Sellati and Noah Emmerich. Sadly The Americans is not on Netflix.
Madam Secretary
Madam Secretary is a political drama television series that premiered on CBS on September 21, 2014. The series focuses on Dr. Elizabeth McCord, the United States Secretary of State, college professor and former CIA analyst. Madam Secretary stars Tea Leoni, Tim Daly, Bebe Neuwirth and Keith Carradine. Madam Secretary is on my list of shows to watch on Netflix.
Related: All Of The Best Snowden Movie Trivia And Quotes For Intense Drama Fans (Coming Soon!)
White Collar
White Collar is a crime drama television series that premiered on USA Network on October 23, 2009, and ended on December 18, 2014, after six seasons. The series showcases Peter Burke, an FBI Special Agent and Neal Caffrey, an intelligent con artist who is also Peter Burke's informant. White Collar stars Tim DeKay, Matt Bomer, Willie Garson and Tiffani Thiessen. White Collar is a show you can watch on Netflix.
Alias
Alias is a spy-action television series that premiered on ABC on September 30, 2001 and ended on May 22, 2006, after five seasons. The series centers on Sydney Bristow, an international spy with an expertise self-defense and espionage. Alias stars Jennifer Garner, Ron Rifkin, Bradley Cooper, Victor Garber, Carl Lumby and Kevin Weisman. You'll find Alias is a tv show you can watch on Netflix!
Related: 5 Medical Drama TV Shows Like House To Mess With Your Heart
Tyrant
Tyrant is a television drama series that premiered on FX on June 24, 2014. The series focuses on the Al-Fayeed family, who quickly gets drawn into a political back in their Middle Eastern homeland. Tyrant stars Adam Rayner, Jennifer Finnigan, Ashraf Barhom, Moran Atias, Noah Silver and Alice Krige. Sorry, Tyrant is not on the list of shows you can watch on Netflix.
Do you know any other great political dramas or spy TV shows like Homeland? Which of these shows would you watch? I'm dying to watch Alias again! Tell me what you think in the comments!
Image via Wikia