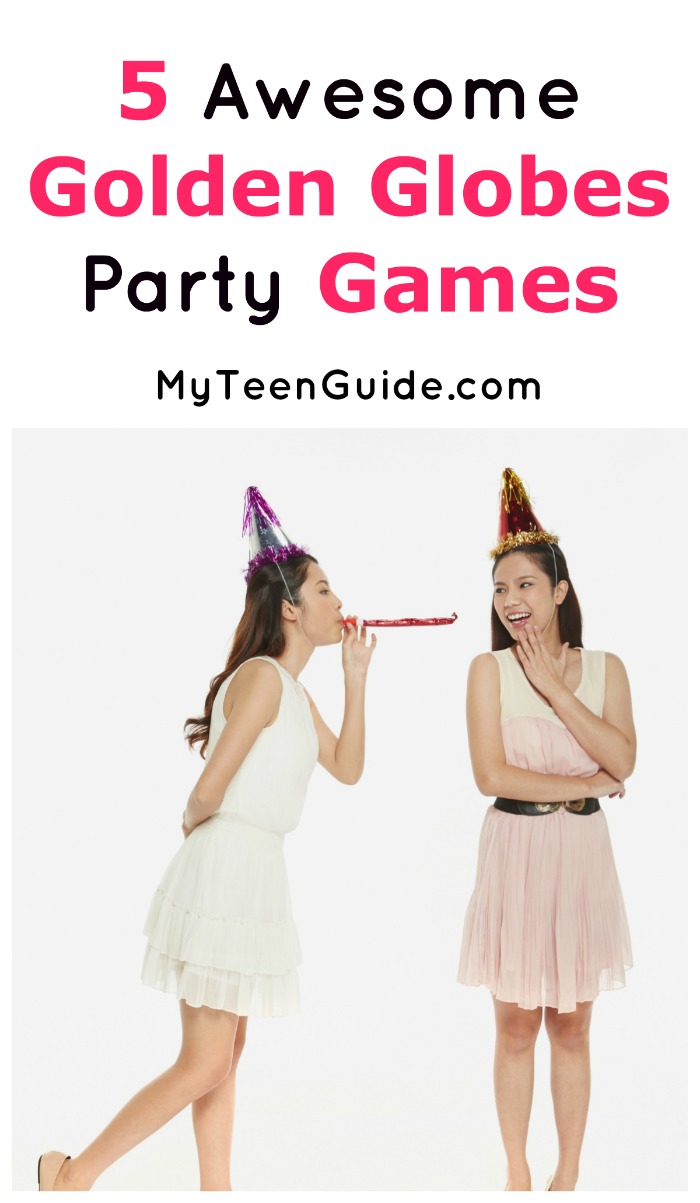 Now that the nominees have been announced, it's time to start planning your Golden Globes party! Award shows are so much more fun to watch with friends, don't you think? I mean, someone has to be around to hear your brilliant take on Emma Stone's outfit or hear your scathing critique on who got robbed out of a nomination, right? With just under three weeks until the January 8th broadcast, you still have plenty of time to pull off an amazing party. Of course, you'll need some games to play during the commercials! Check out a few of our favorite Golden Globes party games!
Golden Globes Party Games
Celebrity Forehead Detective
For this game, get a stack of blank index cards and write the name of a celebrity on each one. Make sure to include celebrities who've been nominated for this year's Golden Globes.
Next, ask each guest take an index card and stick it (facing out) to his or her forehead. Throughout the night, it's each guest's responsibility to get clues from the other guests to help that person guess which celebrity card they have.
The great thing about this game is that your guests can leave the card on their head as long as it takes for them to guess correctly. This way, the game has the potential to last throughout the whole party.
Golden Globes Fashion Bingo
Print out blank bingo cards. Fill all of the spaces with hair, nail, and clothing trends that you expect to see on the red carpet during this year's Golden Globe awards. For example, you might label spaces with things like red dress, knit hat or pocket square. Simply mark the squares every time you see a celebrity wearing that look during the broadcast. Here is a look back at last year's fashion highlights to help you plan it out.
TV Trivia
There are a number of trivia printouts available online that cover movies, television and other topics that fit in very well with a Golden Globes party. Print out enough copies for each guest and ask them to answer as many of the questions as they can. For added fun, print out a certificate or make an award for whoever answers the most questions by the end of the night.
Movie Title Mix-Up
First, have a guest think of two different movie or television titles (for example, Stranger Things and Game of Thrones) Then, have them come up with a title that combines the two (like "Game of Things") and see if anyone can guess which two shows they mashed up. If the titles are too tricky, you may need to give a few clues to help everyone guess.
Six Degrees of Separation
To play this simple game, think of two different actors or actresses who haven't been on screen together. Then, see how many people it takes to link those two actors based on movies that those people have appeared in together. This game is famously easy to play using Kevin Bacon. For example, if you wanted to link Kevin Bacon and Simon Helberg, you could in two steps: Simon Helberg starred with Steve Carell in Evan Almighty, and Steve Carell shared the screen with Kevin Bacon in Crazy, Stupid Love.
There are just a few fun examples of games to play at a Golden Globe party. Of course, you don't have to play all of them to have a great time. One or two of them is enough to add enjoyment to the event.
Do you host a Golden Globe party? What are some of your favorite games to play?