Looking for more great sci-fi shows like Black Mirror?
We've got you covered!
Check out our "what to watch next" list to find the best suspenseful sci-fi shows on Netflix, Hulu and Amazon Prime!
PS: You may also love these awesome shows like Altered Carbon!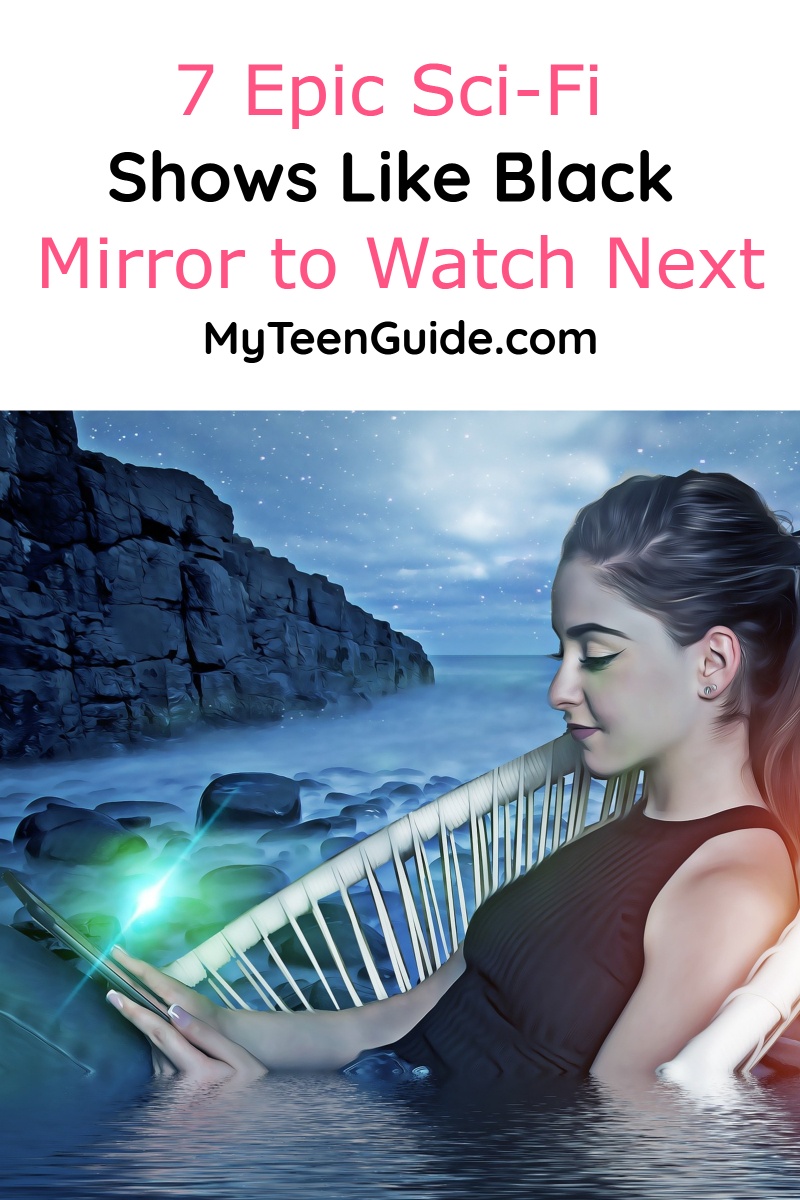 Shows Like Black Mirror
There are so many genres nowadays when it comes to TV shows.
Do you often find yourself browsing Netflix or surfing TV channels for hours not knowing what to watch?
Perhaps it's not about not knowing what you like, but more along the lines of finding EXACTLY what you like.
So if shows like Black Mirror, a suspenseful, sci-fi thriller show is what you're looking for, then we have just the lineup for you.
FYI: This post contains affiliate links. If you make a purchase through these links, we earn a small commission at no extra charge to you. 
1. Humans
Humans is set in the UK, and is a sci-fi drama that involves artificial intelligence and androids.
They take the potential dangers and benefits of what a world with such beings would entail, and create a 3-season show filled with intelligent concepts and suspense.
If Siri gives you the creeps sometimes in the human-like way she responds to you, then definitely check out this series.
Similarities to Black Mirror
Tackling tough and controversial futuristic topics. Exploring the possibilities of worst nightmares in regards to technology.
Where to watch it
Find Humans on Amazon Prime Video. Try Amazon Prime 30-Day Free Trial for access to Prime Video & more!
Looking for more "what to watch next" recommendations? Check out these 80+ Shows Like the One You Just Finished!
2. Altered Carbon
Set in the future, Altered Carbon has a unique take on human consciousness and how something intangible can be physically transferred from host to host.
It removes the permanence and sure occurrence of death from the equation of life.
As many of us can imagine, this surely brings a chaotic factor into an already chaotic world.
The show is actually based on a cyberpunk novel by Richard K. Morgan of the same name.
Similarities to Black Mirror
Tackling concepts and controversies that have yet to happen. Taking a look at the effects of certain actions taken by the government.
Where to watch it
Altered Carbon is only available on Netflix. If you're interested in reading the books, though, you can grab a 3-book set in paperback on Amazon.
3. Westworld
An amusement park in a different sense, Westworld allows its wealthy and affluent visitors to experience and live out their fantasies through artificial consciousness.
Robots/androids look after the futuristic "park" giving its frequenters a fantastical platform for indulgence.
Westworld is a modern take on a Michael Crichton movie from 1973.
Similarities to Black Mirror
A fantasy, Westworld is all about indulgence and the effects of actions taken to reach and live out one's imagination.
Much like the characters in Black Mirror succumbing to social media.
Where to watch it
Westworld isn't streaming on any of the big three but you can watch it with the HBO add-on channel in Amazon Video. Start your free HBO trial now!
4. Mr. Robot
Well-kept secrets and government conspiracies, do these subject matters sound like something you would like to explore?
Mr. Robot takes an in-depth look at a cyber security engineer and astounding hacker, Eliot.
The story takes a contemporary dive into buried secrets and conspiracies and the main protagonist who is not only wrestling with these secrets, but also with his own mind.
Similarities to Black Mirror
Unearthing confidential information and speculating on the effects of these mysteries. It's also mostly technology related conjectures.
Where to watch it
Mr. Robot is included in your Amazon Prime Video membership.
5. The Twilight Zone (Original)
It's a common trend to compare the two shows to one another.
If you know anything about sci-fi shows, then you will have definitely come across The Twilight Zone.
It tackles such existential questions like the existence of a fifth dimension. The anthology series, which first hit screens in 1959, was way ahead of its time.
That isn't to say the rebooted version from Jordan Peele is anything less than spectacular as it also takes the potential existence of futuristic and abstract concepts and weaves enticing storylines.
Similarities to Black Mirror
The shocking factor which takes superstition, sci-fi, thriller and horror really gets your mind working after each episode.
Where to watch it
Find the original Twilight Zone on Amazon Prime Video.
If you want to watch the updated version, you'll need a CBS All Access subscription, which you can get through Amazon Channels.
6. Stranger Things
Another extremely popular show in its own right, Stranger Things evokes the same anxiety and dread that follows every episode of Black Mirror in their own way.
Rather than approach audiences with probable futuristic circumstances, it does so in its own way.
If a dark and thrilling adventure into an imaginary world is something you enjoy, we definitely suggest giving this show a watch.
Similarities to Black Mirror
Addressing futuristic circumstances in a dark and thought-provoking manner.
Where to watch it
Stranger Things is a Netflix Original, so you'll only find it there.
7. Electric Dreams
Having quite a star-studded cast, it's what drew us to Electric Dreams – that and the sci-fi anthology theme that runs throughout the series.
Based on a series of short stories by Philip K. Dick, take a trip into an unimaginable imaginative world. Each episode is a standalone story with a different cast as well.
We see big-timers such as Steve Buscemi, Bryan Cranston, Anna Paquin and Greg Kinnear to name a few.
Similarities to Black Mirror
Its surreal atmosphere paired with somewhat relatable issues leave the audience quite dumbfounded. Each episode is a standalone story.
Where to watch it
Electric Dreams is included with your Prime Video membership.
A real thinker and head-scratcher, Black Mirror speculates on and explores things existential and metaphysical, yet all oddly rooted in reality.
It provokes thinking and imagination among those who love to exercise the mind and yet it also stimulates mind-bending concepts.
You will buy into the question of "what if", and form your own theories on what might happen if the media obsessed generation continues down such a path.
If idea inducing shows and concepts are of your taste, definitely check out these other worthy shows.
Do you have any other favorite shows like Black Mirror? Share below!