Can you believe it's already time to start thinking about back to school beauty ideas?
It may only be the end of June, and yes you just got out, but trust me, summer flies by in a flash!
Besides, it's so much better to start planning your school wardrobe now rather than stressing over it at the very last second!
If you're having a hard time deciding what your new look should be, check out some of my favorite ideas!
Related: 5 Best Nail Art Designs On Pinterest for Back to School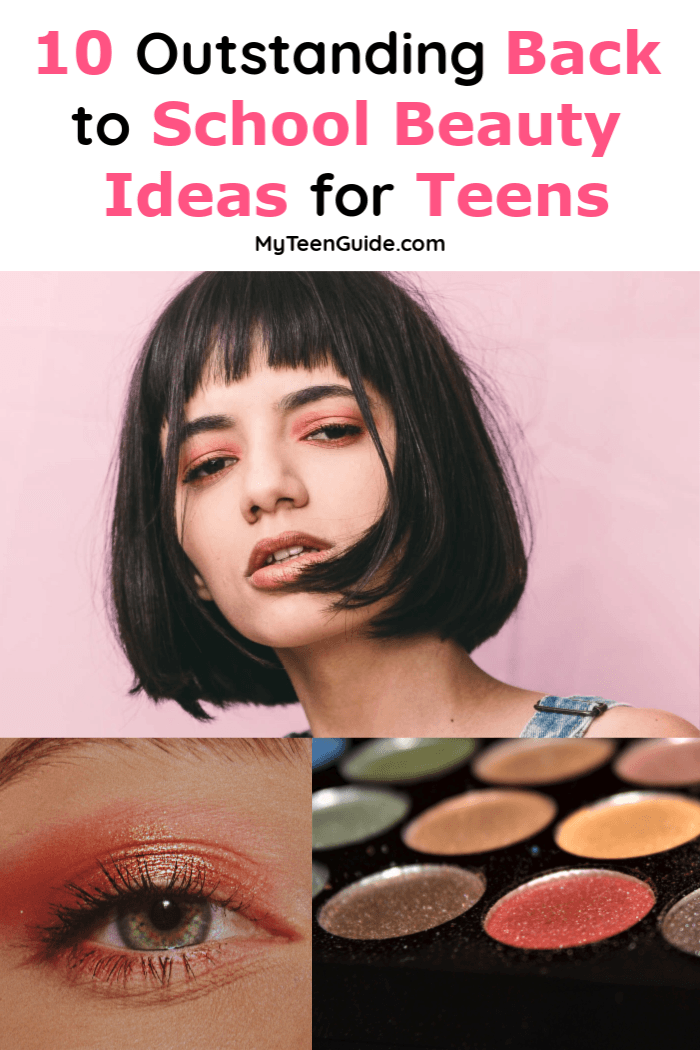 Back to School Beauty Ideas for Teens
We'll make this easy by breaking it down into hair and makeup.
Let's start with some of the most popular hair trends for the 2019-20 school year!
FYI: This post contains affiliate links. If you make a purchase through these links, we earn a small commission at no extra charge to you. 
Back to School Hair Ideas
As you'll see below, the top hair styles for the 2019 school years vary drastically, from super short and curly to long and straight.
Even the color trends are all over the place, with ombre making a comeback alongside pastels.
1. Blunt Bobs
Blunt bobs with a "sharp finish" are in again, while the layered look (or the lob) is on the way out.
The good news? This cut works great for all face shapes.
The bad? Even though stylist experts say that it works well for all hair textures, it made my super thick hair super poofy!
If you have thick hair and want a blunt bob, ask your stylist for tips on how to keep it tamed!
2. Super Straight Hair
Whether you go long or short, super pin-straight hair is back in.
The only downside? For those of us with wavy hair, it means spending more time in the bathroom with our flat iron!
All that heat is SO bad for your locks, so make sure you use a good argan oil or some other sort of heat protection spray beforehand. I like this one:
You may also want to grab a style extender, like this one by Living Proof. I have it and it works great!
3. Short and curly
Remember what I said about drastically different style trends? We go from long and pin-straight to short & curly!
I love this option for us girls who like to sleep right up until five minutes before the bus comes, then jump out of bed and get ready in a flash.
In other words, it's very easy to maintain.
Just make sure you use a good conditioner and either some texturing product and/or a glossy finishing spray.
4. Ombre Hair Color
According to Cosmo, ombre is back and better than ever!
I was sad to see the trend fizzle out a couple of years ago, so this news makes me very happy.
The caveat? It's all about natural ombre colors, so forget the rainbow hair (or not, seriously, do what makes you happy!).
5. Subtle Pastels
Prefer something a little more colorful? You'll love the subtle pastel look!
Lilac hair in particular is a huge 2019 hair color trend.
If you're a blonde, you can pull off these looks with at-home hair color.
While you can get lilac in a box, I recommend going to a beauty supply store and getting the same stuff the pros use.
For those of us with darker hair that need to bleach it first, a pro is a must. Seriously, don't bleach at home.
I had a friend that overdid it and her hair turned to gum. I'm not even kidding!
Now that we have the hair in order, let's talk makeup!
Back to School Makeup Trends
I am a total makeup junkie, so this is my favorite part!
Like hair, 2019-20 makeup trends are all over the place, ranging from "I just stepped off the set of the Hunger Games as a Capitol extra" to "I woke up like this."
Let's check out a few of the hottest looks, plus tips on taming some of the more extreme ones so your school doesn't freak out.
1. Neon everything
I'll be honest, I'm not a big fan of the 80s flashback neon trend, but if you are, then go for it!
Don't go overboard, though!
The pic above demonstrates how to make a statement with neon eyes while using a subtler look for the rest of her face.
2. Cat Eyes with a Twist
Cat eyes are back, but not in the way you're thinking. This year, it's all about white cat eyes!
The look is equally as dramatic, yet subtle enough that it's appropriate for school.
Get the look with a really good white eyeliner pencil, like this one from Nyx.
3. Orange Lipstick
I'm going to be very honest with you, this trend does not work for everyone.
I personally look absolutely horrible in orange, whether it's on my face or in my clothing.
Stylecaster has a great guide on how to wear orange lipstick without looking like a pumpkin, so check that out!
4. The "Capitol" Look
Vogue calls this the disco look, but us Hunger Games fans will recognize it as something different!
If you want to look like you just stepped out of the Capitol, this is the look for you.
Keep in mind, though, that it's a little over-the-top for school. Tame the look by just focusing on one feature, like your eyes. Here's a good example:
5. The Natural Look
The natural look goes by many names, but it never goes out of style.
While you could skip makeup entirely and go with clean skin, not all of us roll out of bed looking like a supermodel.
I've always been plagued with dark circles, for example.
So, you may want to go with a good concealer, a lightweight foundations, and a faint dusting of blush.
Finish it off with lip gloss and you're good to go! I love this palette:
These back to school beauty ideas should get you started on choosing your fall look!
Just remember, the best beauty ideas are the ones that make you feel great!
What are some of your favorite back to school beauty ideas? Share below!