Looking for shows like Girlfriend's Guide to Divorce that really stand out from the crowd? You'll love these other 10 great comedy-drama shows!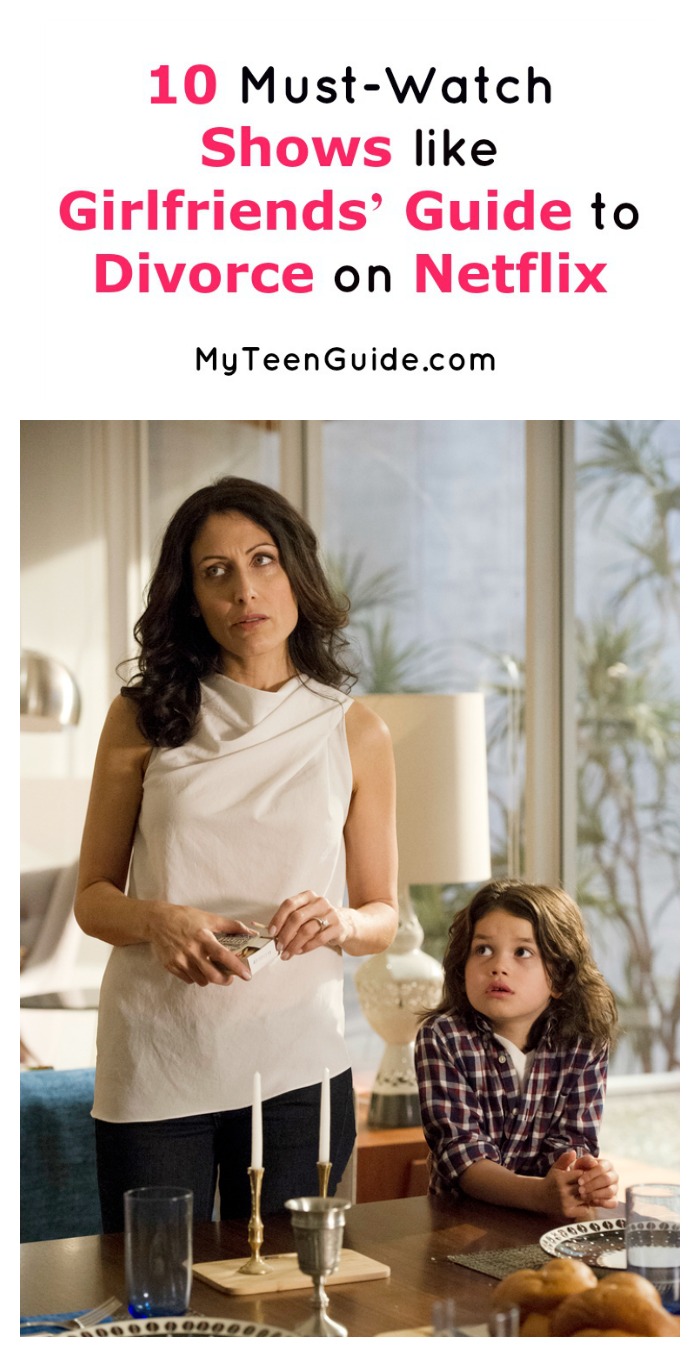 Not many TV shows reach the popularity that separates them from the others, particularly comedy-drama shows with such a specific theme like Girlfriends' Guide to Divorce which normally speak to a narrow audience.
However, this hit show created by Bravo has managed to overcome the branding of being just another typical comedy show about single or divorced women with a mid-life crisis (or maybe mid-life revolution?) in search of new ways to express their sexuality and find their meaning in life, making it into a huge hit with other demographics as well.
Still going strong in its fourth season, Girlfriends' Guide to Divorce, which is set in LA and follows the adventures of a successful writer of a self-help book series and a woman trying to hide her separation from her husband, Abby McCarthy (Lisa Edelstein), sparked a lot of interest for similar TV shows that share its unique humor and quirkiness.
So, we have made our choice of TV shows like Girlfriends' Guide to Divorce on Netflix.
Shows Like Girlfriends' Guide to Divorce on Netflix
This post contains affiliate links. We earn a commission if you make a purchase, at no extra cost to you.
1. Odd Mom Out
Made by the same network as Girlfriends' Guide to Divorce, Odd Mom Out shares some of that specific humor that we all love and enjoy.
This comedy TV show is based on a novel Momzillas by Jill Kargman, who also plays the leading role in the series.
The show depicts lives of ultra-wealthy moms from New York, showing all of their quirks and weird ideas of entitlement that come with extreme wealth.
2. Desperate Housewives
When you mix comedy, drama and mystery and place it all in an idyllic setting of a suburban neighborhood, you get a huge hit like Desperate Housewives.
Since this show about a group of girlfriends and their unique relationships and life dilemmas ended in 2012 after 8 seasons, it probably eluded some of the younger audience hooked to Girlfriends' Guide to Divorce, and it would be a shame to miss it if that is the case.
3. Emily Owens, M.D.
Even though this show aired for just one season, it was well-received by both critics and audience.
Emily Owens (Mammie Gummer) is a young intern in a hospital full of her high-school rivals also working as interns.
It is a great mix of classic medical drama and comedy in which Emily soon realizes that world of adults is not so different from high-school.
4. Being Mary Jane
This drama, romance TV show lacks the shared humor abundant in previous entries on our list, but it is nevertheless a show worth checking out if you are a fan of shows like Girlfriends' Guide to Divorce since it also depicts the life and relationships of a strong, independent woman trying to find love and balance her love-life with her job as a talk show host.
5. Friends from College
With such prodigal comedy names like Keegan-Michael Key and Cobie Smulders, Friends from College guarantees a lot of laughs.
However, this TV show also has some drama in it, and this mix is incorporated in the complex relationships shared by a group of now middle-aged friends from Harvard.
The first season of the original Netflix series ended this summer, so this is a perfect time to come along for the ride.
6. Mistresses
This is another TV show on our list which lacks the comedy designation, but that doesn't mean that it completely lacks humor.
Fans of Girlfriends' Guide to Divorce should really enjoy this show about a group of four girlfriends and their journey to self-discovery and meaningful relationships.
7. Younger
https://www.youtube.com/watch?v=VJNsvZj5-9w
This comedy-romance TV show follows a 40-year old woman Liza (Sutton Foster) who gets mistaken for younger than she really is, and decides to embrace that and starts living her life as a 26-year old.
Just like Abby from Girlfriends Guide to Divorce, Liza is trying to start her life again from scratch with a lie, which leaves plenty opportunities for drama and comedy to ensue.
8. Hart of Dixie
https://www.youtube.com/watch?v=6P8FguMijIg
When a young doctor from New York Zoe Hart (Rachel Bilson) receives an offer to work in a small town in Alabama, her life changes forever.
She ends up owning the practice of the man who sent her the offer, and tries to adjust to life in a small, idyllic part of rural America after spending her entire life in New York, much like Abby is trying to embrace being single after being married for so many years.
9. The Mysteries of Laura
With adorable and witty Debra Messing in the titular role of Laura, The Mysteries of Laura was a show bound for success.
This TV show accomplishes what many tried before – and failed – to strike a perfect balance between comedy and crime while depicting the work of a New York homicide detective and her personal and professional struggles.
10. Sex and the City
Sex and the City is, rightfully, considered to be a pioneer in comedy TV shows that follow the relationships of modern, urban, single ladies in a metropolis like New York.
For six seasons and a couple of subsequent movies, this TV show truly stands on its own in the genre, and any Girlfriends' Guide to Divorce lovers out there who missed this epic show should definitely check it out.
Finding a nice blend between comedy and drama is not an easy task, but it is something that Girlfriends' Guide to Divorce does with style. It shows how messy relationships can get, but also fights hard to keep some humor about it and doesn't wallow in pessimism even when things get rough. So, if you can't get enough of Girlfriends' Guide to Divorce, you should definitely check some of the similar TV shows from our list.
Do you have any favorite shows like Girlfriends' Guide to Divorce? Tell us below!