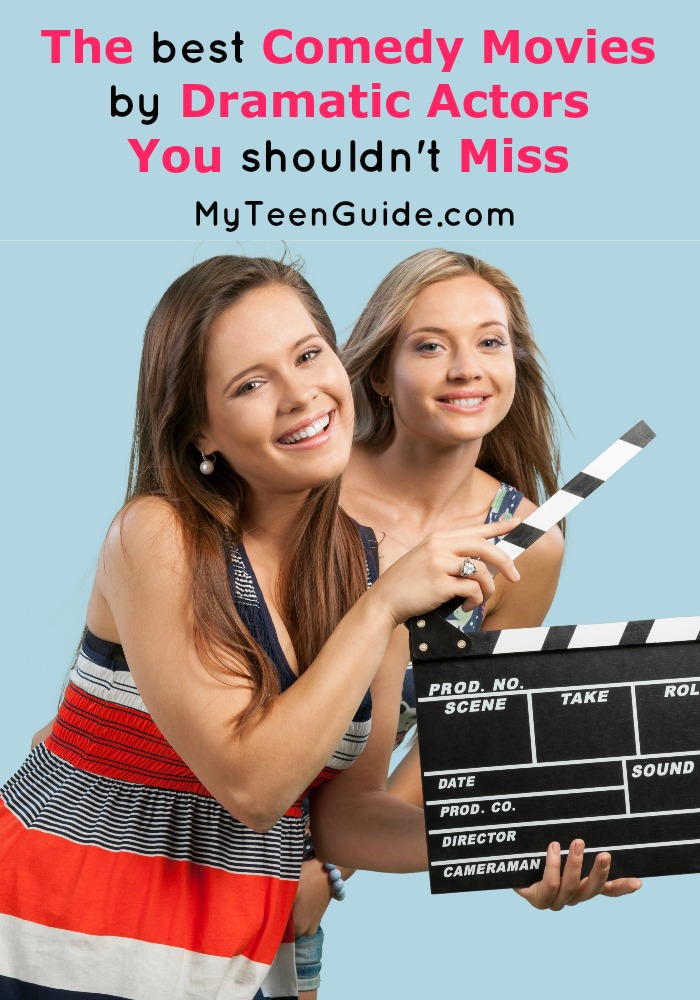 I don't know about you, but I love watching the best comedy movies. Comedy is my go to genre, the staple I gravitate to, the peanut butter to my jelly. The best comedy movies cheer you up when you have a bad day, and can help you celebrate a good day. Yet sometimes our favorite drama actors mix it up a little bit and step outside of the best drama movies to bring you something amazing. What happens when a drama actor takes on a more comedic role? Here are some of the best comedy movies by dramatic actors you have to check out!
The Best Comedy Movies By Dramatic Actors You Shouldn't Miss
Pirates of the Caribbean- Johnny Depp
Pirates of the Caribbean is a 2003 pirate fantasy movie, starring Johnny Depp as Captain Jack Sparrow, Geoffrey Rush as Captain Hector Barbosa, Orlando Bloom as Will Turner and Keira Knightley as Elizabeth Swann. The movie showcases Will Turner (a blacksmith) and Jack Sparrow (a pirate) who team up to save Elizabeth (the daughter of the governor) from a group of undead pirate allies. This movie is part of a series, and currently has four movies in the franchise, with the fifth movie, Pirates of the Caribbean: Dead Men Tell No Tales, slated to be released in 2017. For this movie, Depp won the Empire Award for Best Actor, the MTV Movie Award for Best Male Performance and Best Comedic Performance and the Screen Actors Guild Award for Outstanding Performance by a Male Actor in a Leading Role. Depp is best known for his dramatic roles in the 1993 What's Eating Gilbert Grape as Gilbert Grape, the 2004 Transcendence as Doctor Will Caster and the 2015 Black Mass as James "Whitey" Bulger.
Forrest Gump- Tom Hanks
Forrest Gump is a 1994 epic movie that combines romance, comedy and drama, starring Tom Hanks as Forrest Gump, Robin Wright as Jenny Curran, Sally Field as Mrs. Gump and Gary Sinise as Lieutenant Dan Taylor.  The movie is about the life of Forrest Gump, a man who is slow-witted yet kind-hearted. You see all the crazy events that happen in Forrest's life, as well as witnesses some major events that happened primarily during the 1950's, 1960's and 1970's. For this movie, Hanks won the Academy Award for Best Actor in a Leading Role, the American Comedy Award for Funniest Actor in a Motion Picture, the Golden Globe Award for Best Actor in a Motion Picture and the People's Choice Award for Favorite Actor in a Motion Picture. Gump is best known for his dramatic roles in the 1993 Philadelphia as Andrew Beckett, the 1995 Apollo 13 as Commander Jim Lovell, the 1999 The Green Mile as Paul Edgecomb and the 2013 Captain Phillips as Richard Phillips.
Elf- James Caan
Elf is a 2003 Christmas comedy movie, starring Will Ferrell as Buddy, James Caan as Walter Hobbs, Mary Steenburgen as Emily Hobbs, Daniel Tay as Michael Hobbs, Zooey Deschanel as Jovie, Edward Asner as Santa Claus and Bob Newhart as Papa Elf. The movie is about Buddy, who is one of Santa's elves, who learns that he's really a human and meets his real dad, Walter Hobbs. Caan is best known for his dramatic roles in the 1972 The Godfather as Santino "Sonny" Corleone, the 1992 Honeymoon in Vegas as Tommy Korman and the 2013 Blood Ties as Leon Pierzynski.
What are the best comedy movies you have ever seen? Do you love any of our picks? Talk about it down in the comments!
Copyright: Vector Image by StockUnlimited