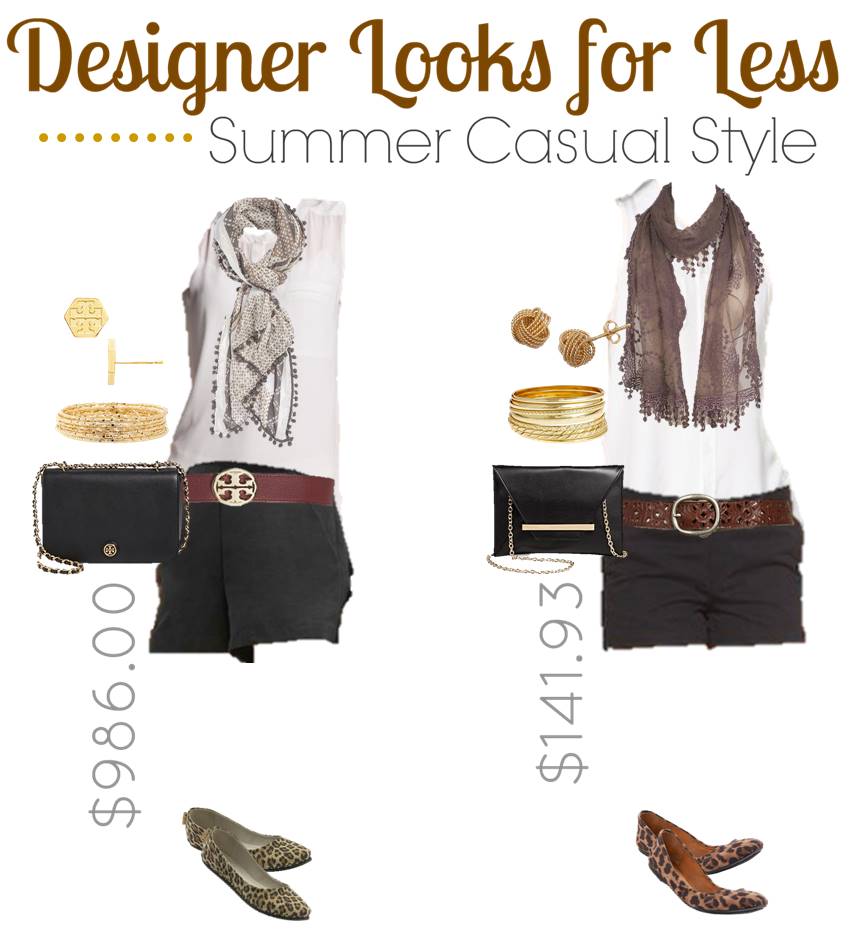 Ever wish you could get an amazing summer teen fashion designer outfit without needing a designer budget? Well, you can! Okay, so you can't get the EXACT look. Designer clothes have nuances, labels and certain elements that are exclusively theirs. So while you may not be able to duplicate the belt buckle on, say, a Tory Burch belt, you can get a very similar look without spending a fortune.
Related: Teen Fashions on a Budget: William & Kate Makeover
Today we're looking at a fabulous summer teen fashion outfit that is perfect for those classy casual days. You know, the days when you want to dress to impress? The great thing about this outfit, though, is that when you strip away the accessories, you have two great core pieces- black shorts and a white shirt- that work with a myriad of other outfits. The browns and golds in this outfit help soften the black shorts and give personality to the white top. Let's see how you can save about $840+ on this awesome summer teen fashion designer outfit!
Summer Teen Fashion: Designer Looks on a Budget
Affiliate links included below.
Designer Outfit:
Budget Outfit:
Merona Chino 3″ Shorts, Black (Target) — $19.99
Mossimo Sleeveless Button Up Shirt (Target) — $19.99
Ona Scrunch Ballet Flats (Target) — $16.99
Crochet Tassel Scarf (Amazon) — $13.99
Envelope Clutch Handbag (Target) — $16.99
Fossil Leather Belt (Nordstrom) — $34.00
Bangle Bracelets (Target) — $4.99
Love Knot Stud Earrings (Target) — $14.99
Not too bad, right? Once you're done shopping, you'll have eight great pieces that you can use in other outfits too! When you're looking for great summer teen fashions on a budget, the idea is to look at an outfit and think "what do I have at home that will work with this? How can I make it go further?"
Related: Super Stylish Mix & Match Teen Fashion for Summer
For example, if you have a really cute pair of shorts that just don't match anything else, the white top would work with those as well. Maybe you have a comfy outfit that's a little on the dull side? Dress it up with the scarf! You can stretch your budget and your wardrobe further if you mix and match!
ebay