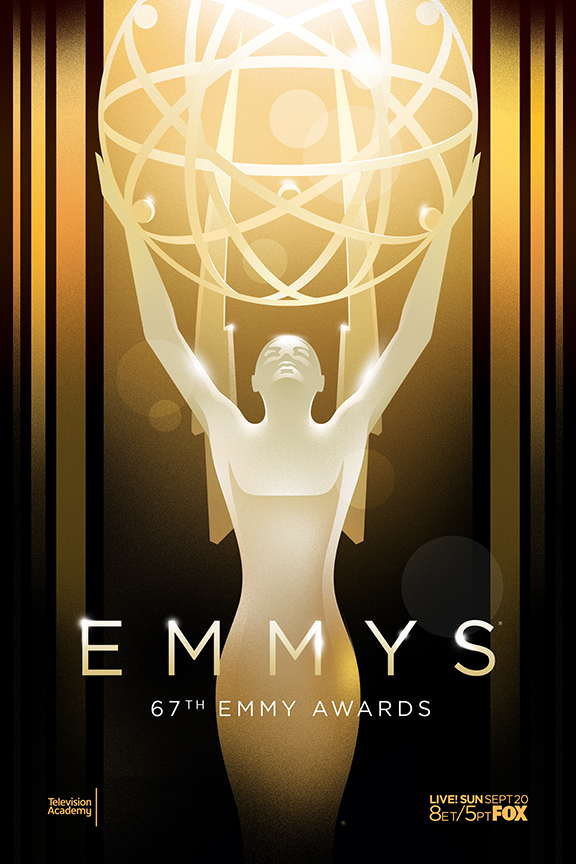 Awards shows always bring out the best and the worst fashion. Tonight was definitely no exception. My picks for best dressed of the night were Lady Gaga, Emma Roberts and Taraji P. Henson while my worst dressed picks went to Heidi Klum, Laura Prepon and Maisie Williams. Here is a guide to what the stars wore tonight.
67th Annual Emmy Awards Fashion Highlights
Amy Poehler looked amazing in a long black, halter top dress with side cutouts by Michael Kors. She completed the look with gold and black bangles that added a unique flair to her ensemble.
Amy Schumer wore a strapless, dark teal dress from Zac Posen. It was a pretty dress but it was way too low in the bust area.
Tina Fey looked awesome in an Antonio Beradi black/white dress with flattering neckline and cap sleeves.
Regina King looked stunning in a pearl-adorned frock by Krikor Jabotian.
Gina Rodriguez looked like an angel from heaven in her off-white dress from Lorena Sarbo that featured floral accents.
Sofia Vergara always looks amazing wherever she goes. Tonight was no different when she wore a hip-hugging, metallic, strapless dress from St. John that accentuated her figure.
Kerry Washington looked awesome in a gold and silver mesh dress by Marc Jacobs with sequin hemline.
I love Julianne Hough, as she is always so stylish. She wowed the Red Carpet with a Marchesa sheer black gown. While the dress barely (and I do mean barely) covered up what needed to be covered, she slayed it by looking edgy and stunning at the same time.
Maisie Williams is a cute young woman but tonight, her look was less than appealing. She wore this quilted pink frock with fuzzy heels. It reminded me of something my grandma would wear while she was relaxing on the couch in the evening. I am not sure who the designer of this getup is as I looked all over the internet and couldn't find a thing.
Maisie's co-star, Sophie Turner, looked much better with her Galvan pantsuit. The sapphire blue strapless top and black high-waisted trousers looked really good on her.
Emma Roberts looked gorgeous in her Jenny Packham blush dress. I did find a tiny flaw in the fact that the front was extremely low-cut but the style fit her very well nonetheless.
Sarah Hyland looked absolutely gorgeous tonight with a Zac Posen off-the-shoulder gown in maroon color. I think the dress complimented her tall, thin figure.
Lady Gaga, in my opinion, was the absolute best dressed of the night. While we are used to seeing her in outfits that are over-the-top, tonight she kept it simple with a plain black gown by Brandon Maxwell.
Another best dressed was Taraji P. Henson. She donned a black gown from Alexander Wang. The gown featured custom lace and bike-chain straps.
Claire Danes wore a Prada floor-skimming dress. The purple and blue beaded dress was beautiful but I didn't like the chain detailing so much. It just looked all weird.
Heidi Klum is supposed to be a fashion icon but she looked more like the female version of Big Bird tonight. Her yellow, sheer Versace dress was absolutely awful.
Maggie Gyllenhaal wore a black and purple dress with a sweetheart neckline by Oscar de la Renta. The top part was black and I liked it but the purple bottom part reminded me of a wrinkled bedsheet.
Viola Davis wore a white ball gown with black accents from Carmen Marc Valvo. It was a pretty dress but I thought she would have looked better in something more body-hugging and sleek.
Let's talk about the cast from Orange is the New Black for a minute. Taylor Schilling and Laverne Cox looked amazing while Taryn Manning and Laura Prepon didn't look so great. Taylor wore a yellow gown by Stella McCartney that fit her figure perfectly while Laverne Cox looked stunning in a tight-fitting teal colored dress from The Calvin Klein Collection. However, Taryn Manning wore a black dress that made her look like a cross between a vampiress and Morticia Addams while Laura Prepon wore a red gown by Christian Siriano. The dress was pretty but the shawl-like part of the dress was horrendous looking.
While most everyone talks about the fashion of the women on the Red Carpet, let's not forget about the men. John Stamos looked dashingly handsome in a Dolce & Gabbana suit. Tituss Burgess looked stylish with his bow tie and Bonobos tuxedo.
Fred Armisen paid tribute to Wes Craven by wearing Freddy Krueger's Nightmare on Elm Street glove. It was definitely a touching tribute but he looked a bit strange to say the least. Host Adam Samberg looked dashing in an Armani tuxedo. Alan Cumming, who is a great actor, was probably the worst dressed male. He wore a grey Vivienne Westwood suit that looked like it was 5 sizes too big for him. To top it all off, he wore Crocs with his suit. I mean, seriously…who wears Crocs with a suit to an award show?
And that, my friends, is a wrap for our 67th Annual Primetime Emmy Awards Fashion highlights! Who is your picked for best dressed? How about worst? Tell us in the comments!