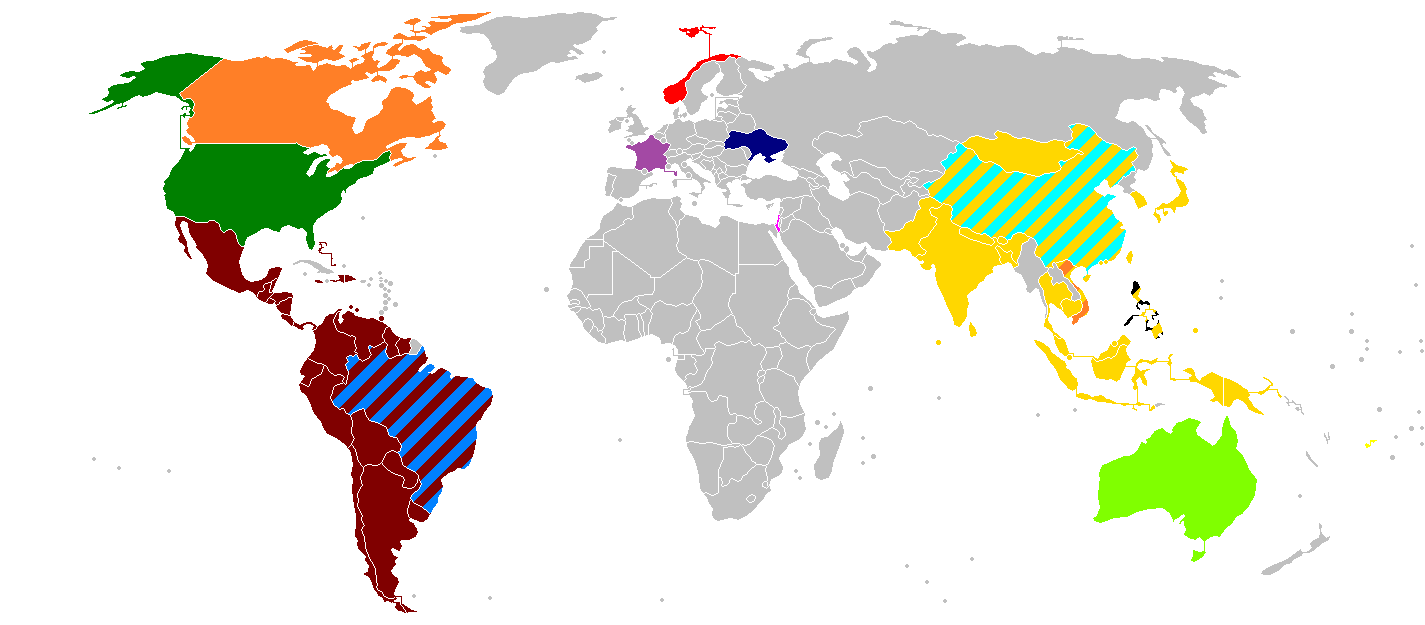 The start of the Amazing Race Season 27 show is basically just an introduction to the teams. Then, host Phil Keoghan tells the teams that their first stop will be Rio De Janeiro. Of course, this the Amazing Race so a bit of a kink is thrown in. Only one team can get on the 1st flight to Rio, with the other flight leaving 30 minutes later. Also, Phil tells everyone that the first place team wins the Express Pass.
This season there are 11 teams competing in The Amazing Race!
Here is a brief intro for each team from the Amazing Race- Season 27:
Alex and Adam are cousins, who both have a form of dwarfism.
Cindy and Rick are married and both work in the medical field.
Jazmine and Danielle are best friends, graduate students from California. Jazmine is a squad girl for LA Galaxy and Danielle is a major track star at UC Riverside.
Kelly and Shevonne are friends and co-workers at TMZ.
Justin and Diana are engaged, he proposed to Diana with a proposal with an Amazing Race theme.
Denise and James are mom and son, James is gay.
Kelsey and Joey are dating and work together at a Santa Barbara television station. Kelsey is a reporter while Joey is a news anchor.
Tanner and Josh are best friends, becoming best friends in college.
Logan and Chris are dating, both work as paparazzi photographers.
Ernest and Jin are brothers from Boston. They are dancers and live in their cars.
Tiffany and Krista are both former NFL cheerleaders for the NY Jets.
The Amazing Race- Season 27- Week 1 Recap
Okay so we are only a few minutes into the show and I already don't like those TMZ snobs, Kelly and Shevonne. They think they are all that and a bag of chips. Really? The other teams seem cool though, so far.
So the race is on, the teams all get into taxi cabs, which takes them to the harbor. From the harbor, they must race on water bikes to get to Phil. The best friends, Tanner and Josh were in the lead until their water bike malfunctions.
Justin and Diana are in 1st place since they get to Phil first. They get to take the 1st flight to Rio while Tanner and Josh are in last place. As luck would have it, or not so lucky really, Justin and Diana's flight are delayed by like 20 minutes. So, basically all the teams reach Rio at about the same time. I like Justin and Diana and felt bad about their flight being delayed.
Once everyone is in Rio, they discover they need to get to the Lagoa Helipad. Justin and Diana get to the clue box first where they find that they can use the option for a Fast Forward. With yet another twist, the Fast Forward is weather-related. However, they decide to take a chance and head to the Fast Forward location. At this point, I am not having a good feeling about these two. Either they are very unlucky or they make poor decisions. Guess what happens when they reach the location? Yep, they cannot complete the task because of dangerous winds. Are you kidding me? Justin is in tears at this point, and who can blame him really? They grab a taxi and head back to the helipad.
Meanwhile, the second place team, Cindy and Rick go on a helicopter ride. They need to pay attention to what they see since they will be asked a question when they land. All the teams take a helicopter ride and must answer the question to move forward. By the way, the question is "What is the name of the monument?" How easy is that? Even I knew the answer was Christ the Redeemer.
The winning team here is Cindy and Rick, putting them in 1st place. The teams now have a Detour and need to choose sand or sidewalk, to be completed at Copacabana Beach. Sand means teams have to play volleyball against expert volleyball players and they need to score 6 points before the experts score 18 points. Also, the experts use their feet while the teams use their hands. The sidewalk Detour is a slide puzzle that the teams must put together. Those who chose the sidewalk: Cindy and Rick and Denise and James. Those who chose the sand: Tanner and Josh and Jazmine and Danielle.
Tanner and Josh complete the sand Detour first, putting them in 1st place. Now, they need to make it to Arpoador Lookout, the Pit Stop. They choose to walk to the Lookout while the 2nd place team, Jazmine and Danielle, opt for a taxi. It would seem obvious to me that the taxi would arrive before those on foot.
With the sidewalk Detour, Denise and James are currently in 3rd place since they finished their Detour first. So you may be wondering what happened to our friends Justin and Diana? Well, after what seems like forever, they finally arrive at the clue box to begin the helicopter task.
Meanwhile, Rick is getting just a little huffy and puffy with his and Cindy's task. They are having a tough time with the puzzle, and I can understand why since I could spend days on that thing and still not get it. Anyways, Cindy tries to offer suggestions but Rick develops an attitude and doesn't want her help. Wow, and these two are married? Oh boy!
Phil is at the Pit Stop to greet the teams and Tanner and Josh arrive 1st, winning the Express Pass, with Jazmine and Danielle not too far behind them in 2nd place.
Meanwhile, Kelly and Shevonne are failing miserably at volleyball so they switch to the puzzle.
Denise and James are the 3rd team to reach Phil while Rick and Cindy come in 4th.
Kelsey and Joey are doing the puzzle, as are the TMZ snobs…I mean team. On the volleyball task is Logan and Chris, Alex and Adam and Ernest and Jin. Logan and Chris are the first to finish and head for the Pit Stop.
And where are our perky little NFL cheerleaders, Tiffany and Krista? Well, they finally get to Copacabana Beach, but their taxi driver has them exit the taxi too early and they realize they are too far to walk.
Meanwhile, 5th place team, Logan and Chris make it to Phil at the Pit Stop. Kelsey and Joey give up on the puzzle and try their hand at volleyball instead. As Tiffany and Krista finally arrive, Alex and Adam complete the sand Detour. It was funny to see the look on the faces of Ernest and Jin when they realized Alex and Adam completed the task before them.
Kelsey and Joey complete the sand Detour while Tiffany and Krista decide they want to take on the puzzle now. Justin and Diana realize that Kelsey and Joey did better with volleyball than the puzzle, so they decide to try their hand at volleyball.
Meanwhile, Ernest and Jin reach the Pit Stop in 8th place. There are still three teams at the beach: Justin and Diana, Tiffany and Krista and Kelly and Shevonne. Out of the three, Justin and Diana finish first, and head to the Pit Stop. I don't know but it seems to me that Justin cries a lot for a guy, just saying!
Tiffany and Krista as well as Kelly and Shevonne are both having a tough time with the puzzle. It looks like a battle against the clock between the cheerleaders and the TMZ team. I was quite happy when Tiffany and Krista finished first and made their way to the Pit Stop, ending up in 10th place.
So, after close to 4 hours, our friends from TMZ finally complete the puzzle. However, they don't have a chance to head to the Pit Stop as Phil greets them where they are and tells them that they are eliminated. Can't say I was upset about that one.
Stay tuned next week for The Amazing Race- Season 27- Week 2 recap.