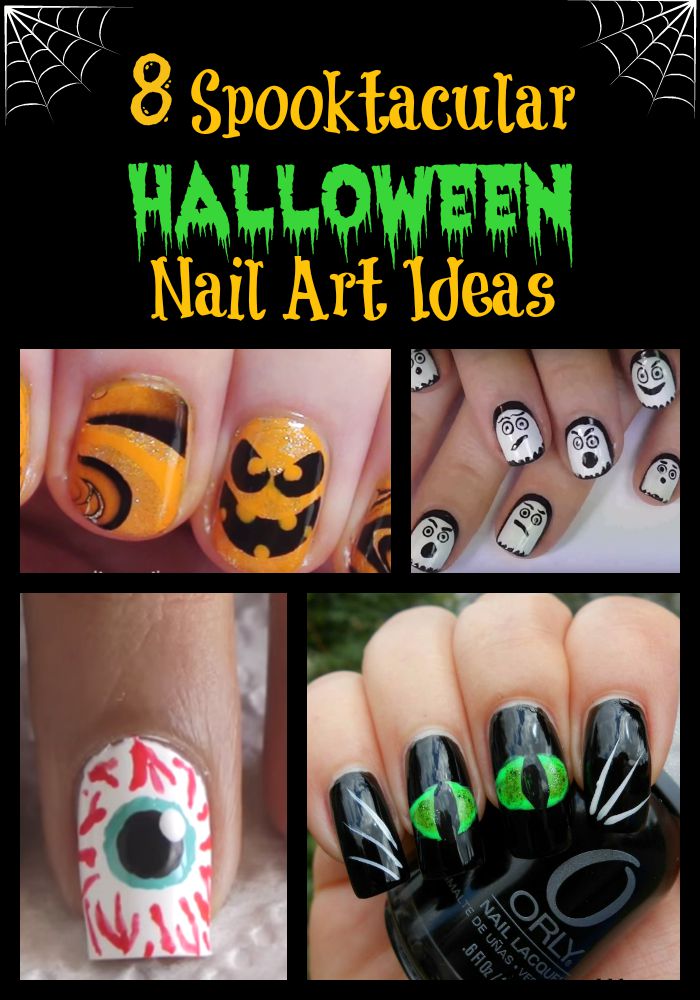 Halloween time is here and I LOVE it! The costumes, the treats and the spooky scares, I just cannot wait. I had to have the cutest and creepiest Halloween nail art manicure I could find. I have looked all over the internet and found some of the cutest and creepiest designs that are on fleek for Halloween. I seriously pulled out my box of polish after writing this post, and so will you!
Halloween Nail Art Ideas
Candy Corn Nails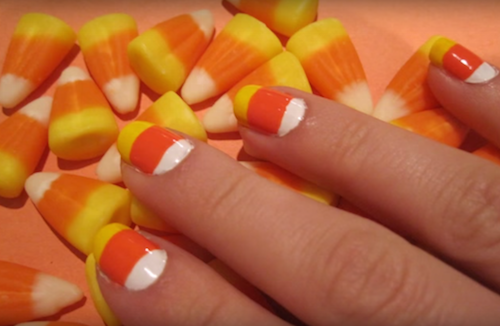 These cute nails are adorable and look tasty. If you have trouble biting your nails be careful with this super cute Candy Corn Nails from Youtuber PrettyPolishes. This is a super easy tutorial and is perfect for Halloween.
Pirate Nails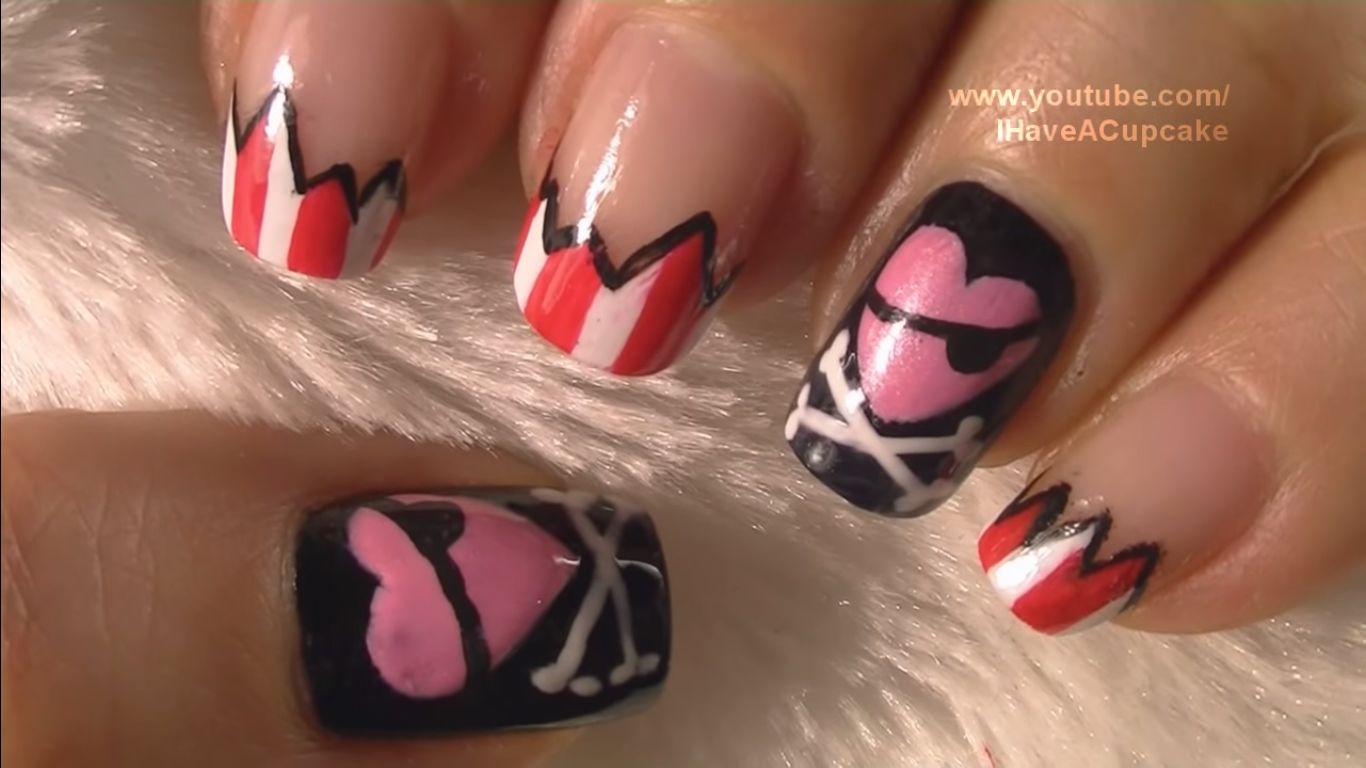 These Pirate Nails are tots adorbs. Most of the Pirate nail art designs are your standard skull and crossbones. Youtuber I Have A Cupcake takes a standard design and makes it so cute with hearts and an adorable pirate themed French tip. I might change my costume for this design, I want to be a pirate!
Ghost Nails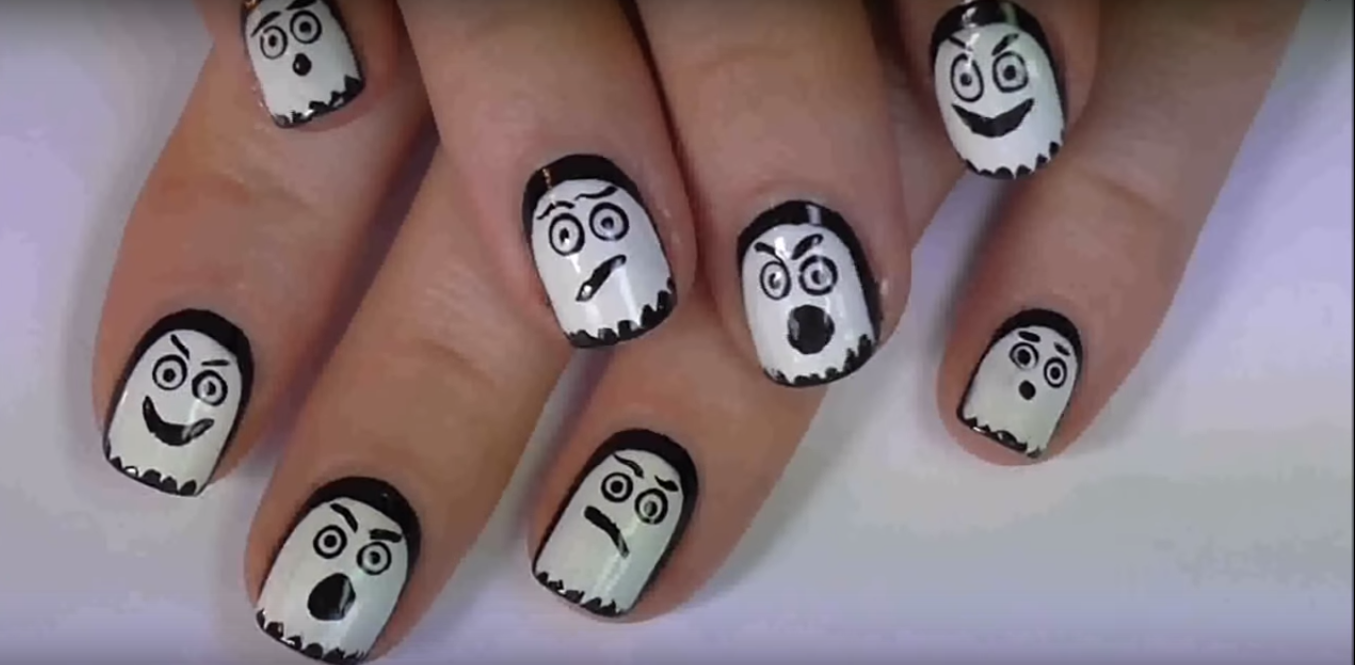 The Ghost Manicure created by Youtuber Nailed It NZ are super cute and looks like something I could create. These ghosts look like they rolled right off a Pacman game for a quirky and fun look.
Strung Out Eyeball Nails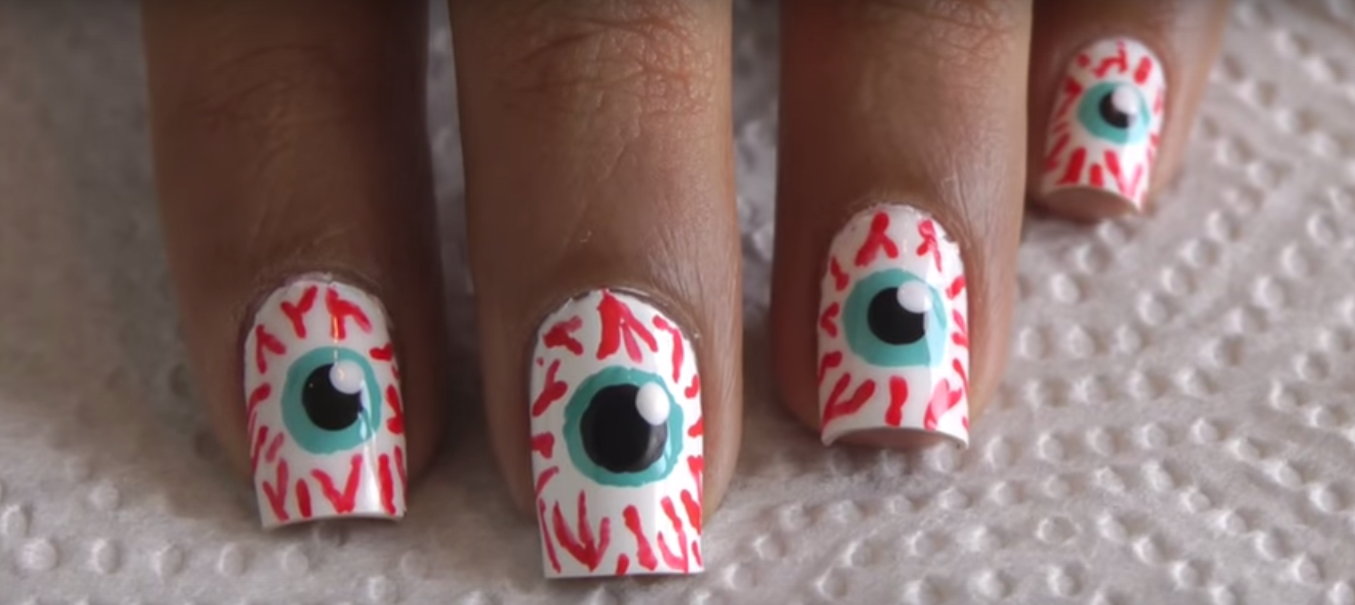 These strung out Eyeball Nails will be hilarious on your nails and soooo cool for Halloween. You have to check out this tutorial made by Youtuber Trendy Polish. This looks pretty easy to do, it just requires patience.
Water Marbled Pumpkin Nails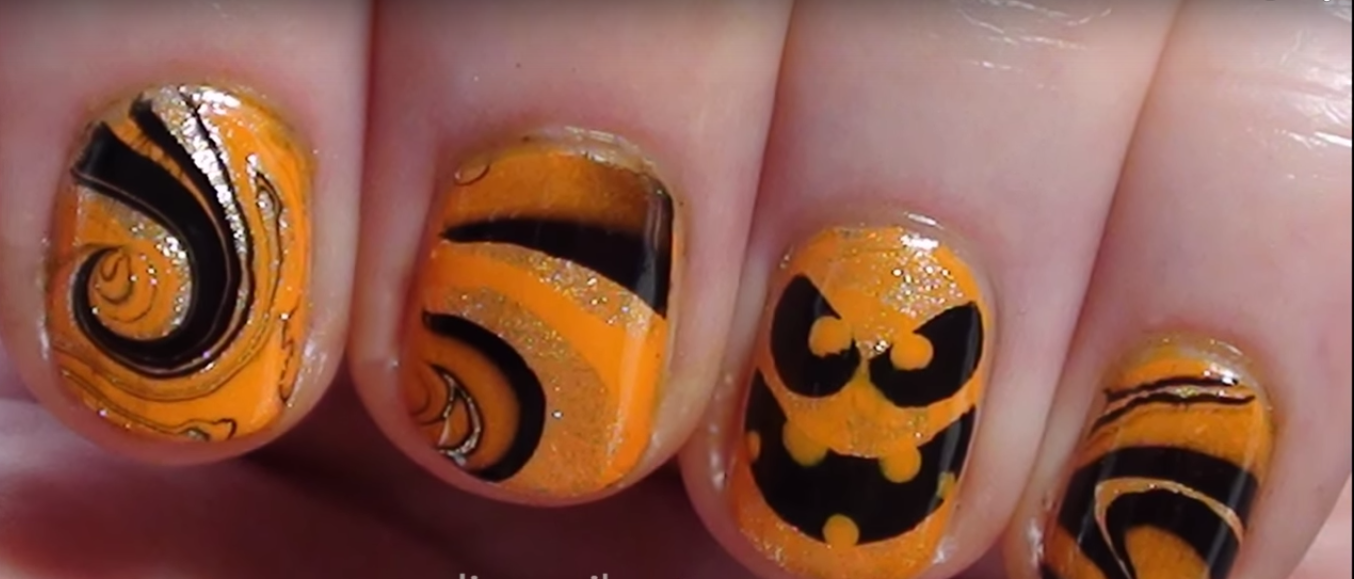 Have you tried the water marbling technique? It takes a little extra nail polish but once you try this technique, you will be hooked. It creates amazing swirls on your nails that looks so pro. Check out this Water Marbling Pumpkin tutorial from Youtuber Arcadia Nail Art. This video has taken this technique and given the nails a cool Halloween spin.
Burnt Paper Nails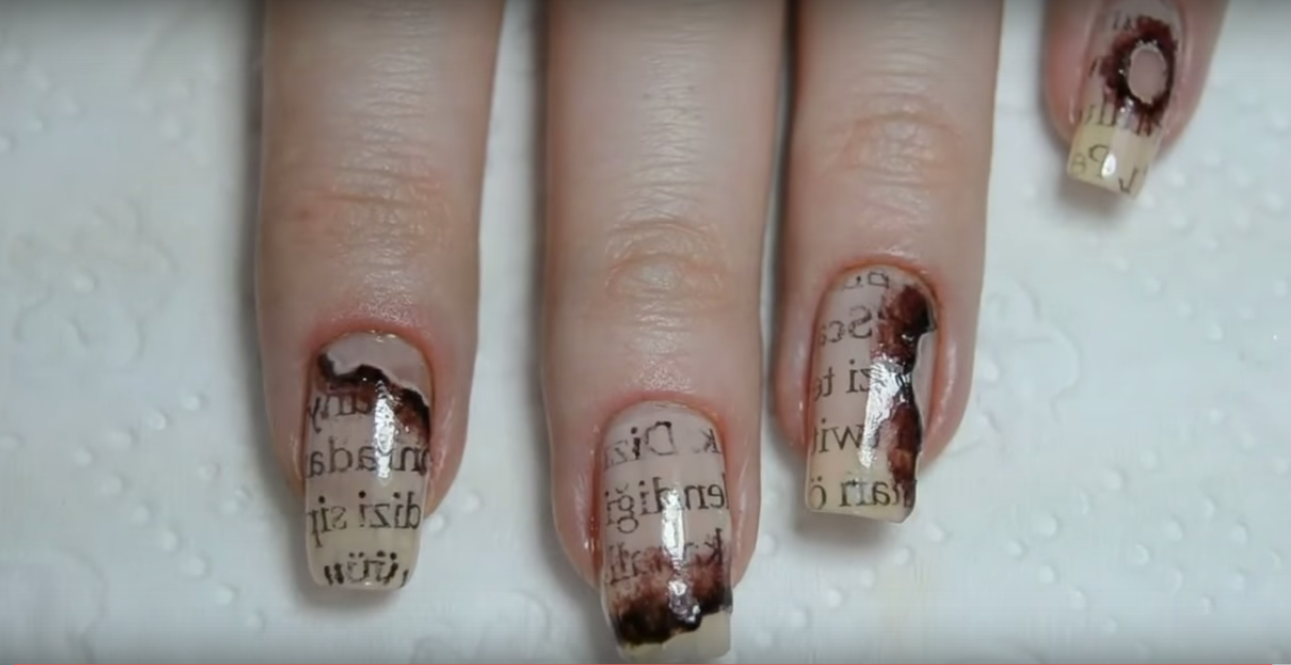 Sometimes you want a cool nail that is a bit more subtle. These totally on point Burnt Paper Nails from Youtuber NailEasyDreamArt have a fun and spooky Halloween feel. I seriously love this technique, these creepy and subtle nails are tots my style for a creepy nail I can wear almost anywhere.
Cute Spooky Eyes Nails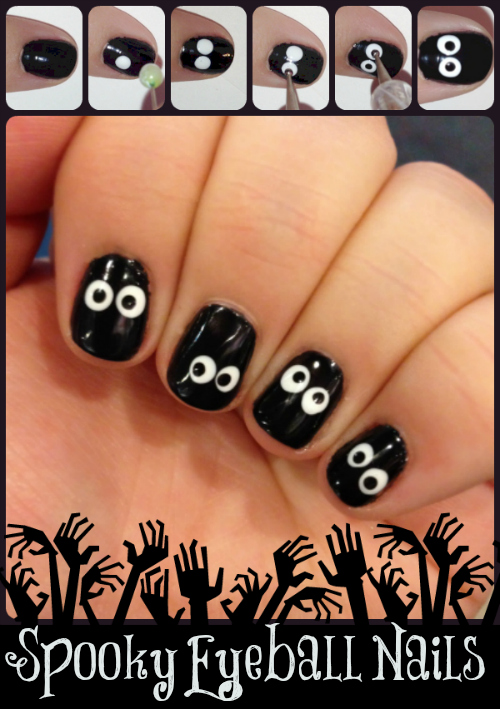 If you want a super easy Halloween Nail art design, you have to check out these full proof Spooky Eyeball Nails. These adorable nails at Totally The Bomb have cartoon eyes peeping out from all over your nails. This manicure defiantly leans more towards cute and less towards creepy.
Halloween Mix Up Nails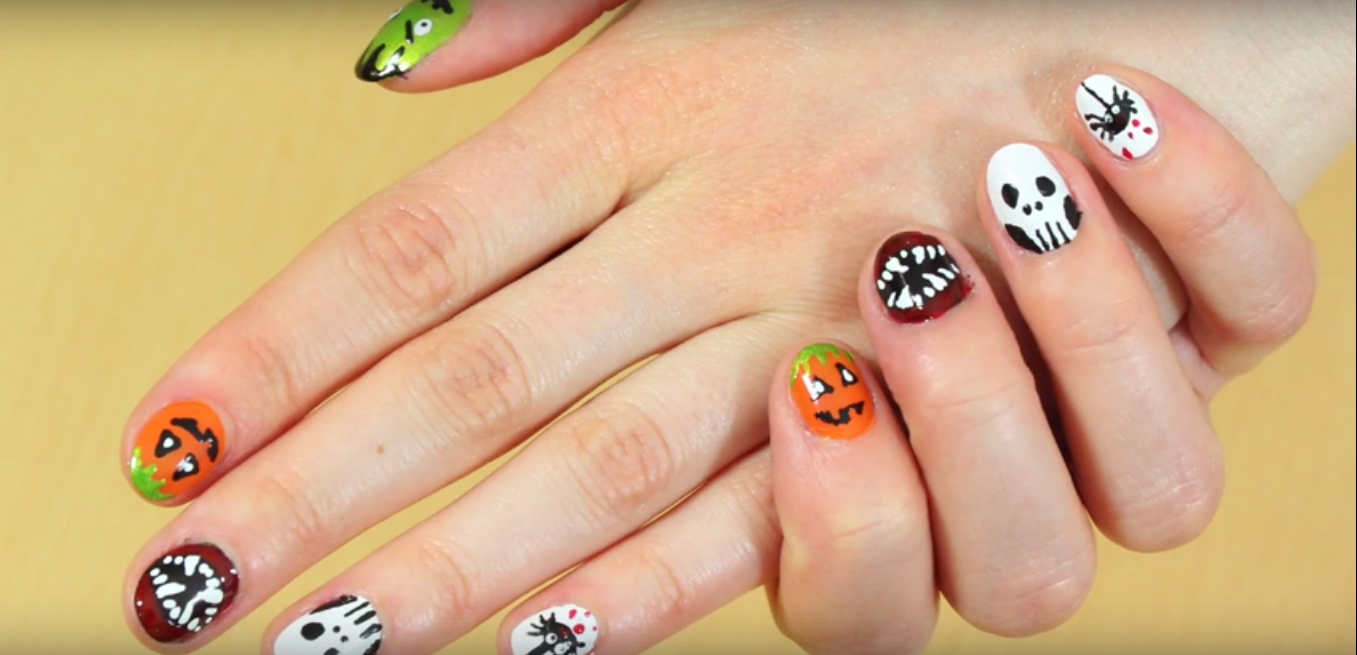 If you love to have a different design on each nail, you have to check out this mix up of 5 Different Halloween Nail Art Designs. Youtuber HooplaKidz Style will show you how to do five different Halloween designs so you have a different theme on each nail. My fav has to be the super spooky monster mouth.
Kitty Cat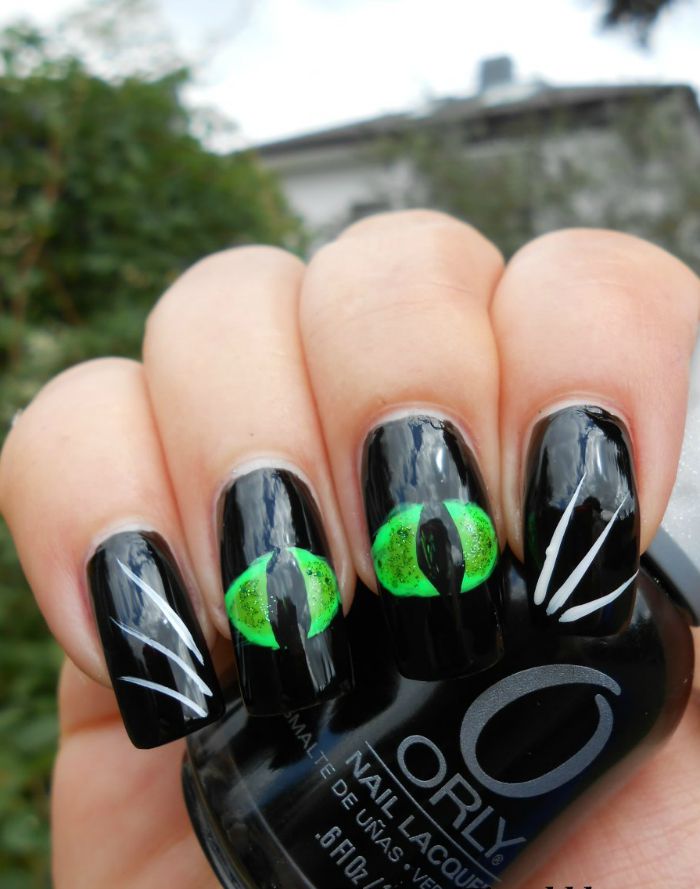 I love the surprise of the kitty cat on these nails when you bring your fingers together. Over on Pictured Tinsel there is a great inspiration for  Black Kitty Cat Nails that I want to try. While the blog itself is in German, the design looks simple enough that you could follow from the picture. To make the green eyes pop on the black nail polish, paint the eyes first in white and then cover in green. I  <3 these cute kitty nails!
Which Halloween Nail Art Design are you going to try? Tell us in the comments!