This Vtech Learnng Tablet post contains affiliate links. We get a small commission if you make a purchase. However we recommend only what we love.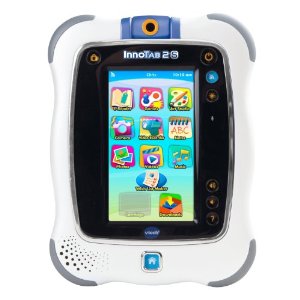 Vtech Electronics has announced that they will be offering kids a new learning tablet, the InnoTab 2S Learning App Tablet (InnoTab 2S) and it is now available for pre-order. So, what exactly is the Vtech learning tablet and why should you consider buying it for your children?
The History of Vtech
The company has been developing electronic learning toys for children since 1980, including other Vtech learning tablets and has been very successful, earning numerous awards, including:
Great Schools' Golden Apple
Parent-Tested, Parent-Approved Award
Parents' Magazine Best Toys of 2010
Creative Child 2010 Product of the Year Award
The National Parenting Center Seal of Approval 2010
Disney Family Fun T.O.Y Award
Time to Play Most Wanted 2010
National Parenting Publications Awards 2010 Honors
Dr. Toy Best Vacation Products
The Toy Insider Hot 20 Toys
With the upcoming release of Vtech's Learning Tablet and all the great features it has, the InnoTab 2S may be in line to win even more awards after it is released.
What is the Vtech Learning Tablet?
The InnoTab 2S is a Vtech learning tablet for children ages 3-9. It comes in either green or pink and not only teaches your child, but it also will entertain them with games, e-books, videos, music, and more. Your child can use the video recorder and camera to take their own pictures and videos.
With the Learning Lodge Navigator, parents don't have to worry about their children downloading apps that are inappropriate or accidentally buying content by pushing a wrong button. The Learning Lodge Navigator ensures that the apps are all age-appropriate and suitable for children. A child can make a wish list and then it is e-mailed to the parents smartphone, tablet, or computer, who must approve and purchase it before it is downloaded on the InnoTab 2S.
Features of the Vtech Learning Tablet
InnoTab 2S will have several features, such as:
Secure Wi-Fi connection to Vtech's

Learning Lodge Navigator

Download learning games, music, and videos
Multimedia 5-inch touch-screen
Rotatable digital camera and video recorder
Comes with 1 tilt sensor game, 1 augmented reality game, 1 e-book, art studio app, notes app, friends list, calendar, and calculator
Kids can add items to their wish list, which is sent to the parents smartphone, tablet, or computer for confirmation and purchase
2GB on-board memory
Expandable SD card slot available to accommodate up to 32 GB
Personalize with child's name, avatar, typed greeting, voice greeting and photo wallpaper
Hundreds of apps available for download
The Vtech Learning Tablet is due to be released in late October, although no specific date has been set yet. The InnoTab S2 will have a suggested retail price of $99.99 and is now available for pre-order at major retailers and online atAmazon.