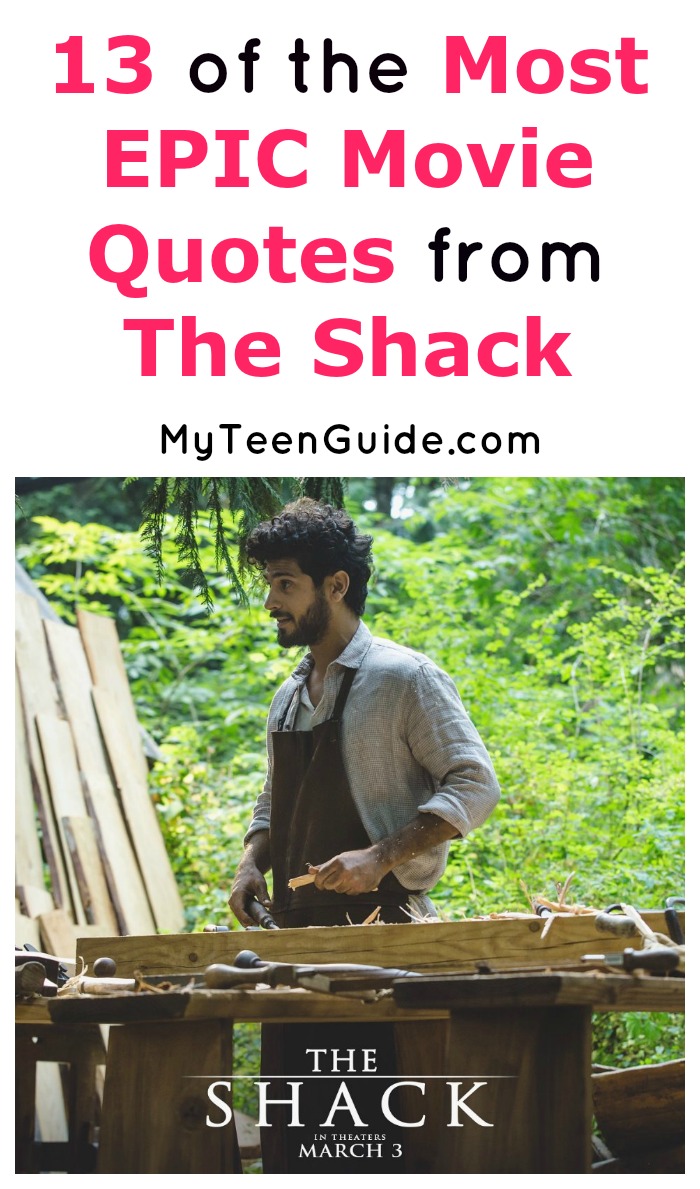 There are many lessons to be learned from The Shack, a self-published Christian novel by William P. Young. Debuting in 2007, the book made its way to the USA Today bestseller list in 2008 selling more than 1 million copies. Keep reading, to familiarize yourself with several heartfelt The Shack movie quotes. Don't forget to catch up on The Shack Movie Trivia.
The Shack Movie Quotes
The Shack Quotes About Love
"You can kiss your family and friends good-bye and put miles between you, but a the same time you carry them with you in your heart, your mind your stomach, because you do not just live in a world but a world lives in you."
"Love is not the limitation; love is the flying. I am love."
"All I want from you is to trust me with what little you can and grow in loving people around you with the same love I share with you. It's not your job to change them or to convince them. You are free to love without an agenda."
"I suppose that since most of our hurts come through relationships so will our healing."
"You were created to be loved. So for you to live as if you were unloved is a limitation, not the other way around."
The Shack Quotes About Trust and the Truth
"Be willing to re-examine what you believe. The more you live in the truth, the more your emotions will help you see clearly."
"You cannot produce trust just like you cannot 'do' humility. It either is or is not."
The Shack Quotes About Forgiveness
"You may have to declare your forgiveness a hundred times the first day and the second day, but the third day will be less and each day after, until one day you will realize that you have forgiven completely."
"Don't forget that in the midst of all your pain and heartache, you are surrounded by beauty, the wonder of creation, art, your music and culture, the sounds of laughter and love, of whispered hopes and celebrations, of new life and transformation, of reconciliation and forgiveness."
"Don't ever discount the wonder of your tears. They can be healing waters and a stream of joy. Sometimes they are the best words the heart can speak."
The Shack Quotes About Emotions and Growth
"Emotions are the colors of the soul—they are spectacular and incredible. When you don't feel, the world becomes dull and colorless."
"This garden is your soul. This mess is you! Together, you and I, we have been working with a purpose in your heart. And it is wild and beautiful and perfectly in process. To you it seems like a mess, but I see a perfect pattern emerging and growing and alive – a living fractal."
"You love each person differently because of who they are and the uniqueness that they draw out of you. And the more you know another, the richer the colors of that relationship."
These are just a few of many meaningful The Shack movie quotes. Mark your calendar for the premier of the film, which debuts March 3, 2017.
Do you have any favorite quotes from The Shack? Share in the comments!