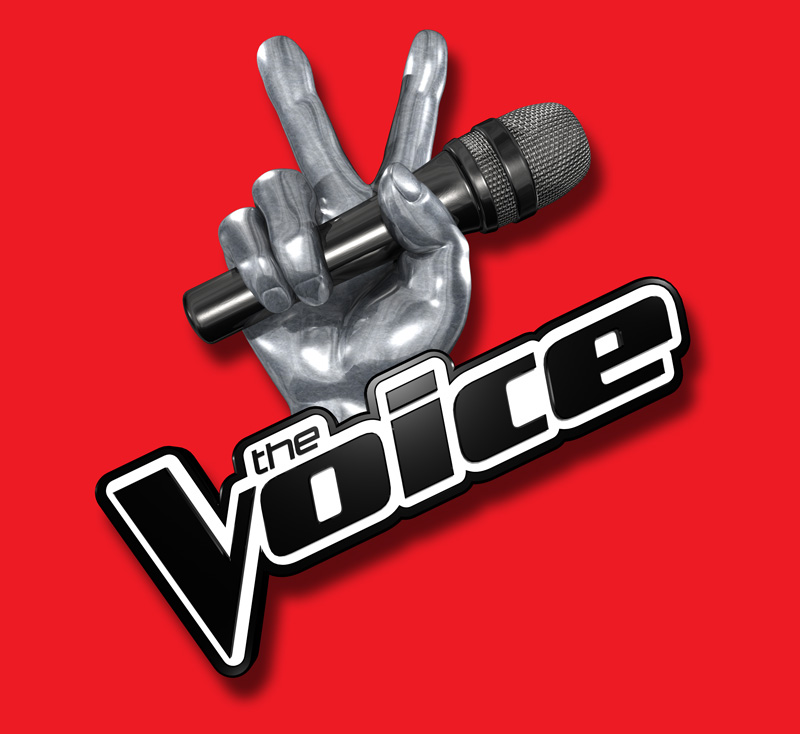 The returning judges for Season 9 are: Blake Shelton, Adam Levine, Pharrell Williams and Gwen Stefani. The judges started off the show by covering each other's songs. Gwen sang Blake's Neon Lights while Blake sang Gwen's Don't Speak. Sorry but Gwen cannot sing country and Blake just needs to stick to country. Pharrell and Adam did much better when Pharrell sang Maroon 5's Sugar and Adam sang Pharrell's Get Lucky, having everyone join in soon after.
Highlights from The Voice Season 9- Week 1
First up is Mark Hood. He is a 24 year old from Chicago and sang Use Me by Bill Withers. Mark grew up singing in his church. He was sent to an agricultural high school after his mother caught him listening to Usher at the age of 11. Mark said he wanted a coach that will really push him. I love his voice- it is sexy and soulful. Pharrell is the first one to turn his chair, followed by Adam, Gwen and Blake. Mark looks astonished at the 4 chairs. Adam hit in spot on when he said Mark had infectious energy. Gwen said she thought they could have fun recording together. Pharrell was impressed with his jazzy runs and Balked loves his energy. With all 4 chairs turned, Mark chooses Pharrell.
Koda Wade is a 23 year old from Los Angeles and she sang Bring It On Home to Me by Sam Cooke. She reminds me of a young Gwen Stefani. I don't think this song was the right choice for her though. Koda sings in a rock band. Her family moved to LA from New Mexico so that Koda could pursue her music career. I love her unique look with her hippie dress and purple hair. Her voice is amazing but again this is not the song for her. Gwen, Pharrell and Blake all turned their chairs. Gwen said she could see her and Koda in a band together, Pharrell likes the fact that she is being herself and Blake refers to her as a modern day Cyndi Lauper. I knew from the start that she would choose Gwen and she did.
Keith Semple is 33 years of age. He was born in Northern Ireland but now calls Chicago home. He takes on Bon Jovi's hit song I'll Be There for You. He is part of the band known as 7th Heaven but while he loves the band, he wants the world to know who HE is. He is married with a small child. He definitely has a rocker voice but it is nothing really outstanding. It takes a while for any of the judges to make up their minds and the only ones who turn their chairs are Adam and Gwen. I just don't think he has a unique voice that stands out. Keith ends up choosing Adam, even after being pimped by Blake and Pharrell for Gwen.
Alyssa Sheridan is a nursing school student who sings I Remember You by Sarah McLachlan. She has a powerful backstory. She lost her stepdad right after her high school graduation. He died in Afghanistan and was killed by a premature bomb. Her mom was pregnant with her sister at the time. I honestly didn't like her. Her voice was nothing original and she has major pitch problems. She dedicated the song to her dad, which was touching but none of the judges turned their chairs for her. Pharrell tells her to work on technicalities while Adam encourages her to continue singing.
Siahna Kim is a 15 year old that is French Canadian and Asian. She sings the song Fever, originally by Peggy Lee. I like her- she is petite and has a slight southern accent. I was surprised because when she sings, her voice is husky but when she talks, her voice sounds like a little girl. All of the judges, except for Adam, turn their chairs. Gwen absolutely loves Siahna. Pharrell gets up on stage to give Siahna a hug. Blake says he will work with her to make her a huge star but Siahna ultimately choose Pharrell.
Jordan Smith is a mystery singer. This means that just like the judges, we don't get to see him or her. Jordan is from Kentucky and sings Chandelier by Sia. It doesn't take long at all for all 4 chairs to turn around. He has a tenor voice that is very masculine but sounds feminine when speaking. Turns out, Jordan is a chubby white young man. Gwen was shocked when she saw him, causing her to run up on stage. She says it is trippy how he looks nothing like he sounds. I absolutely agree 100%. Pharrell said he had lots of individuality, Adam says he took on a hard song and is definitely ready. Jordan says that people who hear him but don't see him often think he is a female. Adam said he was the most important person ever on the show. Blake ends up choosing Adam.
Dr. Paul is a 66 year old who lives in a log cabin in Appalachia. He has an extremely long white beard. He got the nickname doc when he was in the Navy. He has played music for many years and really wants a recording contract. He sang Mama Tried by Merle Haggard. He has those country vocals but it is just way too old school for today's world. Unfortunately, none of the judges turned their chairs around.
Nadjah Nicole is a 23 year old who takes on Tightrope by Janelle Monae. She attended military school and later college. She became pregnant and sadly split with her boyfriend last year. She is really inspiring and I love that. She works full time at a bank and does music gigs here and there to support her child. She has an amazing voice and she hits those big notes. However, I don't think she is giving it all she's got; I think she has so much more. Adam and Blake are the only two that turn their chairs. Adam was blown away while Blake wants to make her a star. Nadjah chooses Blake. Yeah, I love Blake Shelton.
Braiden Sunshine– Braiden is a 15 year old who sings The Mountain by Jane's Addiction. He has been singing for 6 years and formed a band with someone of his classmates. He has a mature voice for a young one. His voice has so much character and it is really smooth. I like him and thought all the judges would turn their chairs but only Gwen and Pharrell turn and they did so at the last second. Gwen said he was amazing and Pharrell thought he was special. Braiden chooses Gwen.
Michael Woolery– Michael is from Los Angeles and he is part of a family of some famous people. He is Chuck Woolery's son, Dave Nelson's grandson and Ozzie and Harriet Nelson's great-grandson. How cool is that? I loved Chuck as the host of Love Connection. Michael was a skier who participated in competitions but when he was injured, he could no longer ski. I wasn't overly impressed by his voice at all and apparently I wasn't the only one since none of the judges turned their chairs. Adam said he needs to be more confident while Gwen said he was over-singing.
Barrett Baber– The last performance of tonight is 35 years old from Fayetteville, Arkansas. He sings Jeff Healey Band's Angel Eyes. His parents are missionaries and they resided in Africa for some time. Barrett told a touching story of how he was involved in a plane crash with members of his choir. He was able to escape but lost many of his friends. He is married, has kids and teaches speech and drama in high school. Let me tell you, this guy can sing. It didn't take long for all 4 chairs to turn around. Adam was so impressed with him, Pharrell said he had so much soul and Blake compared him to Garth Brooks. Barrett choose Blake, calling him a country music icon. Oh I have to agree with you there Barrett.
Did you catch the Voice: Season 9 Week 1? What was your favorite performance? Tell us in the comments!