Looking for great activities for kids that are fun for the whole family? The Together Box is filled to the brim with fun activities that everyone from toddlers to teens and beyond will love. We received a complimentary product to facilitate this Together Box review. All opinions are our own.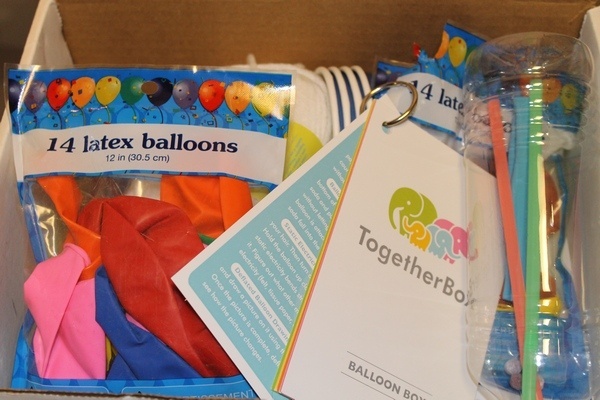 When I heard that I was receiving the Together Box filled with balloon activities for kids, I was really excited. My son Jacob and I love playing with balloons. Mostly during the summer mind you, and mostly when it involves throwing water balloons at each other. Still, balloons are something I understand. I'm not the craftiest person in the world, so easy is important to me. I want to look good in front of my kid, you know? Like be this super-impressive mom who can make balloon rockets, yarn mache bird houses and water fountains out of an empty plastic bottle. That's exactly what I got to be with the Together Box.
Fun activities for kids & moms in the Together Box
Together Box is a monthly subscription box that contains activities for kids based on a theme. While my box was the Balloon box, others included the Bug Box, Snow Box and Bubble Box. Here's the really spectacular thing about Together Box: it includes EVERYTHING you need for each activity. I mean everything. Even a Sharpie marker for drawing on balloons, and plumbers putty for the water fountain activity. Even mini marshmallows! Which we were out of for hot cocoa, so my mom (who lives with us) snagged those and replaced them later.  EVERYTHING. Amazing!
Inside your Together Box you'll find, along with all those supplies, a little booklet to tell you how to do the different activities. The Balloon Box has four main activities that go along with all the supplies, then a page of bonus suggestions for more balloon fun. We did the balloon rockets, water bottle fountain and the yarn mache project. Well, I did the yarn mache, Jacob did most of the work for the others.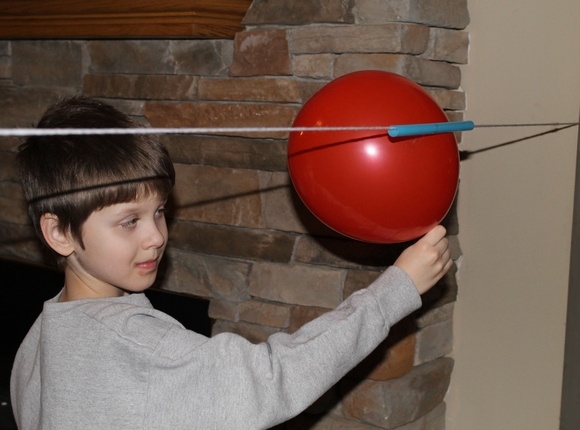 The balloon rocket activity was the easiest I think, aside from the issues I had getting the yarn to stick to my wall. It was so much fun to watch the balloon shoot across the room! I recommend using the widest distance between walls in your house for maximum excitement. If you don't have two good walls, you can always tape it to one wall and have an assistant hold the other end.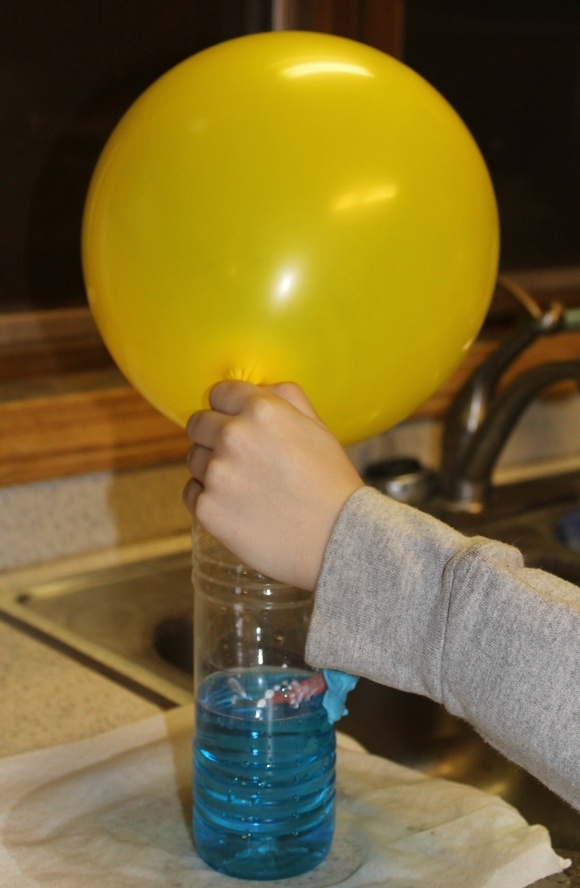 The water fountain was trickier for me, but it was probably our favorite by far. Using a plastic bottle, straw, water and a balloon, you can make a cool water fountain effect. If you do it right, it looks like this: (pardon the background, I had cleaned an area then didn't have the right angle, so I quickly moved and forgot I was getting the messy area in the background!)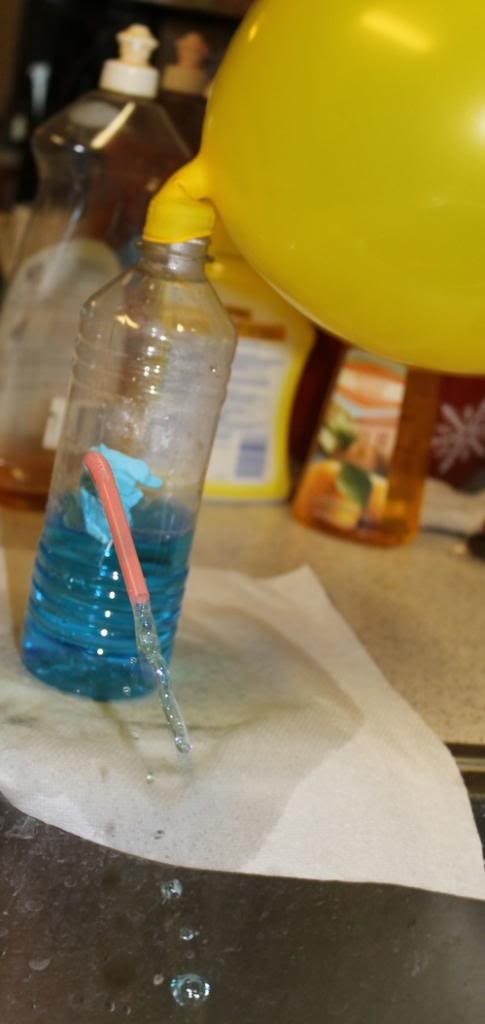 I tried to get a picture of the water shooting out. I'm still learning my fancy new camera, but check out those water droplets! By the way, if you do it WRONG, for example neglect to seal up all the gaps around the straw, this happens: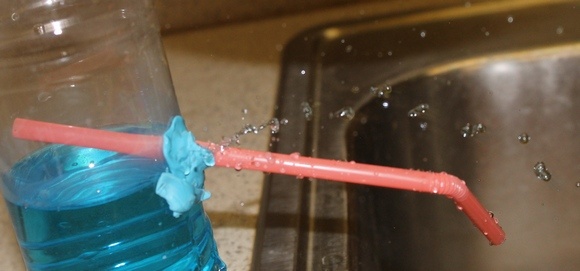 The yarn mache, I'm going to be honest, I failed miserably at that. The directions were great, the supplies perfect. My execution, though, needs a little work. So I'm not going to show it to you. I want to leave you with the impression that I'm a master of the Balloon Box Together Box.
Jacob and I had so much fun doing this Together Box review, so it definitely did what it promised: brought us together! You can subscribe online for as low as $24 a month and get started receiving your box every month! Check out Together Box on Facebook and Twitter to keep up with news.
Together Box Giveaway
Giveaway is over. Congrats to Lisa L.