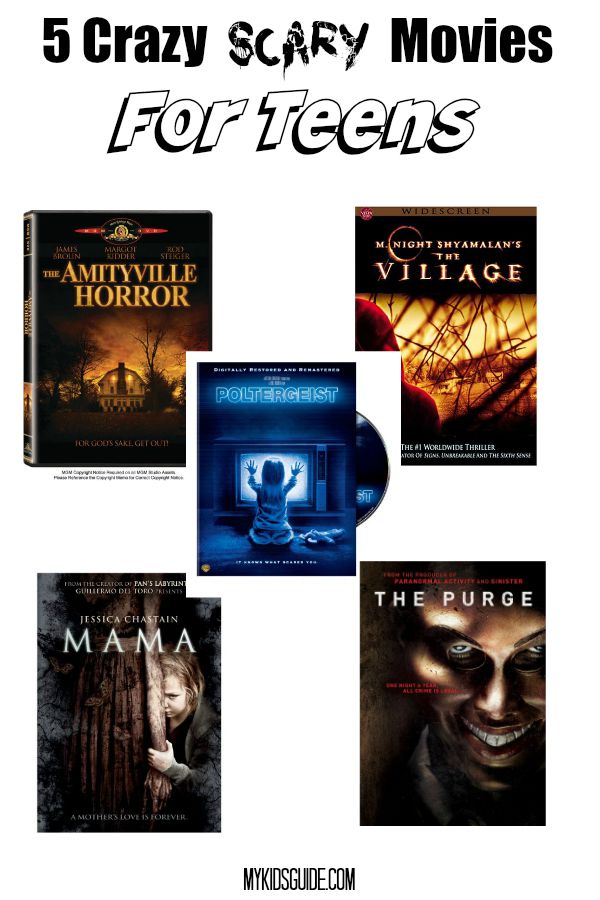 Looking for the best movies for teens for your Halloween party or a fright night at home? Check out our picks for the top  5 Crazy Scary films that will have everyone screaming. I love watching scary movies, and these are my personal favorites. Not only are you on the edge of your seat, you'll be jumping every time you turn around. Load up on popcorn, soft drinks and candy for an amazing fun evening in with your friends watching super scary movies!
Best Movies for Teens: 5 Crazy Scary Films
Affiliate links included below.
The Amityville Horror: If you want to truly be afraid to go to sleep in your own home, this is the ideal movie for you. Walls dripping with blood and a history of 6 murders in the house in the last year leave the new owners fighting against a home that is angry they are there.
Mama: A story all about children that witnessed their parents death and come to live with an aunt and uncle. Their behavior is seemingly normal, but there always seems to be something unsavory creeping around in the background.
https://www.youtube.com/watch?v=GZlY47eCdas
The Village: This movie takes you to a village of people that appear to be from a hundred years ago. Their society is quite and peaceful, but the monsters in the woods that everyone fears make this far different than any typical village. As you watch the traditions and people face their greatest fears you learn the hidden secret behind the village.
https://www.youtube.com/watch?v=Kq_B_ukrGKo
The Purge: Society has 12 hours to do anything they want with no repercussions. This time is the scariest time of their life and one everyone is afraid to face. Watch on the edge of your seat as everyone waits in fear of what may happen next.
https://www.youtube.com/watch?v=cuifSFaGnsI
Poltergeist: When furniture mysteriously starts moving around in their house, they become suspicious. When their young daughter is sucked into a portal and their home taken over by spirits they know something bad is happening. This movie is full of great old school effects and hilarious moments right along with the super scary times.
If you love scary movies, or you are simply looking for scary movies for teens this list is perfect. All five of these movies bring something different to the table. From old school thrills to slightly dystopian thoughts this is an excellent place to start when hosting a fun scary movie night with your friends and family. Invite your friends, turn off the lights and wait for the scares to begin!
What scary films would you want to see added to a list of the best movies for teens? Tell us in the comments!