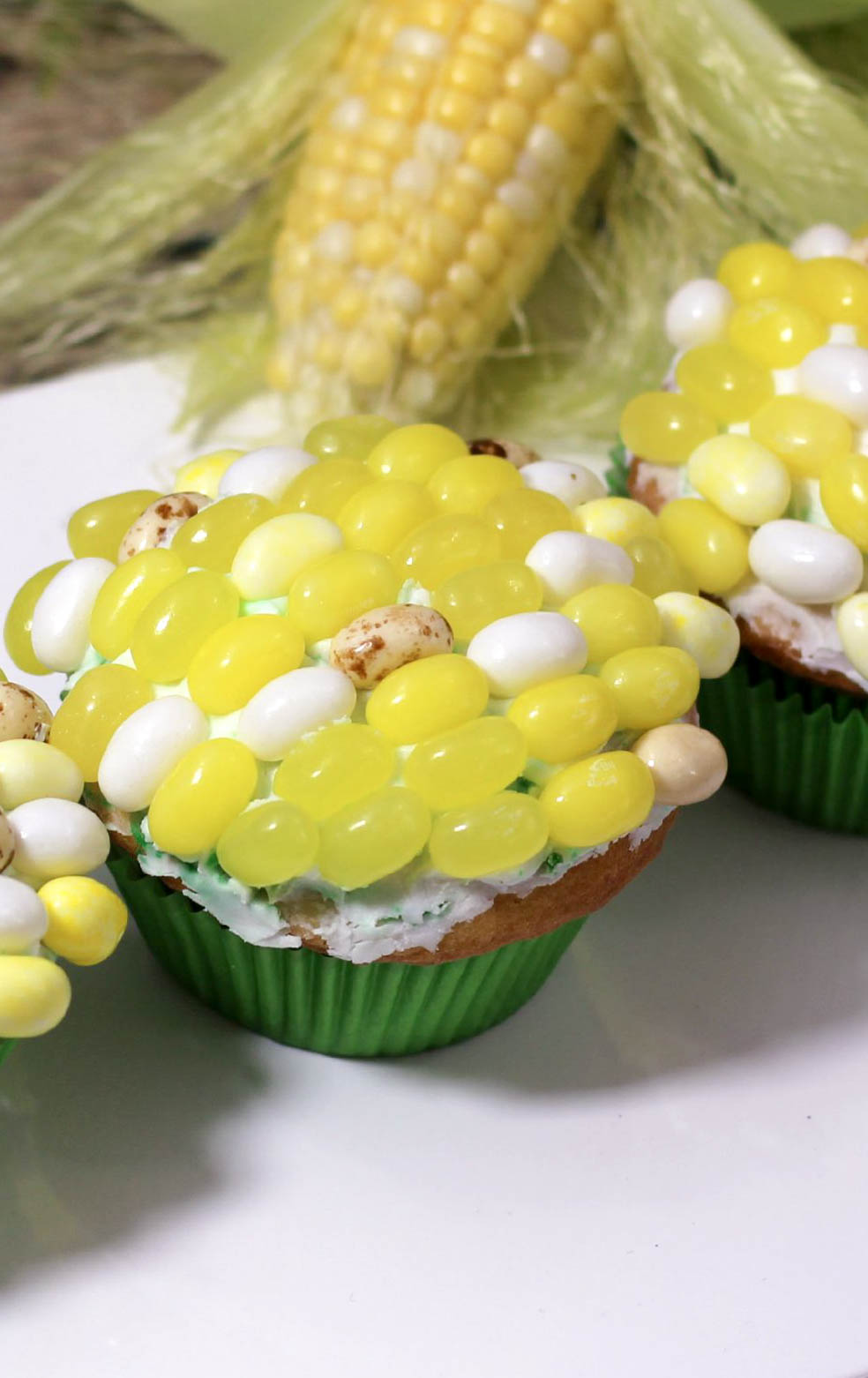 Ok, I know what you're thinking when you see these Maze Runner cupcakes. We confused Maize and Maze. Hey, it's a valid point! Maze Runner: The Scorch Trials actually has nothing to do with, say, running through a corn maze. BUT, running through a corn maze IS fun, and it's made of corn! Also, in Maze Runner, the characters do need to grown their own food, like corn. So yes, corn is in the movie. Corn also gives fuel to the runners. Besides, do you know how hard it would be to make cupcakes shaped like mazes? Try it. I dare you!
Seriously, though, these Maze Runner cupcakes are a play on the simple foods that are favorite characters eat throughout the film, except they're a whole lot sweeter! They're also just plain fun! Now that we've cleared up the fact that yes, dear readers, we really DO understand the difference between maize and maze, let's see how to make these fun cupcakes!
"The Maze Runner" Cupcakes
Affiliate links included below.
Cupcake Recipe
Cupcake Ingredients:
1 1/2  C flour
1 tsp baking powder
1/8 tsp baking soda
1/4 tsp salt
1 C sugar
1/2 C unsalted butter, softened
1 large egg
2 large egg whites
1/2 tsp vanilla extract
1/3 C buttermilk
Cupcake Directions: 
Preheat oven to 350 degrees. Line cupcake pan with paper liners.
Sift flour, baking powder, baking soda and salt in a medium bowl. Sit aside.
Using  an electric stand mixer whip the butter and sugar until pale and fluffy in the mixing bowl.
Add in an egg, then the egg whites one at a time.  Add the vanilla with the second egg white.
Start to mix 1/3 of the flour mixture alternating with 1/2 of the buttermilk. Mix after each addition only until just combined.
Add yellow gel food coloring.  Mix well.
After all ingredients are blended scoop the batter into the paper lined cupcake pan until each tin is 3/4's filled.
Bake at 350 degrees for 20-25 minutes or until an inserted toothpick comes out clean.
Allow cupcakes to cool in cupcake pan for 10 minutes.
Remove cupcakes from pan and place each on a wire rack until completely cooled.
Frosting Recipe
Frosting Ingredients:
1 C butter, room temp
4 C powdered sugar
4 TBSP heavy cream
Frosting Directions: 
Cream the butter and powder sugar until it looks light and creamy.
If it doesn't cream add several drops of the heavy whipping cream until it creams.
Test to see if the frosting can form and hold a stiff peak by taking a spoonful of frosting and turning the spoon upside down. If the frosting stays on the spoon it is ready if not then….Add more powder sugar 1/2 C at a time…. mix well.
Test to make sure that the frosting can make and hold a stiff peak.
Divide the frosting into two bowls. Add several drops of red gel food coloring and mix well. In the second bowl add several drops of green gel food coloring and mix well.
If ready scoop the red  frosting into a pastry bag  first then on top of the red frosting add the green frosting to the bag with a star tip.
Twist the open end of the pastry bag to push the frosting to the tip.
Do a simple flat frosting on each cupcake to add as glue for the jelly beans..
Popcorn Kernels: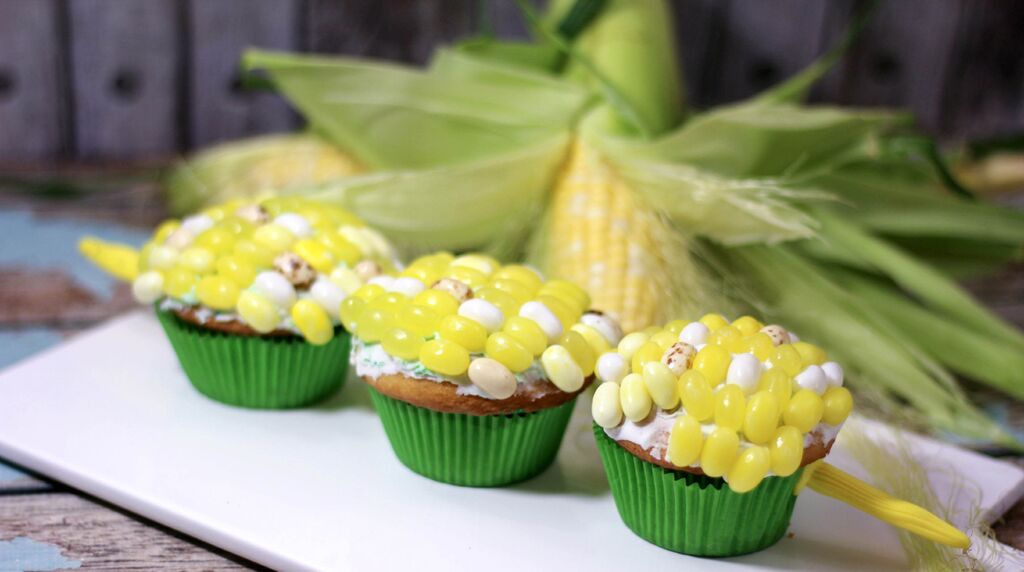 Ingredients:
Bag of different colored yellow jelly beans.
Cup full of white jelly beans and another cup of marshmallow flavored jelly beans.
Directions:
-Place yellow jelly beans in a row resembling fresh corn kernels on a corn cob.  To make the cupcake look more like a corn of the cob put white jelly beans in between some of the yellow jelly beans.  The marshmallow flavored jelly beans will add the look of roasted corn on the cupcake so place them anywhere you want them on the cupcakes.
That's it! I know, it seems like a lot of instructions, but it's really quite easy! When you're done, you have really fun Maze Runner cupcakes for you and your friend to enjoy for snacks or at your next party!
What other types of foods would you make for a Maze Runner party? Try to come up with ideas that the characters would actually be able to make, or that would LOOK like simple foods they'd have access to! Tell us in the comments!