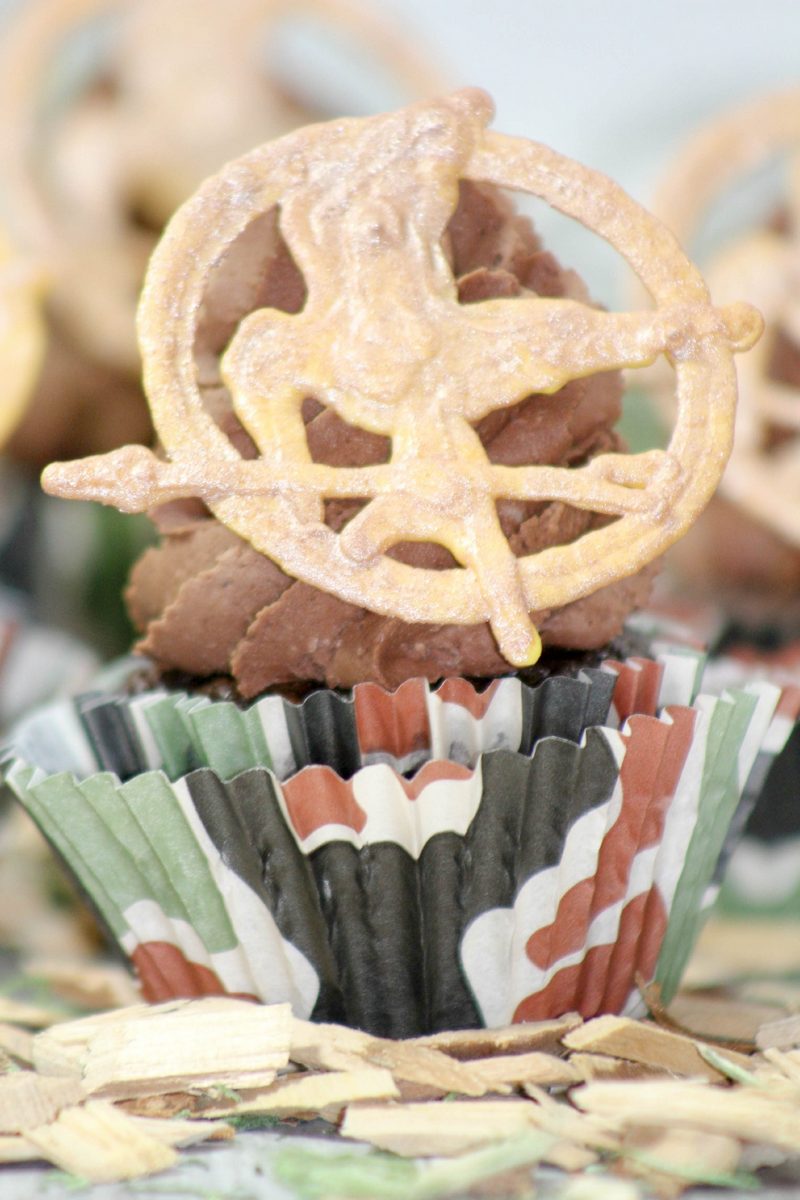 If you're planning a Mockingjay-watching party for you and your friends, you'll need some yummy treats, right? These Hunger Games cupcakes aren't just delicious, they're incredibly cool looking too! Don't let the look of these cupcakes intimidate you. If you follow the directions below, they're not that hard to make. The hardest part, of course, is the Mockingjay symbol, but our easy tutorial will guide you through!
Related: Hunger Games Party Games for Teens
"Hunger Games" Cupcakes
Affiliate links include below to help you find the right supplies.
Cupcake Ingredients:
1 3/4 C Flour
2 C Sugar
1 C Cocoa
1 1/2 TSP Baking Soda
1 1/2 TSP Baking Powder
1 TSP Salt
2 Eggs
1 C Whole Milk
1/2 C  Oil
2 TSP Vanilla
1 C Boiling Water
Cupcake Directions:
Preheat oven to 350 degrees.
Mix the flour, sugar, cocoa, baking soda, baking powder, and salt in a bowl.
In a separate bowl add the eggs, whole milk, oil, and vanilla and mix well using a wisk
Add the bowl containing the eggs, whole milk, oil, and vanilla to the bowl holding the dry ingredients.
Mix all together until fully incorporated using a hand mixer
Beat for 3 minutes on medium.
Place 1 cup f water in a pot and have it get to a boil. Slowly add the boiling water starting with a small amount not the mix and then pour in the remaining boiling water. You will need to continue to mix as you add the water.
The batter may be a little runny.
Scoop  batter into cupcake paper liners until 3/4 full.
Bake at 350 degrees for 20-25 minutes.
Remove from oven and allow to cool in the cupcake pan for 10 minutes.
Remove from the cupcake pan and place on a wire rack until completely cooled. Takes about 45 minutes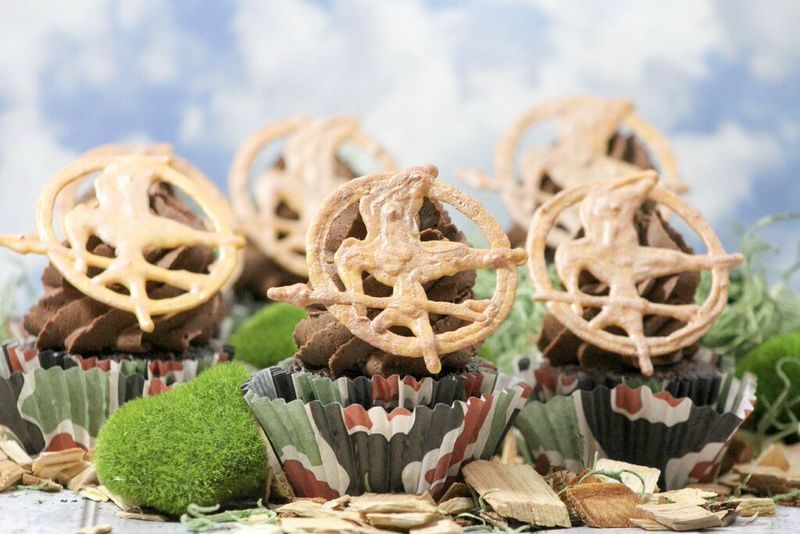 Chocolate Frosting:
Frosting Ingredients:
1 C unsalted butter, softened
3/4 C cocoa powder
3 C powder sugar
3/4 C heavy cream
Frosting Directions:
Beat the softened butter on its own until smooth.
Add cocoa and powder sugar alternately with heavy cream  into the creamed butter until it becomes a smooth and thick texture.
If the frosting is too thick, add more heavy cream, if too thin, add more powder sugar.
Spoon the frosting into a pastry bag with a large tip and begin frosting from the outside edge of the cupcake in a circle motion ending up in the middle of the cupcake.
Royal Icing:
Icing Ingredients:
2 egg whites
1 C powder sugar
1/2 tsp cream of tartar
Golden yellow gel food coloring
Bronze Dust ….dusting powder & brush
Icing Directions:
Combine all ingredients in a mixing bowl mixing on medium speed for 4 minutes. (except your food coloring)
If icing is  not stiff enough add 1/4 C powder sugar.
Spoon the icing into a bowl.
Add several drops of  golden yellow gel food coloring in the large bowl of icing … stir well to mix the color.
Fill a small frosting bag with a #5 tip with the golden yellow gel food coloring.
"Mockingjay"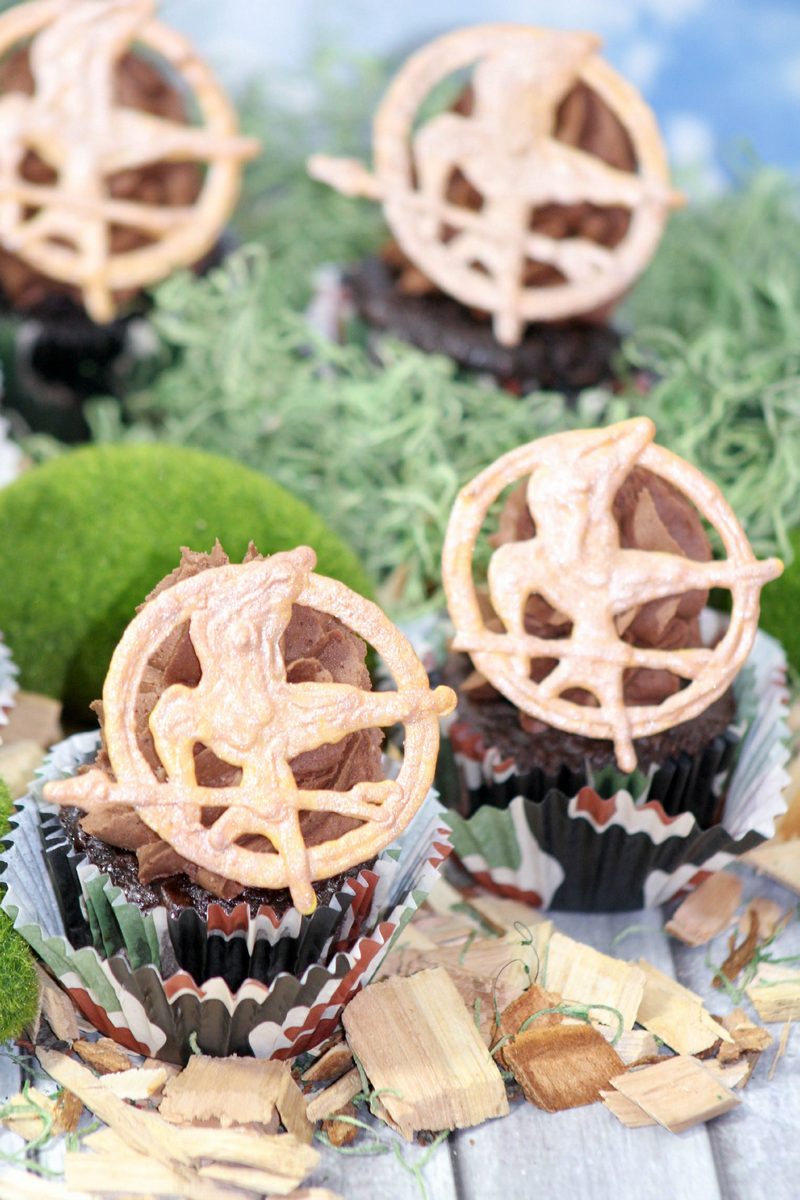 Directions:
Locate a picture of the Mockingjay  on Google…find a picture that has several small sized Mockingjays. Print the picture in color. Tape this picture with  numerous images of the Mockingjay on it to a cookie sheet.
Tape wax paper (covering the copies of the Mockingjay) to the cookie sheet . Follow the color and features as printed on the paper.
Using a small pastry bag fill with the golden yellow royal icing and a #2 tip.  Start by outlining the Mockingjay  first…. Fill in the Mockingjay with the golden yellow icing.. Allow it to dry for 30 minutes.
Allow to dry for 5-10 hours.
Apply the  Bronze dusting powder with a small pastry brush.
Ensure that image is  dry, gently touch one of them with your finger if it allows you to push in on the icing allow it to dry more…. If it is dry the image will have a hard feeling not allowing you to push in on it.
Cut the wax paper holding the completed image  into squares surrounding the completed design.
If image is dry peel them off the wax paper and place on the frosted cupcake.
Keep your Hunger Games cupcakes out of heat until it is time to serve. You don't have to refrigerate them if your house is cool, but if it's a hot day you don't want them in the sun either.
What other snacks would you serve at your Hunger Games party? Tell us in the comments!